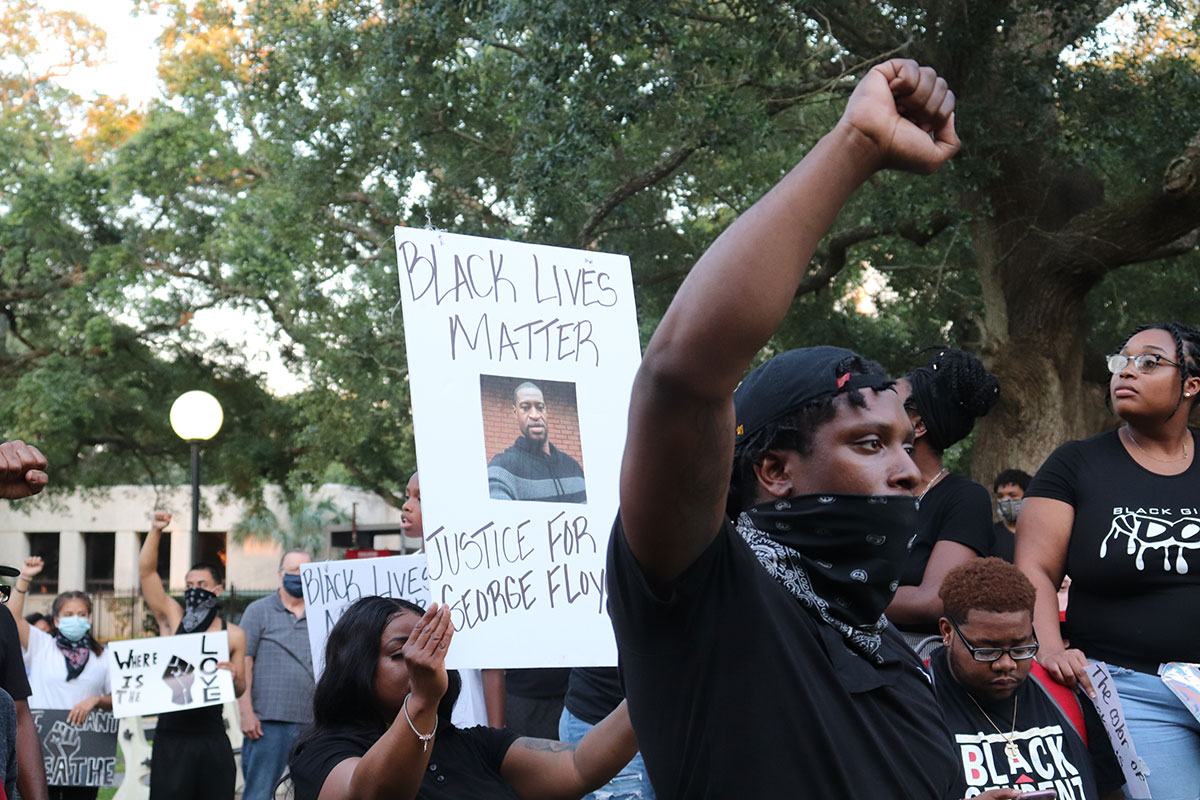 Protestors will gather for a peace march June 6 at Gould Park in Vidor, Texas. The march will be held in memory of George Floyd who died in police restraint in Minneapolis, May 25.
Protests against police brutality are happening in all 50 states and in countries across the world, but this is the first organized in Orange County.
Southeast Texas locals remember Vidor's reputation as a "sundown town," meaning Black people were not welcome after dark. Today, the town is still majority white and its reputation of racial intolerance is a dark shadow. On social media, some people are warning that the event looks like a "trap" for Black people and supporters of the movement.
Organizers Madison Malone and Yalakesen Baaheth said they planned the march to encourage love over hate in the community, to end racism, and to honor the Black lives lost.
"We don't want this to just be another march," Malone said, "We want systematic change in the justice system."
Malone and Baaheth have not organized an event like this before, but Malone said they are seeking counsel from experienced organizers as they go.
"We really want to press that we are normal people that live in the community," Malone said. "Change starts with us."
The event will host speakers from the NAACP's Beaumont chapter, as well as a voter registration sign up.
Orange County police and EMS have confirmed they will be present at the event.
"We are taking extreme precaution to make sure this event is safe, organized, well thought out, and impactful," Malone said.
There are still concerns about the safety of Black people attending this event.
Jordan Franklin, Houston native, tweeted, "This is a set up. Texas people know if you're black you don't even stop for gas in Vidor."
In a Twitter direct message, Franklin said "It's been passed down for generations not to stop in Vidor. As you see in my replies, a lot of people, both black and white and in between, know."
Alexis Walker of Houston tweeted that Vidor is a known white supremacist /KKK town. She wrote, "This is not a protest but a lynching disguised as one. All POC — stay out of Vidor."
In a Twitter message, Walker said she was contacted by Vidor residents claiming that the town has changed.
"I wrote some of them back stating that they should prove it," Walker said. "They should have their protest with current residents."
Walker said she understands that Vidor residents want to change how the town is perceived, but it will take time and work.
"Racism isn't just burning crosses," she said. "It's calling people slurs, keeping them out of neighborhoods, harassing them for doing absolutely nothing, and so much more.
"If these people are so inclined to change Vidor, they will ensure the safety of protestors that are POC. I believe change is possible, but I would never want to put anyone's life at risk by vouching for a town that has such an inhumane history."
For white allies who have not been told to avoid certain towns after dark, or did not grow up fearful they would be targeted for their race, speaking out against police brutality and systematic racism is an opportunity to amplify the lived experiences of their Black and non-white neighbors.
Tristen Anding of Port Arthur said, "There's more allies than I thought and here's where they can really step in."
A peace march to honor a Black man in a town like Vidor is an opportunity for allies to show that times have changed for the better. A racist and violent history cannot be hidden or forgotten, but the community can move forward to seek justice and change.