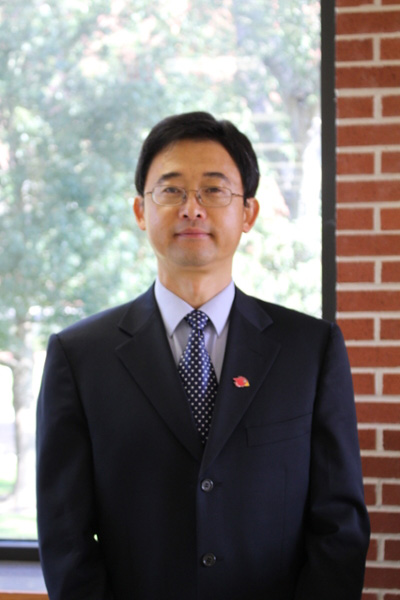 Lamar University awarded Qiang Xu the 2020 University Professor title. Xu is professor of chemical engineering in the highly regarded College of Engineering's Dan F. Smith Department of Chemical 
Engineering. The professorship, awarded for life, is the most prestigious faculty award conferred by Lamar University's academic community.
From 1972 to 1995, the Lamar University System Board of Regents awarded Regents' Professorships and Regents' Merit Awards. The Professorships were given to distinguished senior faculty and the Merit Awards were presented to outstanding junior faculty. With the transition to The Texas State University System, these recognitions changed and today are known as the University Professor and Merit Award programs.   
"The award is the pinnacle of academic achievement at our university and is recognized by all as an emblem of highest merit," said Brenda Nichols, provost and vice president for academic affairs. "Recipients are selected by their colleagues and are chosen for their academic stature and achievements, honed in the demanding and competitive culture of higher education."
Xu joined Lamar University in 2005 after completing two-years of postdoctoral research at Wayne State University in Michigan. Xu earned his bachelor of science degrees in chemical engineering and environmental engineering as well as his Ph.D. degree in chemical engineering from Tsinghua University, China. 
"This is the most important award that I have received in my career by far, which is also the most significant faculty award conferred by Lamar University's academic community," said Xu. "I am deeply encouraged to pursue great academic achievements in the future."
Although originally from China, Xu considers himself a Texan. He loves to eat crawfish although he says he is not very fast at peeling them and he enjoys a good Texas barbeque and attending rodeos.
Xu has published nearly 100 articles in peer-reviewed journals and more than 200 peer-reviewed conference proceeding papers. He is also a corresponding author of a book chapter, titled, "Study for the Optimal Operation of Natural Gas Liquid Recovery and Natural Gas Production," in the book "Natural Gas Processing from Midstream to Downstream." Xu is also the recipient of numerous awards including the Lamar University College of Engineering Distinguished Faculty Research Award, 2019; the Anita Riddle Faculty Fellowship Award, 2017; and the Excellence in Process Development Research Award from the AIchE, 2016. He is a former winner of the Lamar University Merit Award, 2010. However, of all the presentations, papers and awards, Xu is most proud of the writings of his children. 
"As a professor, I am really proud of many things, such as my students, awards and publications," said Xu. "Actually, the two most important publications that I am really proud of are those of my daughter, Emily, and my son, Ethan, who are respectively published in 2006 and 2007.  Certainly, the co-author of these two outstanding publications, my wife, Sue, is forever appreciated."  
Xu teaches both undergraduate and graduate courses incorporating modern teaching tools and has received grants from ExxonMobil, Lyondell Basell and the National Science Foundation to enhance students' learning experiences. He has guided 17 doctoral dissertations and 10 master theses and is currently supervising 7 Ph.D. students and 1 master's thesis student.
"I believe being a professor teaching at the college level is a privilege," said Xu. "What I like most is to see students very satisfied with what they have learned from my classes and to know their success stories during their career development."
Xu also believes that teaching is going to keep him young. "Teaching cannot only help educate our young generation, but also always keep your mind fresh; stay with young people and feel energetic in everyday life, even if you are really old."