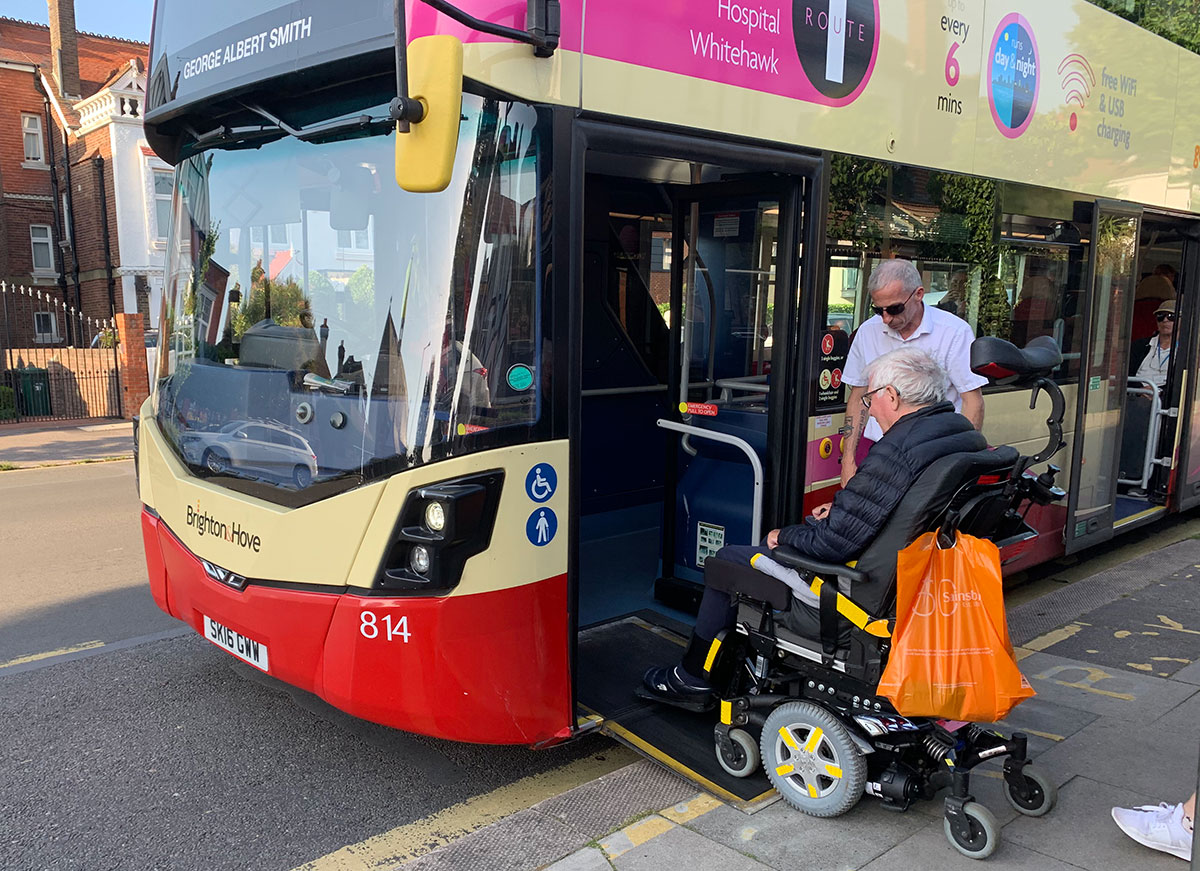 BRIGHTON, England — The Brighton & Hove Bus Company is serious about social responsibility. They have reduced many physical barriers and increased access for underserved populations. But they want to do more.
"Nobody can ever fully understand what it's like to have a disability, so we give them a little bit of empathy around the facts," Victoria Garcia, the company's accessibility and communities officer, said. "It all started when the bus company began receiving feedback from customers such as Daniel Walker."
Walker is a Brightonian who is sight-impaired and who uses the buses frequently. The conversation turned into a large-scale accessibility initiative.   
It quickly became apparent that, while buses themselves can change, more was needed, Garcia said. Service providers, from drivers to customer service staff, to board members, should experience what it feels like to have a disability. So Garcia and her colleagues decided to create awareness though a training course that facilitated a cultural shift within the company. 
"We went externally, to local community groups, and asked for help," Garcia said. "We run buses. We are good at scheduling times. We are good at fixing a bus engine and putting seats in a bus.
"But things that make a community work, they must come from the community. This is where we took our lead."
First, they contacted the charity Guide Dogs for the Blind.
"Guide Dogs has a course to teach somebody to properly guide a person with a sight impairment," Garcia said. "But we are about buses, so we asked them to design a course about guiding on and off a bus. And they did.
"The course starts off by getting blindfolded and being guided by somebody on the streets and through a supermarket. Simple tasks are also undertaken, such as making a hot drink or a sandwich. They just added the buses to the training. It's quite an adventure."
Next, the bus company reached out to the charity Dementia Friends, which is an outflow of the Alzheimer's Society. They contributed a dementia awareness component to the training. 
The training, which takes a full day to complete and is required annually, concludes with Drama on the Bus, an interactive, on-aboard experience. A bus is transformed into live theater and drivers role play scenarios they might encounter. Scenarios include, I've lost my bus pass, I've become unwell, or somebody's bullying me.
Members of the community serve as passengers, which provides a real-life element to the experience, Garcia said. The sessions are videotaped and reviewed by members of the bus company and various community groups, which offer feedback and suggestions where they are needed.
"We are constantly reviewing our training program and look for ways to improve and extend it further — we want to make things better," Garcia said. "We are meeting with a local disability group called "Possibility People," and will ask them to do is the same thing Guide Dogs and Alzheimer's Society did — to look our disability inclusion and diversity training and progress it even further.
"Our drivers drive buses, but we train them to deliver these extra things. We think the awareness training will help us accomplish this goal. We need to ensure that all of our customers feel good. We already know 98 percent of our customers feel safe traveling on our buses. But what about the two percent we don't know about. We should be 100 percent for people, and that's why it's so important."
Garcia said Brighton and Hove Bus Company is helping to create a better future by not only removing physical barriers, but mental, emotional and social barriers as well.