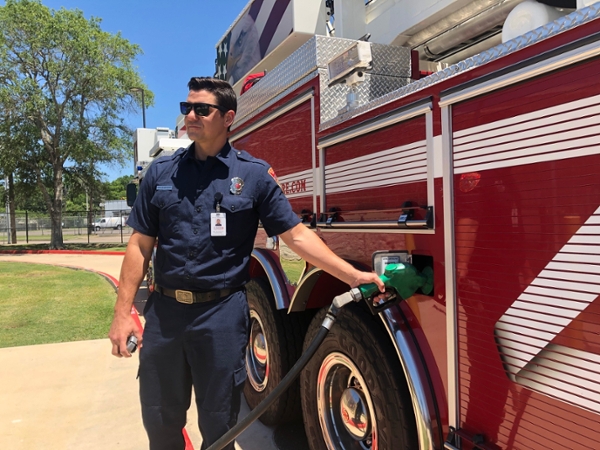 Since February, COVID-19 has spread to all 50 states causing nation-wide lockdowns, canceling numerous events from graduations to sports events and significantly disrupting the United States economy.
The pandemic has also caused the shortage of protective gear for frontline workers such as masks, gloves, shields, etc.
Southeast Texas has not been spared the effect of the pandemic, nor has ExxonMobil, one of the area's largest employers. The two facilities the company has in the region has been implementing new safety measures to protect employees.
"ExxonMobil has established processes in place to manage impacts related to infectious disease outbreaks," Emily Russell, ExxonMobil public and government affairs advisor, said. "ExxonMobil has a 14-day work from home policy for individuals traveling in from locations with sustained community transmission as defined by the U.S. Centers for Disease Control and Prevention. We will continue to ensure our plans align with the latest guidance from our local Medicine and Occupational Health team and relevant authorities."
Russell said that ExxonMobil's main priority is ensuring the safety and health of the company's workforce and limit the spread of coronavirus within the Southeast Texas community and provide whatever support they can, both at the local and corporate levels.
"ExxonMobil has announced several initiatives that will aid those on the front lines of the COVID-19 pandemic," Russell said. "In Baton Rouge, ExxonMobil has reconfigured its manufacturing operations at the Baton Rouge Chemical Plant to produce medical-grade sanitizer for donation to COVID-19 efforts in Texas, Louisiana, New Jersey, New York, Pennsylvania and New Mexico."
On May 1, ExxonMobil announced the donation of medical-grade sanitizer to Jefferson County, the city of Beaumont and Baptist Hospitals during their "Days of Giving" which took place from April 30 to May 5.
"In addition to donating hand sanitizer, ExxonMobil is also donating 25,000 gallons of fuel to the city of Beaumont and Jefferson County for use in law enforcement vehicles, ambulances, fire trucks and other fleet vehicles," Russell said.
The fuel was donated to the city of Beaumont and to Jefferson County on April 30. Also, during their "Days of Giving," ExxonMobil delivered care packages to health care workers at Baptist Hospitals and Christus Southeast Texas St. Elizabeth Hospital.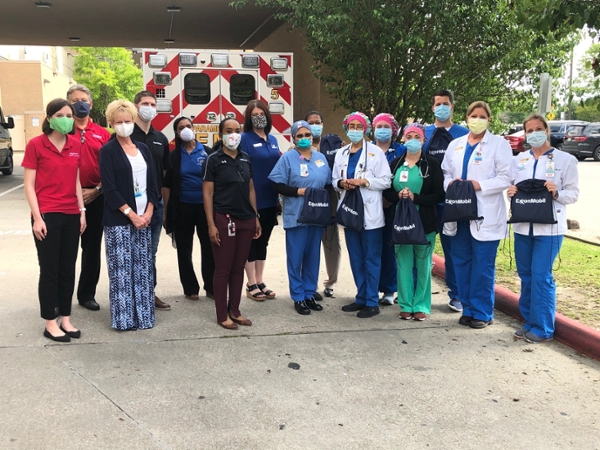 "Healthcare professionals are an important part of our everyday lives," said Jonathan Parsons, ExxonMobil Beaumont lubricant plant manager, said in a press release. "We wanted to show them that we appreciate their hard work, especially during this challenging time."
The care packages included an ExxonMobil-branded drawstring backpack, hand sanitizer, an ExxonMobil-branded lip balm, two gift cards to local restaurants, one ExxonMobil gas gift card, assorted snacks, and a handwritten "Thank You" card, which were created by students at Amelia and Charlton-Pollard Elementary schools. The care packages were a collaboration between ExxonMobil, Lamar Institute of Technology, the Greater Beaumont Chamber of Commerce and the Beaumont Independent School District.
To bookend the company's "Days of Giving," ExxonMobil donated $185,000 to United Way of Beaumont and the Southeast Texas Food Bank. United Way of Beaumont received $160,000 to support its network of 20 nonprofit agencies which provide, housing and utilities assistance. The Southeast Texas Food Bank received $25,000 to provide 75,000 meals to people throughout the region.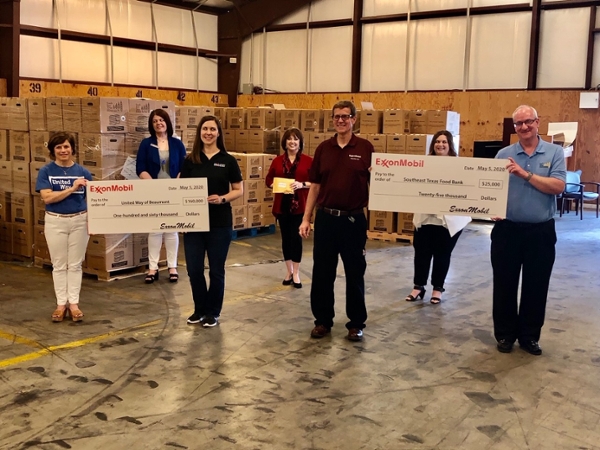 "We are thankful for the Southeast Texas Food Bank and other United Way of Beaumont and North Jefferson County agencies which are working hard each day to assist the community with COVID-19 relief efforts," Karl Krotzer, Beaumont polyethylene plant manager at ExxonMobil, said in a press release. "These organizations consistently help keep Southeast Texas strong, and we are proud to provide support during critical times like we are experiencing now."
Russell said in addition to producing medical-grade hand sanitizer, ExxonMobil has joined the Global Center for Medical Innovation at the corporate level to facilitate development and expedite third-party production of innovative safety equipment that can be sterilized and worn multiple times.
"A new industrial-style mask is being fast-tracked for production," she said. "The design improves coverage of a health care worker's nose and mouth and will use a replaceable cartridge system that includes a filtration fabric to prevent contact spread of the virus from the saturated filter.
"In this design, the filters are disposable while the main component of the mask can withstand repeated sterilization, thus prolonging the life-cycle of the product and addressing shortages of N95 masks. Prototypes are currently being tested and reviewed by the U.S. Food and Drug Administration.
"When approved, production will begin immediately, with ExxonMobil supporting the identification of manufacturers familiar with the materials and process to quickly deliver the masks to doctors, nurses and health care providers. Once approved, manufacturers indicate they will be able to produce as many as 40,000 ready-to-use masks and filter cartridges per hour."
ExxonMobil has also increased their production of polypropylene, which is a key raw material in the production of medical masks and gowns, Russell said.
"Specialized polypropylene monthly production has been increased by 1,000 tonnes, which is enough to make 200 million masks or 20 million gowns," she said. "Propylene, a precursor to polypropylene, is manufactured at the Beaumont Chemical Plant."
Like other industries around the world, ExxonMobil will continue to monitor the ongoing pandemic and make adjustments accordingly. Russell said they will continue to prioritize the safety of their employees and provide relief to the Southeast Texas community.
"All employees have been advised to observe social distancing practices to limit exposure at work and in public," she said. "Out of an abundance of caution, many Beaumont personnel who have the ability to work remotely continue to do so. Workers who remain onsite are staying six feet apart from colleagues and working in small-team shifts. Operations are ongoing, and we continue to meet contractual commitments."
For more information, visit corporate.exxonmobil.com.
This is paid content by Lamar students produced in partnership with ExxonMobil.