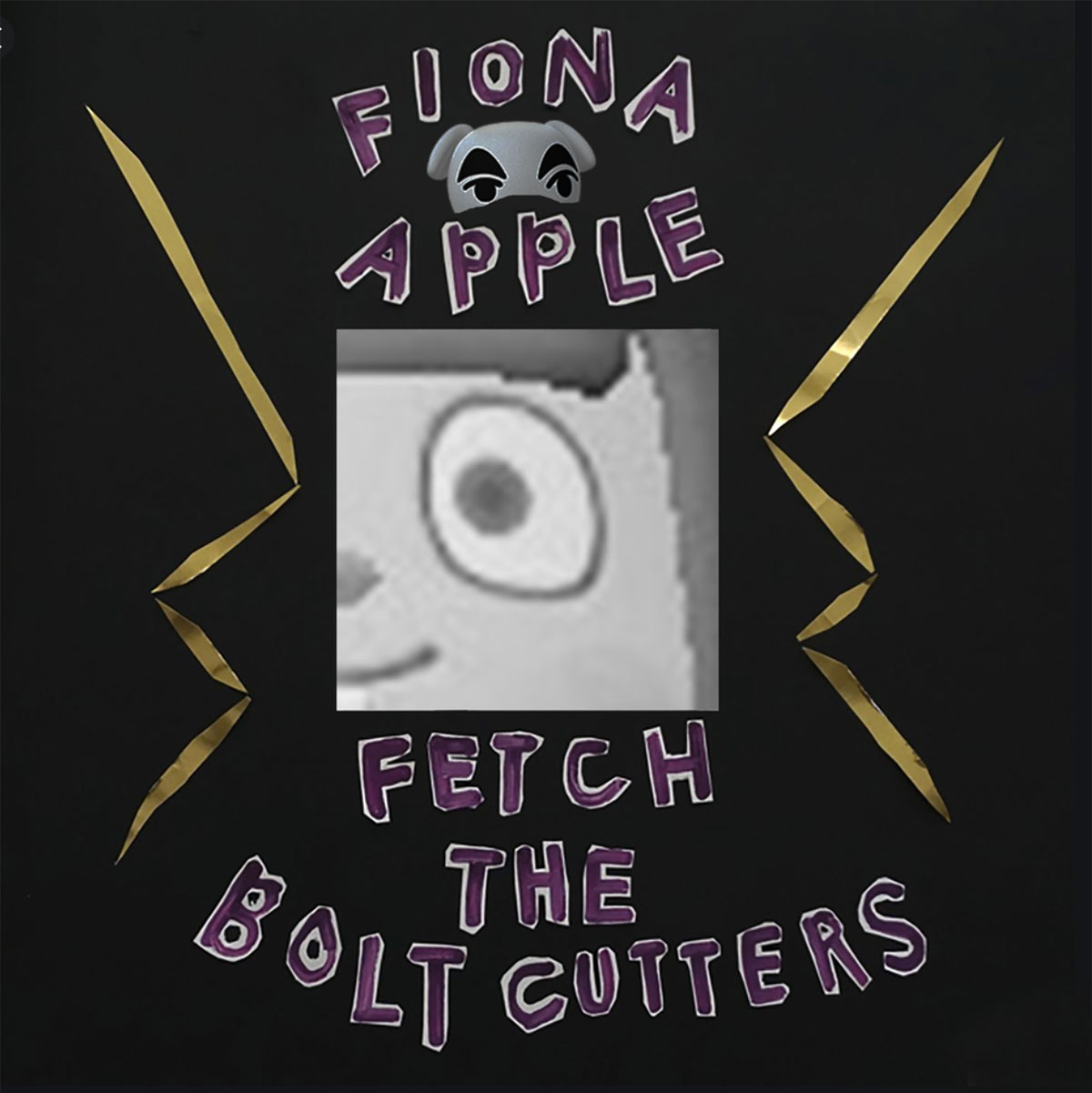 "Fetch the Bolt Cutters," Fiona Apple's latest album, dropped last week and friends, we have reached peak Fiona.
Since her debut release,"Tidal," in 1996, Apple has displayed dexterity with melody and meaning. Taking complicated subject matter and molding it into a landscape of emotional peaks and valleys, she makes her point while using vocabulary that is unorthodox but still catchy as hell.
In a span of 24 years, Apple has released five studio albums, each one evolving with her and her ability to cut through bullshit with razor sharp precision and extricate her message.  As a longtime fan, there are songs from each record I consistently reach for when I need to sing. Songs that make me marvel at her turn of phrase, her emotive voice, her thundering melodies.
Apple's body of work is already a thing of undeniably original songwriting.
Still, "Fetch the Bolt Cutters" is a different animal. Listening to it is like reading a book you don't want to end. It's like she climbed into a cocoon eight years ago and emerged, free of cares to give, potent and fortified by pressure and time.
"Bolt Cutters" opens with "I want you to love me," a contemplation of where love and experience will go. A funky bass line and a playful drum beat duet briefly before giving way to a piano soundscape reminiscent of changing weather.
She nods to fate, the grand design bringing her from this to that — and in between she is hoping that "you love me." She holds the note in "you" so long, her voice goes rough in the middle like she is making both a request and attempting to hypnotize.
The song zooms out on her experience, stomping her words into being: "And I know when I go all my particles disband and disperse and I'll be back in the pulse/ And I know none of this will matter in the long run/ But I know a sound is still a sound around no one/ And while I'm in this body I want somebody to want and I want what I want and I want you to love me." Aware of her audience, she beckons, "And I want you to use it/ Blast the music/ Bang it/ Bite it/ Bruise it".
The way the album breathes in and out from the micro of personal reflections to the macro of greater societal issues and existence itself, reminds me of the hermeneutic circle — a philosophy concerned with the act of interpretation, the circle is the idea that the part and the whole are inextricably linked and knowledge of both are necessary for knowledge of either.
This record grabs your hand and takes you through themes that grow large and small. The second song, "Shameika," paints a picture of a young Fiona navigating bullies and boredom at school while a churning piano provides the backdrop. She highlights the impact words spoken to a vulnerable person at a vulnerable time: "She got through to me and I'll never see her again/ I'm pissed off funny and warm/ I'm a good man in a storm/ and when the fall is torrential, I'll recall/ Shameika said I had potential." The time changes are dizzying and abrupt, but each time the song turns on its heel it manages to slip into another head bobbing groove.
The title track is a marriage of musings about expectations of love and life. Apple uncovers what it's like to be sensitive and prone to feeling every rejection, "And I've always been too smart for that/ But you know what? My heart was not/ I took it like a kid, you see/ The cool kids voted to get rid of me/ I'm ashamed of what it did to me/ What I let get done/ It stole my fun it stole my fun."
After years of evaluating herself and her experiences, Apple has settled into a position of acceptance and self-assurance that reverberates in her art. She consulted the past for understanding, and now she looks to the future: "Fetch the bolt cutters, I've been in here too long/ Fetch the bolt cutters/ Whatever happens, happens."
Intensity returns with "Relay." The song is constructed around the backbone of a line Apple wrote when she was 15-years old. Percussive and deliberate, "Evil is a relay sport when the one who's burned turns to pass the torch" alludes to the assault Apple endured as a 12-year-old and the cycle abuse can perpetuate. Apple, in interview in Vulture, breaks down each song. Lines such as, "I resent you for presenting your life like a f-----g propaganda brochure," are a reference to the toxic cycle of influencers on social media encouraging consumption of products and procedures that end up making people less, not more, empowered. "I resent you for being raised right/ I resent you for being tall" has roots in "this really terrible thing that had happened and my feelings about guilt and innocence."
Throughout "Bolt Cutters," Apple blows encouragingly on the tinder of her relationships with women. In a second Vulture article, Apple examines her middle school experiences because that's where her relationship to women started to get messed up. In "Ladies," Apple opens by repeating the title — part appreciation, part invitation – like a call to arms. She considers with empathy friendships that will never be despite the connections (and men) they have in common. "And the revolving door that keeps turning out more and more/ Good women like you/ Yet another woman to whom I won't get through."
"For Her" gives voice to a story about a friend who interned for a man at a film production company. The song starts with a sigh and jumps from clapping hands to a chorus of harmonizing voices chanting to clicking sticks and drumbeats like a dark school-yard rhyme. Fast and slow, insistent but melodic, the voices taunt repeatedly, "You arrive and drive by like a sauced up bat, like you know you should know but you don't know where it's at/ Like you know you should know but you don't know what you did." The time changes and there's a moment of silence before Fiona proclaims her revelation in the style of a 1940s folk song, "Well good morning," which is met by waves of angelic voices that overtake the song, washing it away in a swell of harmonic lamentations — "You were so high."
We get a bit of levity with "Heavy Balloon," a song that nods to the weight of being and the struggle to stay afloat. The verses have a roots blues, R&B flavor that's both glossy and groovy. She breaks from the self-scrutiny with a punch of swagger proclaiming, "But you know what?!/ I spread like strawberries/ I climb like peas and beans/ I been sucking it in so long/ That I'm busting at the seams." Her soulful growl is all confidence and it sounds good on her.
The theme of the part and the whole returns with "Cosmonauts." It starts with a close-up of a lover, "Your face ignites a fuse to my patience/ Whatever you do, it's gonna be wrong." Her words skip along to the bass line. She zooms out a bit further, the meat of the relationship exposed, "What I've become is something I can't be without your loving/ Be good to me this isn't a game/Now let me see, it's you and me/ Forgive, good God/ How do you expect that we'll survive?"
The chorus comes in light and melodic — it almost reminds me of Jack Johnson's phrasing, "You and I will be like a couple of cosmonauts, except with way more gravity than when we started off." The frills are ripped off in the outro when Apple screams, "Started off start it off start it off BABY start it off start it off start it off NOW."  I was interested and a little disappointed to learn that the song was originally written for Judd Apatow's movie "This is 40." When I first heard it, I marveled at how Apple articulated the way a marriage or relationship can an endless loop of push and pull, fighting and forgiving, but is ultimately its own unique reality  — as separate from the rest of the world as two people in space.
Apple leaves us with "On I Go," a marching mantra that repeats: "On I go, not toward or away/ Up until now it was day, next day/ Up until now in a rush to prove/ But now I only move to move." She leaves a part in the recording where she messes up a phrase, as if to tell us its OK to keep going and to have grace with ourselves. That's the point. Enjoy going onward, whatever that means — even if it's staying put, as many of us are to help stifle the spread of COVID-19.
"Fetch the Bolt Cutters" is full of feels; it's a kaleidoscope of moments and reactions made into a work of art. But in the context of the current locked-down state of the world, perhaps the most significant offering of this album is the reminder that you don't have to go far to be transported by inspiration.