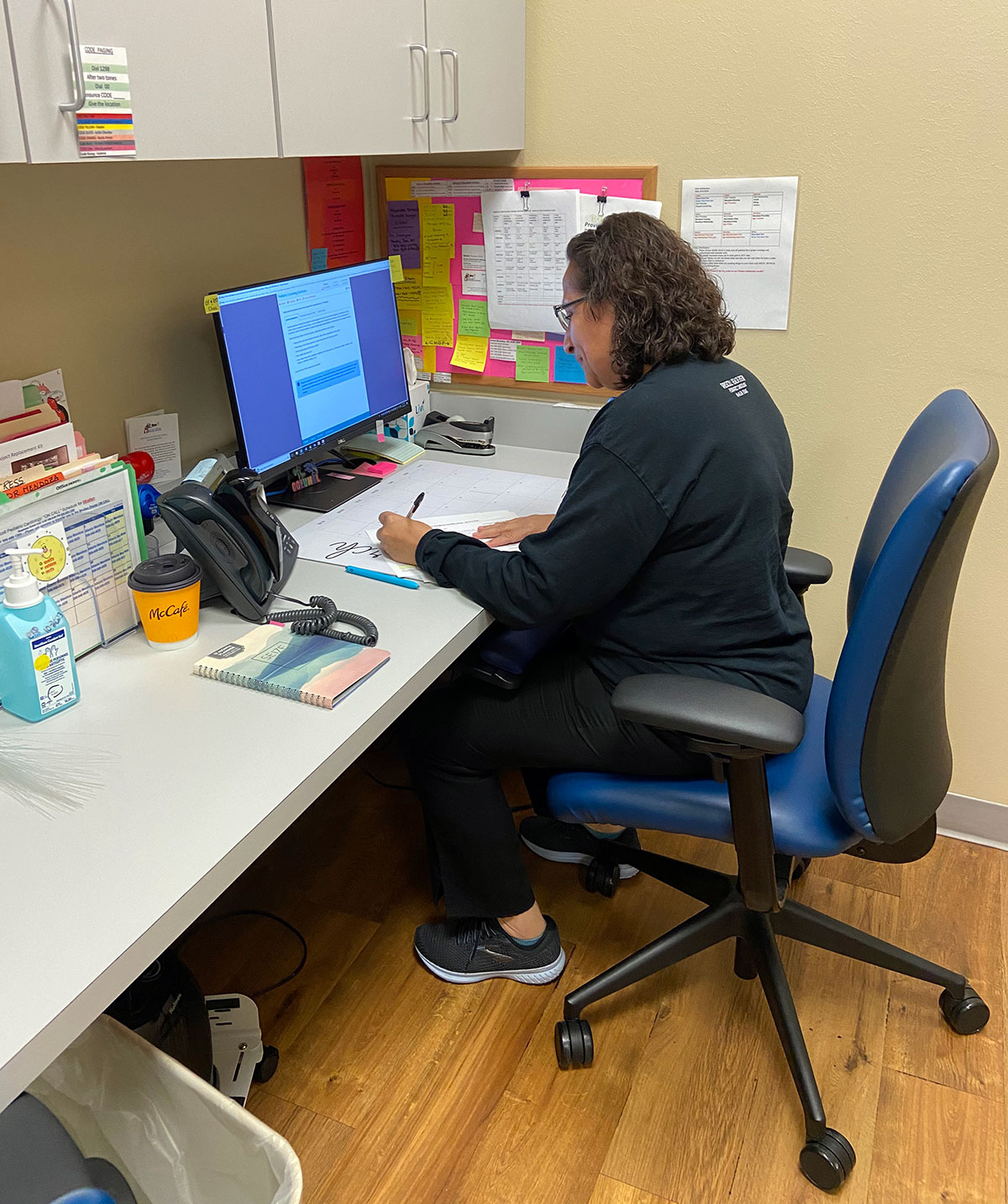 Healthcare workers around the world have faced an unexpected wave of adversity. Every time one turns on the TV or scrolls through social media, citizens are constantly reminded of the heavy reality everyone is living under — COVID-19.
Bekie Abiro, is a nurse in McAllen, Texas, who works in Driscoll Children's Specialty Clinic's pediatric cardiology clinic. Abiro is a wife, daughter and mother, and is this reporter's mother.
"I've been working in the medical field for 30 years, I've never seen or experienced anything like this before," she said. "My day-to-day routine has completely changed at work. The overall workflow has changed, from how and when we accept patients for routine office visits to deciding how patients will be examined whether in person or via video chat."
On March 17, Driscoll Children's Hospital updated its visitation policy for both its hospital and clinical patients.
"Precautions we are currently taking are that all patients are screened prior to entering the clinic, no ill patients or ill family members are allowed, and the adult that is with the patient is also screened," Abiro said.
A hospital press release stated that only one primary caregiver can accompany each patient.
"We have implemented a lot of quick changes just within this last month to not only ensure that our patients are safe and healthy, but to keep the doctors, nurses and all the staff safe, too," Abiro said. "We use gloves and masks when it comes to direct patient care, sanitizing work areas more often, and (using) frequent hand washing as well as practicing sneeze and cough etiquette."
Abiro said her clinic has implemented a new drill called "code dove."
"Someone will announce on the intercom 'code dove' several times throughout that day, and in that moment everyone is required to stop what they are doing and wash their hands," she said. "If there are any patients waiting in the lobby, a nurse will walk around with hand sanitizer and make sure everyone in the building has sanitized or washed their hands."
Medical facilities across the world have had to adapt to the pandemic, and Abiro said it is especially evident in how healthcare workers interact with patients.
"I am limiting contact with patients," she said. "More phone calls, less contact. Another thing I try to do is, quickly moving forward though patient visits to avoid any unnecessary contact."
Being a healthcare worker means Abiro has to be aware of how it involves family, she said.
"Knowing that I am exposed to other people while my family is at home practicing social distancing is a bit scary," she said. "All of my children and my husband are working from home, while I am still going into the clinic."
There are precautions that people working in the healthcare field take on a regular basis but now those precautions are amplified, Abiro said.
"Prior to this Coronavirus pandemic, I usually would just hop in the shower when I got home from work — I guess it just became a routine after so many years of being a nurse but I wasn't too consistent with it," she said. "Now I throw my scrubs in the washer and take a shower as soon as I get home. I won't sit on the couch, go into the kitchen or any other part of the house — I don't want to risk it."
Abiro said she believes the pandemic will have a lasting effect on how people physically interact with each other.
"I think a lot about how this is going to shift things in the future," she said. "Now, more than ever, we are seeing an increase of doctors and nurses seeing patients on video calls, and I think once this virus is more contained, there are going to be lasting changes moving forward about how we interact with and care for our patients."
Abiro said she encourages people to continue practicing social distancing and obey any orders that have been enforced in their county.
"We have to follow the rules, there's no question about it," she said. "People have to stop thinking they're invincible."