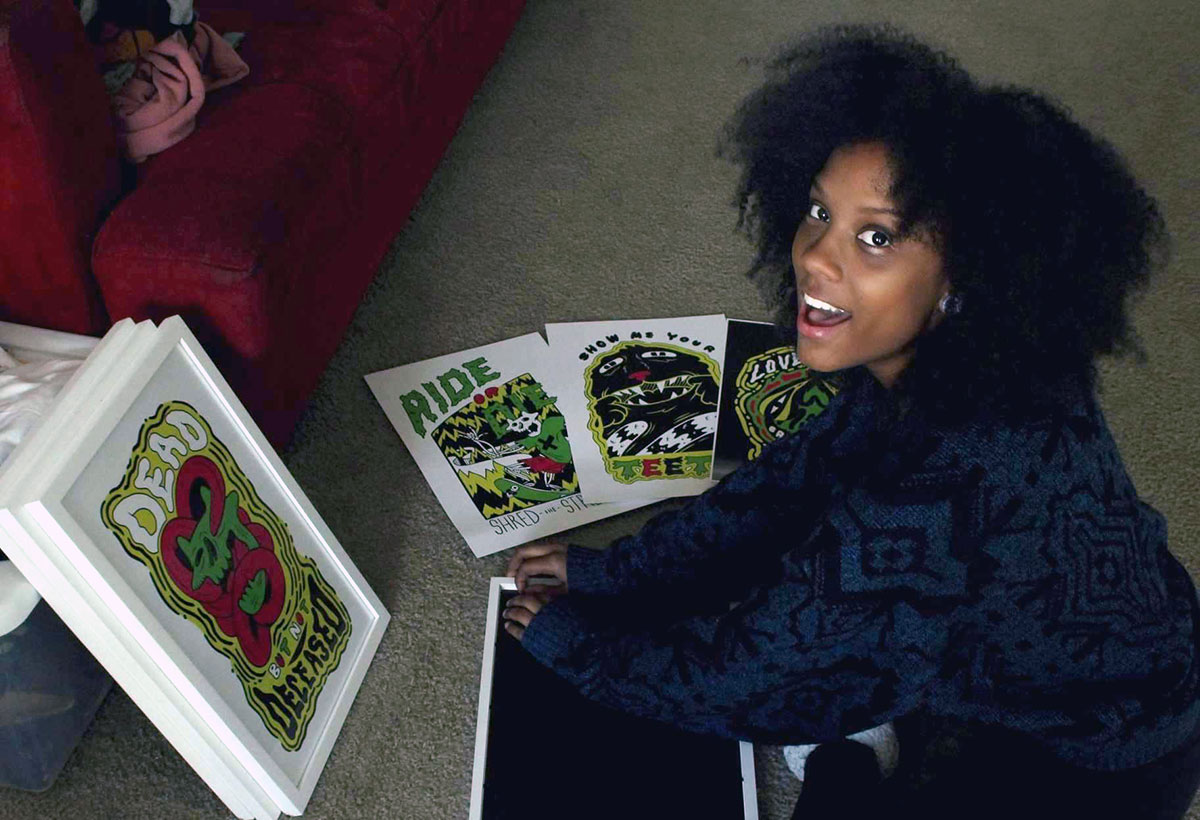 The final chapter for most seniors to soak up their last days at school and show off what they've accomplished. It's a time for final goodbyes, final projects and diplomas.
Art seniors at Lamar are rushing to finish their final thesis projects to graduate in May, but the question of whether they'll ever be displayed for an audience hangs in the air.
The thesis exhibition, which showcases the senior's final projects that relate to real world issues, typically begins in early May in LU's Dishman Art Museum.
Yet this semester, the artists were thrown for a spin when they were told their senior thesis show was not happening due to COVID-19 precautions. Each artist is finding new ways to adapt their concepts, that were being prepared in the department's studios, to their home environment where options are far more limited. 
"This project is really a chance for graduating seniors to show off their passions in person," Naja Garrette, San Antonio graphic design major, said in a phone interview.
"This senior thesis project is the very last class for my major. You find your passion, what you really want to show off to the world, then you find a creative way to apply it to real world issues. You dedicate the entire semester, if not the year, to develop the idea and figure out your visual elements for the thesis.
"Not to mention the 20-page paper that goes along with it. That's where you have to find references, explain how your project will be unique in its own way, and show off how your passion will shine. It really does take a lot of work. But it all pays off in the end."
Garrette's project is about consumerism in modern America. Specifically, how it affects youth. Some children seek out brands instead of true artistic clothing, she said, and that shouldn't be the case, since children should feel confident in any brand they own even if it's not the most popular. She has designed eight T-shirt concepts. While Garrette requires a screen-printer to completely finish her thesis, she's having to adapt by creating her concepts digitally at home.
Garrette said she anticipated showing her friends and family her project, and is disappointed that the show now might not come at all. 
Professors in the art department are helping out the seniors as best they can, lending any supplies they're able to from classrooms so the students can work from home in as close to a normal environment as possible.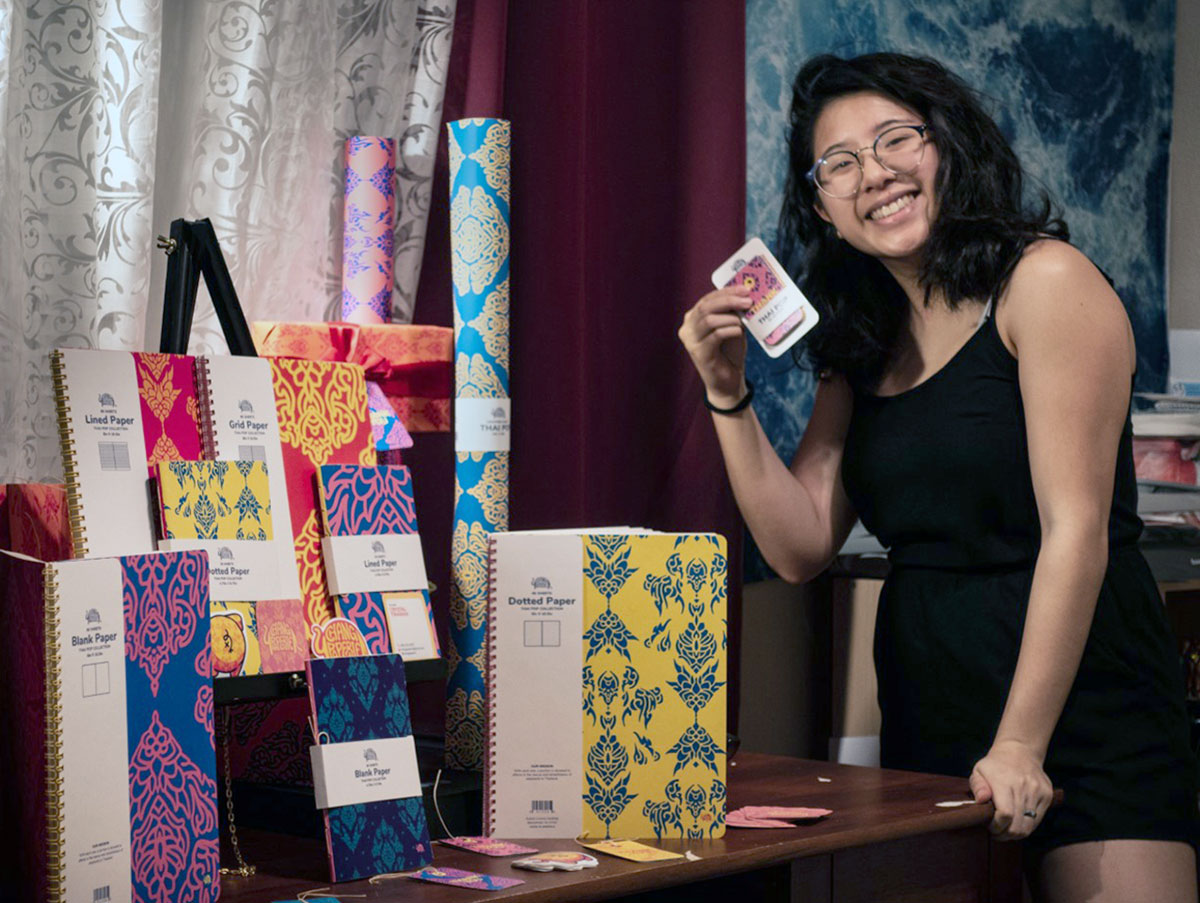 Some seniors, like Crystal Tirawan, did not need help as she had already purchased all the supplies she needed for her project. Tirawan plans to use her concept after graduation as an entrepreneurial adventure in the stationary realm.
The Beaumont native's concept, titled "Chang Paperie," will hopefully generate profits to help rehabilitate elephants in Thailand.
"'Chang,' in Thai, means elephant, and if this is successful, the goal is to make a donation for rehabilitated elephants," she said. 'Paperie' is like a journal wrapping paper, and I also have stickers. I bought all the paper and basically all the tools, and I cut all the paper and printed everything.
"The only thing is, my printer sucks more than the one in the art building. It's messed up my accuracy, but my professor is being so uplifting and encouraging about it all. Small mistakes are OK now because of the whole situation. They're not killing me over it not being perfect — they're just happy that I can produce what I can produce out of the studio."
Tirawan said the group is looking into other ways to exhibit their theses.
"One person in our class suggested an Instagram page where we could show our work, but we can't post anything until we graduate," she said. "No matter what, we'll definitely find a way to put it out there. I don't know how or when, but we have a group of talented people that won't get a show, so we'll find a way."
As Lamar's classes are online, some students have taken the change more easily, like Jayme Deville, an art and photography major who grew up homeschooled, and is grateful for the newfound time with her family.
Deville said that although it's been hard to do art classes without the studio, there's good in every situation. 
"My project is photography based, where I've placed images and items from the last four years of my life to tell a story," she said. "Random journals, old photos, you name it. It's very personal. It's multi-surfaced, so while you might see travel stubs and pictures from Instagram, I'm creating it so there's a deeper meaning underneath it."
Deville said she is grateful to have more time to finalize what their final pieces would look like with the possibility of the show postponed to August.
"We might try something online (but) I hope it is in August, that's been the most promising idea that's floated around," she said. "It'll be different, but they might push the faculty show back just so we can have our own show to ourselves. I'm glad we can possibly still have it despite what's going on everywhere."
While things haven't turned out like they anticipated, the seniors are still putting all their effort into their last project. Their projects are different, but their message is collectively the same — the work will be shown to the world one way or another. No matter the platform, they'll overcome, and people will get to see the product of their hard work.