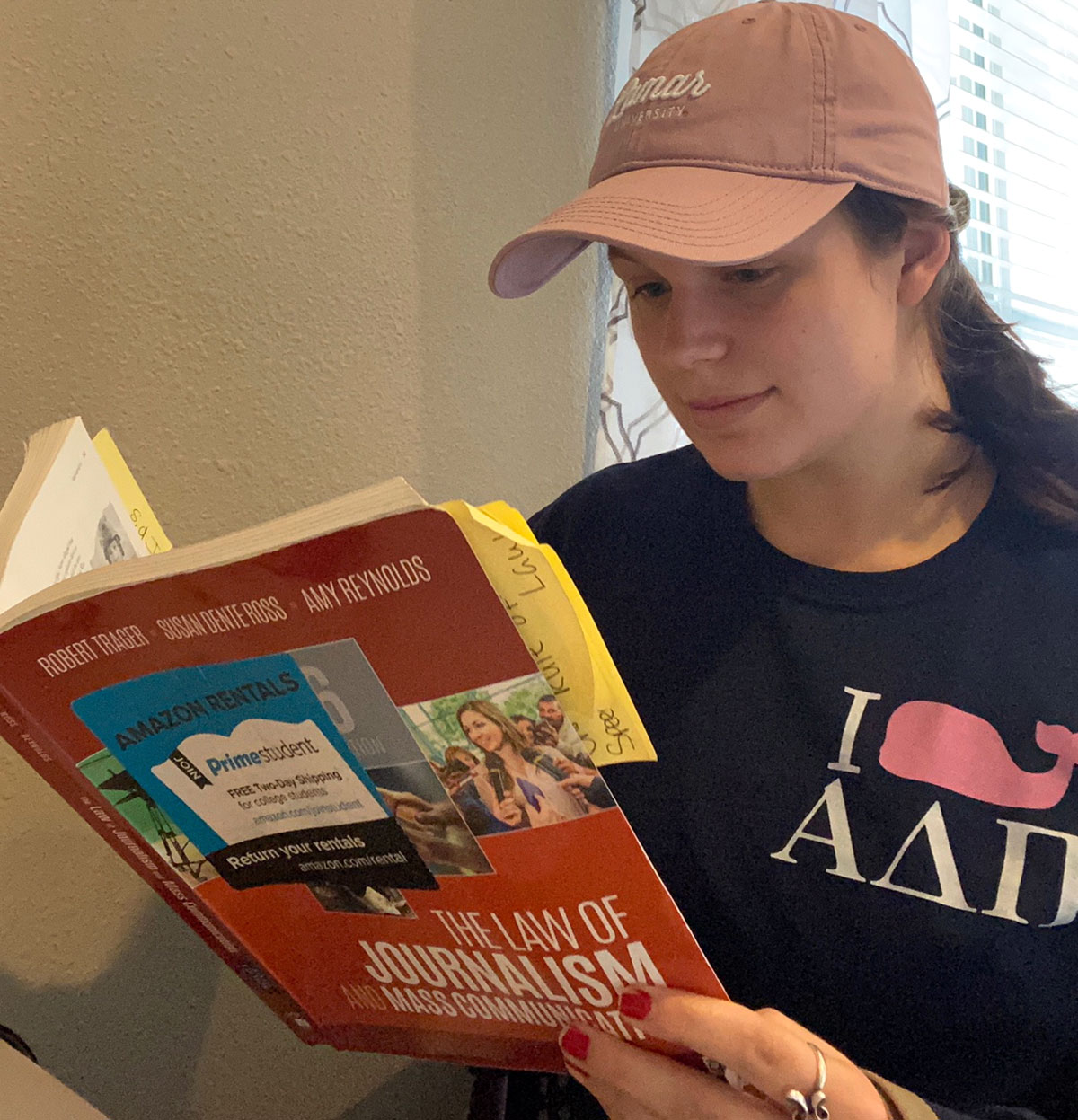 It's an idyllic spring day in April and Kendall Smith, Port Arthur junior, sits cross legged in the sunshine, surrounded by her textbooks. A mere two months ago, passersby might assume the Lamar University student was simply getting some sun or taking advantage of the rare perfect weather in Southeast Texas.
But the reason people like Kendall are presently spending an unusual amount of time outside is not so benign.
Like citizens around the world doing their part to "flatten the curve" of coronavirus infection rates by isolating at home, Kendall is trying to get a break from the confines of the house she has spent the last four weeks quarantined inside. Riding out the crisis with her parents, she said she eagerly awaits the end of the lock-down, and subsequent reunion with her friends.
"I've tried to adapt socially in different ways as best as I can," the corporate communication major said during a FaceTime interview. I love seeing my friends, it really keeps me going.
"I'm a pretty bad texter, so I've really preferred FaceTime to stay in contact in all this craziness. I really think that someone's face can really make your day better, it's a more personal interaction."
Kendall paused to collect her thoughts, a pang of hurt in her voice rising out of her carefully chosen words.
"I try to keep my sanity by cleaning as much as I can," she said.  "Clean spaces equal a good, clear mindset. Some days are worse than others, but I try to be positive even though I'm not around my friends."
In terms of her adjustment to public errands, Smith said that even if she saw someone at the supermarket she knew, she would keep walking after a small wave, to adhere to safe social distancing practices, no matter how sad she finds the situation to be. While keeping a physical distance is hard for her, she said she knows it's the best way to keep everyone safe during this unprecedented time.
For introverts, adapting to virtual forms of socialization can create opportunities to enrich relationships. Cade Smith, Bonham senior, uses "Discord," a community chat app, and the game "Animal Crossing" to interact with friends during the pandemic.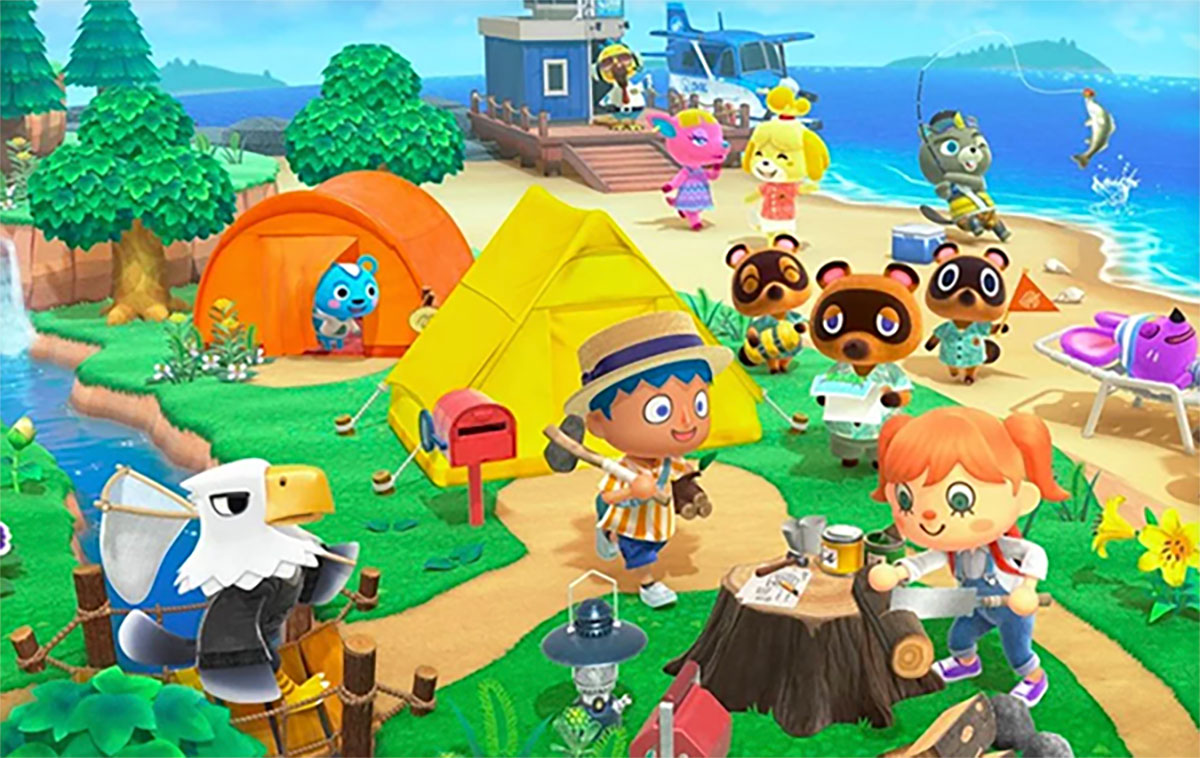 "A benefit of using technology to maintain social relationships is that you get to keep in contact with friends that you haven't talked to in a bit, and you also get to 'hang out' with friends as if you are actually there," the journalism major said. "I am kind of introverted to begin with and only socialize or talk to people if I have to. I miss socializing with people in person a tad bit but I'm completely fine with virtually communicating."
Marianne LaChance, who graduated from Lamar in December, said she misses the physicality of socializing in person, but online socialization offers a valuable opportunity to connect safely during these uncertain times.
"I'm such a hugger and I love to give my friends and family affection — I miss giving hugs," the corporate communications major said. "Other than that, I think I miss being able to go walk around Michaels and plant shops. I don't even want to buy anything — I just like to be around art supplies and plants."
"But socializing with others through video games and web conferencing led me to meet and become close to new people. I've made new friends through all of this, believe it or not."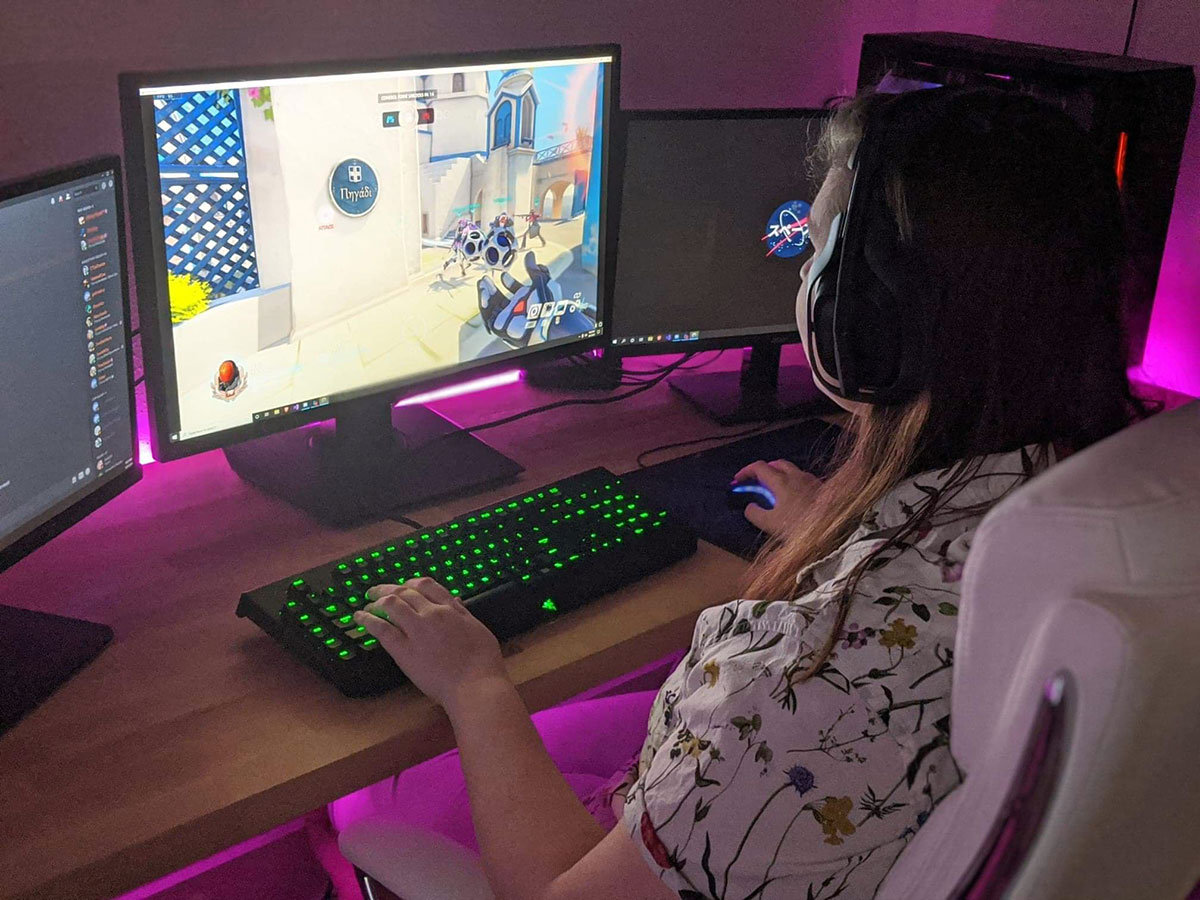 Marianne, a Nassau Bay resident, also utilizes Discord to connect with friends while playing video games or watching movies and stays connected with family via Google Duo, the Google version of FaceTime.
"Socializing with others is a huge part of my life," Marianne said. "I knew that before, but this experience has really emphasized how important socializing is to me. I used to think I got my social energy from alone time. While that is true to an extent, I've realized that I derive some of that energy from social interaction with friends."
Maintaining social connections have an important effect on energy levels, and even one's mental state, Cade said.
"It has helped me deal with my depression and anxiety," he said. "I'm not saying that it completely helps me, but the connections that I still can make with friends on 'Animal Crossing' is great — it's fun and it helps me cope."
Marianne said this period of having to socialize online or digitally will impact how she thinks about friendship and socialization when the pandemic is over.
"I think I will definitely put more stock into online friendship," she said. "You can form intimate, gratifying relationships with others without being near to them. While I prefer to spend time with people in person, I'm also content being able to spend time with others at all during this whole ordeal."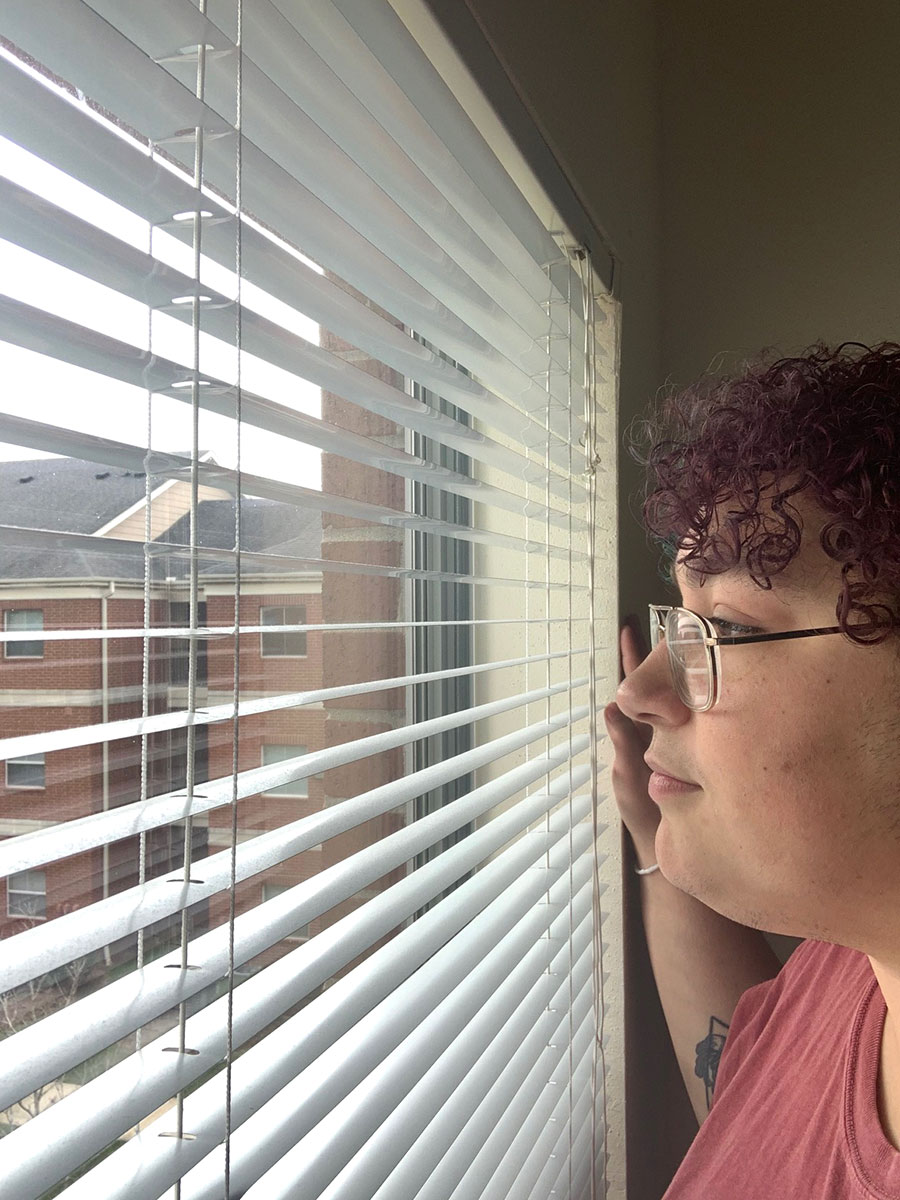 Not every situation is the same for socialization. Carter Velasquez, an American Sign Language major, is still in the resident halls at Lamar while most of their peers get to be at home, around other individuals. The Connecticut junior, who uses the pronouns they/their, has adapted to the quarantine in ways they never thought they would have to. Since Carter's family lives 14 hours away in New Mexico, the chance for a quick home visit is out of the question.
"This whole thing has been really bad for me," Carter said in a FaceTime interview. "I'm a quality time, physical touch person so this deprivation is not going well at all.
"Social media doesn't even feel like social media anymore — socials don't even feel real to me. It's not a genuine form of communication I've decided. I basically have no more friends here. Everyone has either moved away already or they just haven't come back to get their stuff yet.
"We chat about life for a little bit, have our meeting, and wonder how this whole thing will pan out since we aren't able to collaborate in person anymore. We hold our trainings there — and it's been interesting. Not bad, but definitely interesting."
Velasquez relies on FaceTime to give them a sense of normality — calling their old roommate to stay in touch with the little changes happening in the world, and keeping as close as they can as friends. Carter said funny TikToks are also a useful tool.
"I try my best to share things that make me think of other people, so they know I'm thinking of them," they said. "To show them that yes, they still exist to me even though I haven't seen them in weeks."
On-campus students are hard to find. Since they are encouraged to social distance and stay in a confined space, students find it hard enough to see others and have a conversation with someone face to face.
No one can say for certain when the call for social distancing will be lifted, but until it is, students will find their own ways to stay connected.