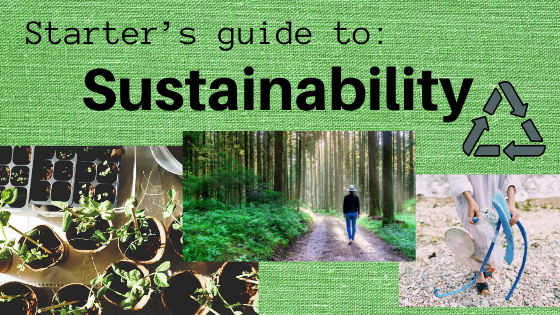 Starting a sustainable lifestyle doesn't have to be difficult or expensive. There are many ways for beginners to easily start adding in sustainable practices to their everyday life.
"Sustainability is using all resources wisely so that future generations will have what they need," Dr. Alicen Flosi, director of sustainability at Lamar University, said in an email interview. "If we don't start living more sustainably, future generations will suffer."
This time of quarantine and social distancing is a great time to start making some sustainable switches. While isolating at home, there is plenty of time to think about grocery buying decisions and other ways to reduce waste.
"I think it's a good time to cook more at home, declutter and donate some clothes, and plant the seeds we've all had sitting around for ages," Madeline G. Hiebert, president of the Lamar University Green Squad said in an email interview.
Collecting rainwater for plants, switching to cloth towels instead of paper, and unsubscribing from any paper mail are a few tips that Flosi recommends for people who are just starting their sustainable lifestyle.
Earth Day was, April 22 and sustainability is not just a once-a-day practice. Although students were unable to celebrate on campus with the Green Squad, the sustainability and recycling club, there are many other ways to celebrate the earth at home while in quarantine.
Flosi recommends starting a garden, planting a tree, and making your space welcoming to birds and other wildlife. She said that if you don't have a yard you can give up single use plastics for the day, give up all electricity for an hour, or just take a walk and enjoy nature.
"Some good environmental documentaries to watch during quarantine are 'The True Cost,' 'Minimalism,' 'Chasing Coral,' 'A Plastic Ocean,' and 'Cowspiracy,'" Hiebert said. "I think it's important to be aware of what's going on so we can make change."
Living sustainably does not have to be expensive or complex. It can be simple and easy. It is all about taking steps to reduce waste, use renewable energy, and spread the word about sustainability to preserve the earth.
"A good start is to minimize single use items and go from there. I have metal straws, reusable grocery bags, silicone Ziploc bags, bamboo toothbrushes, travel cutlery, and if I purchase goods like toothpaste for example, I try to buy plastic free," Hiebert said. "Packaging has a lot of plastic that goes unnoticed."
Flosi said it is important to make small changes and do what you can, you don't have to start off drastically changing your life.
It is also important to spread the word, especially through social media.
"Most people don't care about boring percentages, but if we can show them quick tips or facts that are really eye opening, it can make people second guess their lifestyles," Hiebert said.
The Green Squad uses Facebook, Twitter, and Instagram to share pictures and graphics about sustainability tips and statistics.
"The Earth is our home. It's important to see the world as something to be cherished and looked after," Hiebert said.
For more information on sustainability and ways to celebrate Earth Day all-year round, visit www.lamar.edu/sustainability.