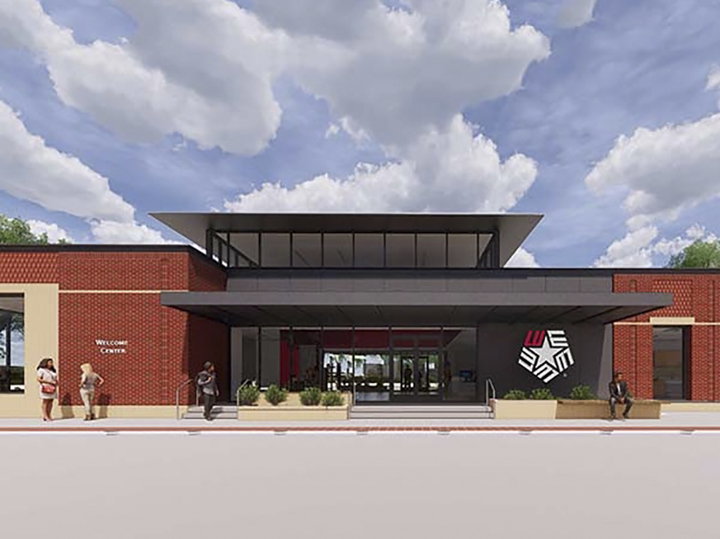 Lamar University will host a groundbreaking ceremony for the new Welcome Center, today, at 3:30 p.m.
The new building will be 6,300 square-feet at the southeast corner of Rolfe Christopher Drive and Jim Gilligan Way and will feature a two-story lobby with seating areas for visitors, a refreshment counter and a self-service kiosk for students who want to learn more about Lamar. The lobby and a side gallery will include a variety of media to tell the LU story, according to a release by the university.
Also featured will be a workroom for student ambassadors and miscellaneous support spaces. The facility will also include visitor parking, bus drop-off, outdoor gathering areas, a public art sculpture by Paul Kittelson and Carter Ernst, and an iconic "photo op" monument sign.
A 40-seat theater for structured presentations will be located adjacent to the lobby and is designed to lead visitors to the gathering area for campus tours.
"The Welcome Center will be the first stop on campus for prospective students, family members, alumni and other visitors," Tracie Craig, Welcome Center director, stated in a release. "It will be the first building people see as they approach campus on Cardinal Drive. We will provide information about the campus, LU's history, academic programs, athletics and student activities. It will also be the starting point for campus tours and housing tours."
The welcome center is part of a new vision the university has for south campus that the university may implement as funding becomes available.
Some of the admissions staff currently housed in the John Gray Center will migrate to the new building, including admissions counselors and the center director.
The building will cost approximately $3.5 million, Katherine Miller, assistant vice president of planning and construction, said in a telephone interview. The money comes from university appropriated funds.
Since the project cost reached a certain threshold, the Texas State University system has to approve and execute the construction contract which the contact is still pending, Miller said.
Miller says she expects the building to be finished by January 2021.