UP photo editor Noah Dawlearn is holed up at home like the rest of us. We could sit and vegetate and let the world go slowly by, or we can practice a few skills and have some fun along the way. With that in mind, Dawlearn has devised a 14-day photo challenge. Read the suggestions below and play along. Dawlearn will post an example every day on the @uplamar instagram page.
If you wish to pick up the challenge, the University Press would love to see what you come up with. Post your images on Instagram with the hashtags #uplamar and #upphotochallenge. See how you compare and maybe pick up a few ideas.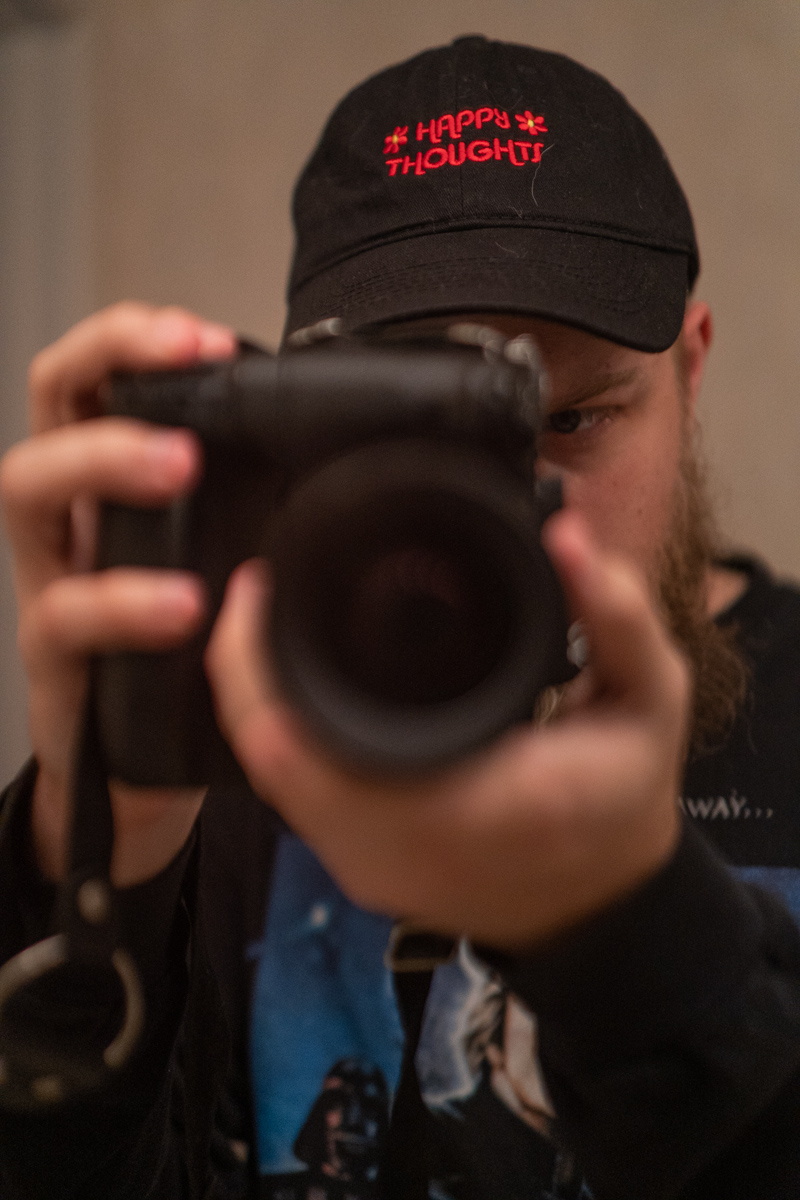 Day 1: Self-portraits.
These can be done anywhere in the house. I recommend taking them in your normal corner of the house or a place that you spend the most time. This area of the house will have a part of your personality, from the way you have it decorated to the way your books are stacked on your desk to the posters on the wall. Each of those things helps the viewer of the self-portrait learn more about you.  
Day 2: 1 Color.
For this part of the challenge, search your home for 3 objects of the same color and compose an image with those 3 objects. This creative challenge allows you to get out of your comfort zone and try creating an image that you may not of thought of before. A good example of this could be a red cardinal on a red couch with a red a red napkin.
Day 3: Textual Abstractions.
For this day of the challenge, search your house for all of the different patterns and textures that stand out to you. That could be a closeup of the rug on the floor the paint on the ceiling or the details on your blanket. Each part of the house has different texture than you can capture and show the world.  
Day 4: What's out the window?
For this part of the challenge, take a picture of what is out your window. This shows your personality by showing what parts of the world you find interesting, from the cars on the street to the trees in your back yard. You can also express your creativity by how you frame the picture and how much of the window that you show.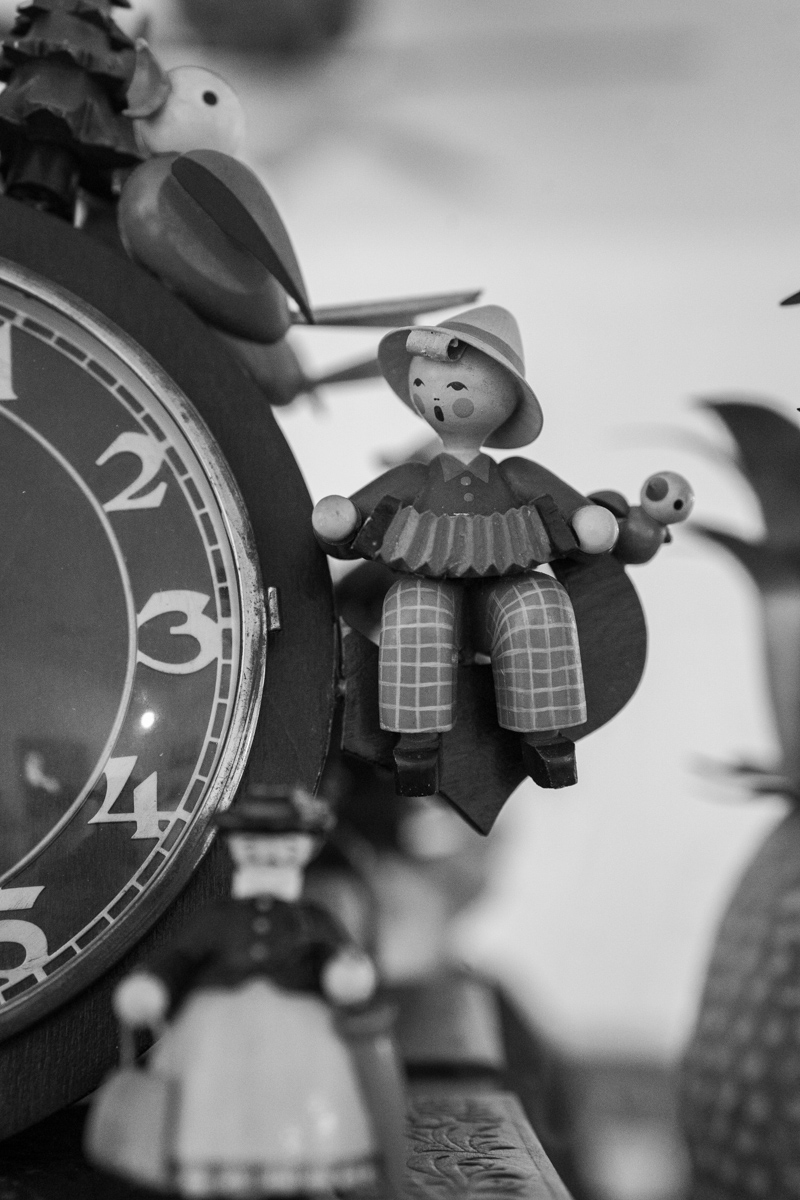 Day 5: Black and White Photo.
This part of the challenge focusus on the details that you put in your photos. When shooting a picture, a bright color shirt in the background might pull your attention, whereas if the picture was black and white the shirt wouldn't stand out as much. This picture could be of anything that you find interesting in your house. 
Day 6: Glass of Water.
For this part of the challenge, you can mess around with how the water warps the image you get from the other side of the glass. From certain angles, you can magnify or distort the object on the other side. It is also for you to start playing around with macro photography, as the water helps you take pictures of really small objects.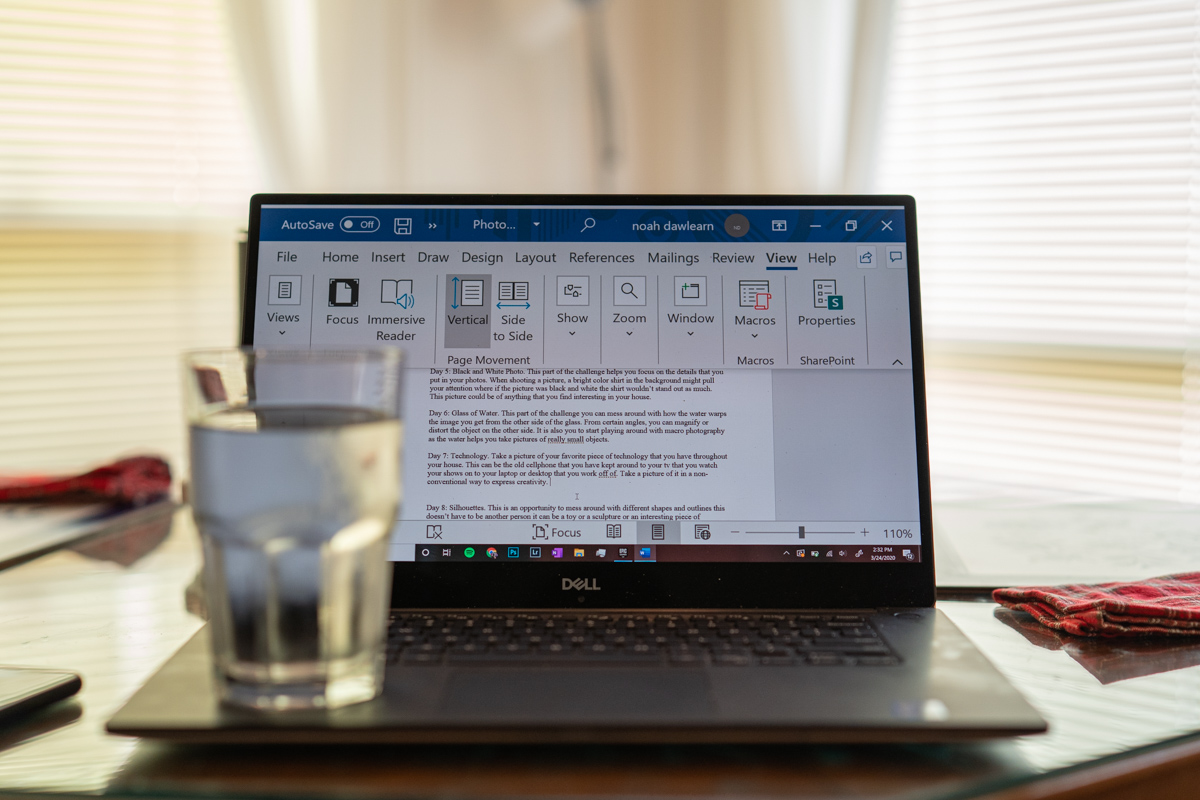 Day 7: Technology.
Take a picture of your favorite piece of technology that you have in your house. It can be the old cellphone that you have kept around to your TV to your laptop or desktop. You can shoot a piece of technology that you think is unique. Be creative and see if we can guess what it is.
Day 8: Same thing, eight ways.
This challenge encourages you to think outside of the box and makes you think of how to portray an area of your house or an object in eight different ways without it looking like the same picture. You could take pictures of different corners of the house as the light passes through the day or night, or pictures of the same object like a dog or a coffee mug. 
Day 9: Don't Zoom.
Most smartphones have more than one lens now a day and most photographers have more than one lens for their camera. This challenge allows the photographer a chance to learn all of the different focal lengths that are at their disposal. This allows you to try something new and different outside of your comfort zone. 
Day 10: Different angle.
This challenge encourages you to view the world from a different viewpoint and try to see the world from a different angle than you normally do. It could lying down on the floor or climbing on a table and viewing your world from a different angle. 
Day 11: Silhouettes.
This is an opportunity to mess around with different shapes and outlines. It doesn't have to be another person, it can be a toy or a sculpture or an interesting piece of furniture. These silhouettes can be taken day or night to add a creative twist on the object by just showing the outline on a bright background. 
Day 12: Recreation.
For this challenge, try to recreate your favorite picture from the resources that you can find in your house. Let's say you wanted to recreate a family photo of a vacation in the mountains. You could use a blanket to make a mountainscape and pose different people in the photo to recreate that image. 
Day 13: Culture.
Take a photo of something from your culture. This could be a religious figure, a tradition from the place you were born, or just something that you do every week. Capture something that shows off what makes you who you are.
Day 14: Food.
Take a picture of your favorite meal of the day. Whether it is breakfast, lunch or dinner, you have the opportunity to plate your meal in an interesting way, place it in a location of the house that you think looks cool — and an eating utensil makes it visually appealing.