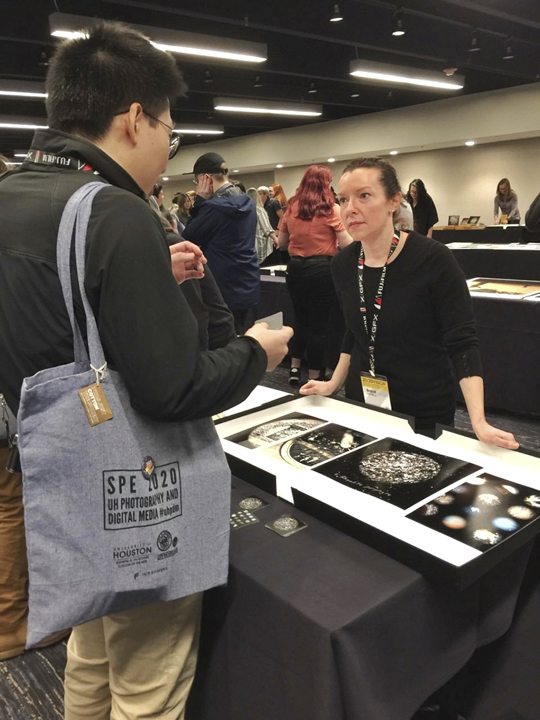 The Society for Photographic Education which promotes the understanding of the field of photography held its annual conference in Houston, March 5-9.
I attended the four-day long conference along with a Lamar University contingent which included Dennis Kiel, director of Dishman Art Museum; Prince Thomas, professor photography & digital media; alumni Brit Thomas and André Woodard, and senior Jennifer Marion.
Months before the event, I asked Keith Carter, Walles chair and LU professor of photography, if SPE was worth going to as an undergraduate student. In his relaxed yet direct way, he replied, "An event like SPE or Fotofest is very near the experience value of an MFA — you should go."
'Nough said.
A Texas tornado flurry of professors, curators and publishers in the field of photography attended for professional development, to further education and find new talent. Jennifer, André and I presented portfolios for review by industry leaders.
Prince Thomas, who pushed Marion and me to attend because of our concentration in photography in Lamar's BFA program, said "(Students) gain an awareness of what is going on within the medium from various vantage points, including what contemporary photographers are thinking about, what are the relevant issues being explored, and what are the concerns that affect the medium."
The conference hosted talks on many of those issues. Mary Virginia Swanson, an advisor to artists, spoke on the changing landscape of making and marketing artwork. Houston-based artist Emily Peacock, who recently exhibited at the Art Museum of Southeast Texas, spoke about using comedy in her work dealing with serious and emotional family issues.
In addition to getting feedback from different perspectives and positions within the field, I wanted to know what other people in different stages of their career hope to gain from an event like SPE.
"I look for new trends in the visual art culture and conversation," Kiel, who reviewed professional portfolios at the conference, said. "I also just hope to find something I haven't seen that will knock my socks off."
Woodard, who graduated from Lamar in 2017, said the art community that is built and gained at SPE is invaluable to him as graduate student and artist.
"This is the first time I've been swarmed by a large group of people who are all dedicated to the same thing that I love — art and photography," he said. "This experience will change my life."
Britt Thomas, who is now an adjunct professor at Sam Houston State, said education jobs are competitive.
"New contacts and reviews on my teaching package will help me compete for a (full-time professor position)," she said.
My excitement and anticipation continued for the portfolio reviews. In addition to the three 20-minute review slots I was scheduled for, I was thrown into two more stand-by slots, which led to three personal introductions and reviews from professors at different grad schools, which provided insightful feedback and new connections.
This was the first professional event Jennifer, who is scheduled to graduate this fall, had attended.
"At Lamar we quickly learn the preferences of our professors," she said. "Reviews and feedback by different eyes from around the country provided so many new ideas and avenues for me to develop my work."
This year's SPE was held in conjunction with Fotofest Biennial, which continues through April 19. This year's Fotofest theme, "African Cosmologies," includes exhibitions at the Houston Center of Photography and The Blaffer Gallery at the University of Houston, among others.
After over-saturating our brains on photography, we decided to get some good old blues music at The Big Easy dive bar. Two of the things I've gleaned from Keith Carter's advice for an artistic life and work is to embrace the sense of place from where I come and to appreciate the interesting gestures by its inhabitants. That moment was getting twirled around the blues bar dance floor by Cliff, the roller-skating proprietor.
For once, I didn't get the shot — but I got the story.