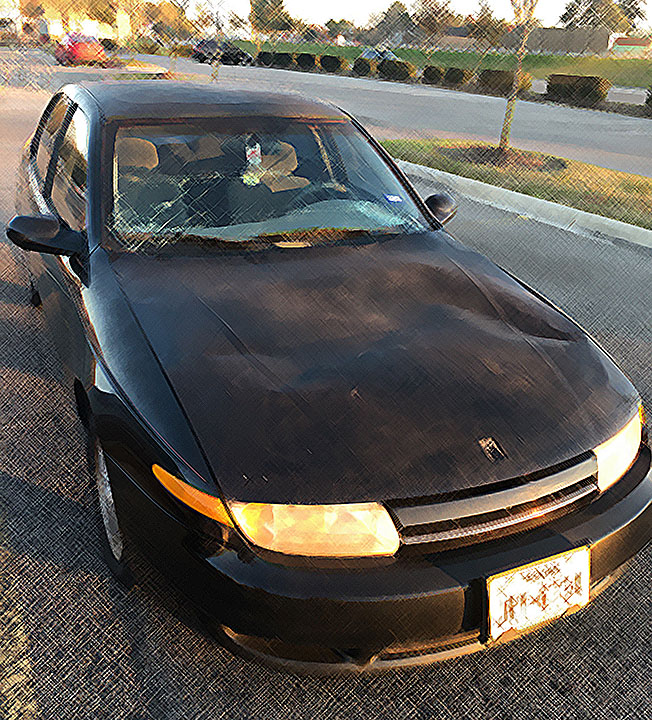 Everyone remembers their first car. They either buy it themselves or someone buys it for them. For most, in Texas anyway, it would be some sort of truck with lifted tires and an obnoxious sounding engine that could be heard from miles away. For me, well, it was a 2001 Saturn L200.
I got my car back in the Summer of 2017, just before I came to Lamar for Summer I classes. I remember when I first laid my eyes on it. It was black with a small red outline on the doors and had more then 275,000 miles on it, which was a bit steep for an older car.
Most people would think to themselves, "Why in the world would you drive a car that, for one, is a Saturn, and also has more than 250,000 miles on it?"
Well, I have the perfect answer to that. My parents got it for me because they felt that I needed a vehicle to get around campus and to go places without a friend having to take me, and for them to not have to drive more than 400 miles to come get me for holidays or during breaks.
I loved that car, despite constantly complaining about it to people around campus. It did the job of getting me around, and for me to visit family and friends when I wanted to. However, all good things must come to an end.
My Saturn started needing a lot more repairs in the last year, but the one issue that didn't seem to be fixed was that my running lights would stay on after I would kill the engine. I would have to disconnect my battery every time I parked for long periods of time. As soon as I figured that it wasn't worth the money to keep fixing it, I decided to stop investing money into fixing the issue.
My little brother knew of the problem, and the hardships I had faced dealing with the car, and decided to give me his 2002 Ford Mustang V6 since he had just bought a new car.
I was excited as I have always wanted a Mustang to drive around on the open highway. I couldn't wait until the upcoming spring break to pick it up — apparently, life couldn't wait either.
My car reached its final leg on Feb. 29. The day started out like any normal day with my girlfriend and me going on our usual errands of the weekend, going down I-10 towards Parkdale Mall. Suddenly, my back passenger tire shredded and I had to pull over. I knew immediately that I would have to get a new tire, but I was glad that my girlfriend and I were safe.
We waited for two hours on the side of the highway for the tow company to take us to Discount Tire. When it was replaced, we got into my car and I noticed that Discount Tire had connected the battery back and we headed to our original destination.
Things got worse. When we were a mile away from the mall exit, my hood flew up and busted my front windshield, forcing me to the side of the road once again. I was in tears and scared for my life.
The tears didn't last long as my friend Tim Cohrs came to the rescue. I managed to pull into the parking lot of Target where I called my dad so I could get a Greyhound ticket to Dallas to pick up the Mustang because I needed a car to get around and enjoy spring break.
A few hours later I was on the bus. The ride back home was nerve-wracking as there were many people who were either intoxicated or high.
The next day I was in possession of a brand new (to me, anyway) Mustang and heading back to Beaumont.
I can honestly say that it was the most fun six-hour drive because I enjoyed listening to the sound of the car speed up and not being able to feel it speed. I knew that everything was going to be OK.
The lesson I learned that Leap Day was that plans can change suddenly, but in the end, sometimes things can work in your favor. Life is a funny thing.