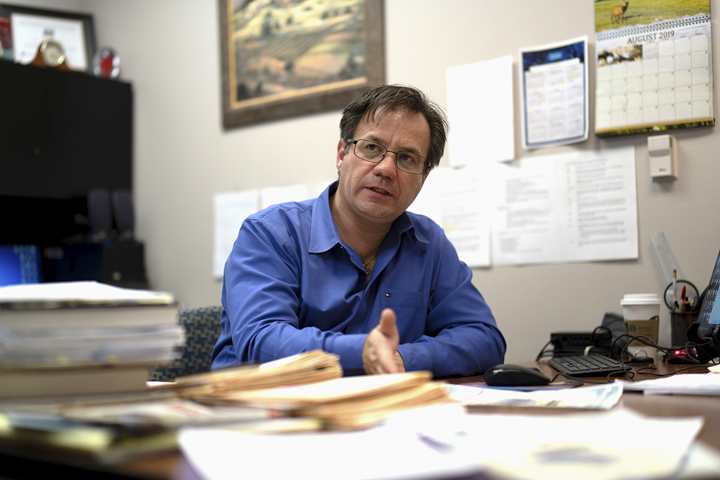 The joint spring meeting of the Texas Section of APS, AAPT and SPS Zone 13 will present a conference at Lamar University from April 2 to April 4 to promote physics.
"The overall goal is to bring high caliber science to Lamar University," Cristian Bahrim, conference organizer and LU associate professor of physics, said. "This is about cutting-edge research mainly in the state of Texas."
The conference will bring attention to the shortage of physics teachers in high schools, Bahrim said.
"There is a very big problem in the STEM discipline in physics — a shortage of professionals in high schools," he said. "It takes a lot of manpower to find mechanisms to remedy this problem. The deficiency in training on the high school level, in teaching students the physics context, makes it nearly impossible for them to be able for them to deliver physics on any level."
The conference will be a multicomponent mosaic of pieces, Bahrim said.
"One is hardcore physics," he said. "Another one is going to be for physics teachers and preparing them in our academic system."
AAPT is the American Association for Physics Teachers which accommodates high school teachers, Bahrim said.
Bahrim said he hopes for more than 200 participants to present their work.
"We will have four plenary speakers on the technical aspects in physic," he said. "We are also going to have another four talks on teacher education, including the preparations of preservice and in-service teachers under the AAPT track."
The event begins with a Society of Physics Students get together.
"On the second and third day, we will have plenaries on the morning, followed by breakout sessions, lunch time with plenary speakers, more breakout sessions, Bahrim said.
The conference will conclude with at banquet at 6:30 p.m., April 3.
Bahrim said in there will also be four blocks of workshops — PhysTECH, ALPhA Advanced Laboratories, Makerspace and AAPT.
"By adding a new Science and Technology Building on campus, Lamar University created a new Makerspace," he said. "By bringing in Makerspaces from other schools, such as Rice University and the University of Central Florida, we can inspire and share ideas with each other."
Bahrim said he encourages everyone, no matter their disciple, to attend because physics is the science of everything.
"The reason we are bringing this conference to the university is so that it can impact students and faculty related to the discipline," he said. "Everyone at Lamar is welcome to join us. Technically, you have to pay for a conference. However, I would not charge my fellow faculty (and students) just to see a talk or two.
Most of the events will be in the Setzer Student Center, although some plenaries will be in the Science Auditorium and some workshops will be in the Archer Physics Building.
For more information, email cbahrim@lamar.edu.