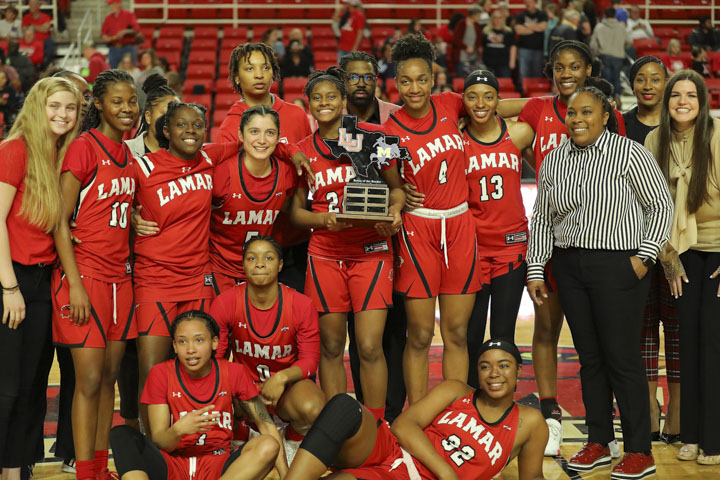 The women's basketball team defeated the McNeese State Cowgirls 80-70 in a double-digit victory to end their season Saturday at the Montagne Center in Beaumont.
The Lady Cardinals ended the first quarter trailing the Cowgirls 25-22, with senior guard Amber Vidal and freshman guard Malay McQueen leading the team in scoring with 6 points each. By halftime the Lady Cards stayed neck-in-neck with their opponents, trailing by 3 at the end of the second quarter to place the score at 36-33. McQueen led the Lady Cardinals in scoring at the end of the half, with 11 points.
In the third quarter, the Cowgirls pulled ahead by 9 points with 5:36 left in the quarter, but the Lady Cards answered back, and went on a 21-point scoring run, ending the quarter with a 16-point lead.
"What a great way to end the season, with a win," head coach Aqua Franklin said. "I think we've lost eight straight, to end that streak, to send the seniors out with a bang — also going into next season on a positive note with a win."
The Lady Cards showed both a strong offensive and defensive presence throughout the game, with Vidal scoring a team high 17 points, junior guard Jadyn Pimentel scoring 16 points with 5 assists and 10 steals, and senior forward Briana Laidler scoring 10 points with an additional 7 rebounds and 5 steals.
"We had people perform," Franklin said "J.P. (Jadyn Pimentel) had a career-high 10 steals, a double-double, 16 points. Amber went off 17, Malay, she loves playing McNeese, obviously. She had 15, 7 of 11 for shooting, and Briana is second in school history in shooting percentage."
Franklin went on to not only praise her team for their performance on the court, but for their performance off the court as well.
"These young ladies here, they deserve the world," Franklin said. "They're great people first, and great basketball players but even better people, you know, I can't thank them enough for accepting this first time head coach and making my transition really really easy, but they're unbelievable people that we're sending out into this world."
For senior guard Amber Vidal, who is graduating this spring and who played her last game as a Lamar University Lady Cardinal, the game had a greater meaning than simply a victory.
"I mean really all that was on my mind wasn't even, you know having a scoring mentality," Vidal said. "Like I said a couple weeks ago just embracing every moment with my teammates and the people on the court. When it's there I'll obviously score, but I wasn't really going into thinking like, you know I need to score some more points, I was just trying to have fun with them."
The Lady Cards finished the season 10-19, finishing 10th in the Southland Conference.