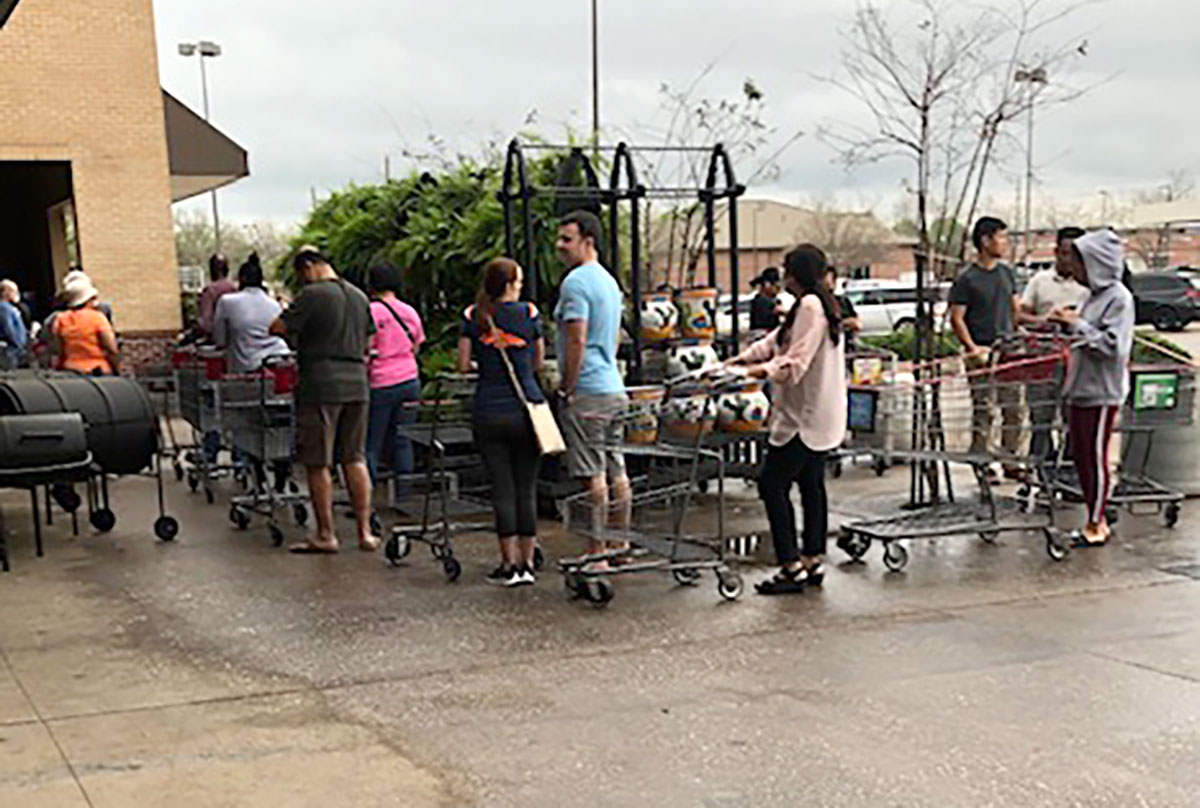 In the wake of the spreading COVID-19 pandemic, grocery store HEB is fighting to help people while facing its own problems.
There is an increase in people's need for groceries, such as toilet paper, water, soap and hand sanitizer due to the COVID-19 virus. Restrictions on these and other items have been placed to help curb the growing panic and to stop people buying in bulk.
"Even though we restock every day, we still limit the amount of certain items to make sure there are enough for everyone who needs them," Bianca De Leon, who works at the Missouri City HEB, said. "People who are panicking and buying things in bulk aren't helping the situation and are just keeping essentials out of everyone's hands.
For this reason, HEB's around the state have been increasing the number of items they put restrictions on.
"Some of these restrictions are negatively affecting the employees of HEB," De Leon said.
An online video showed HEB employees bringing groceries to their car before the store opened. This caused public outrage as people said it was unfair and that the employees were taking advantage of their status as a worker.
As a result, De Leon's HEB has restricted employees to buying only when the store opened or at the end of their shift.
De Leon said the policy is unfair and not helpful to the employees who risk their health to help during this pandemic.
"There is no point in saying we can shop when the store opens because that's when our shift starts, meaning we don't have free time to buy groceries," she said. "On top of that, by the time we get off our shift, the majority of the items that are in high demand, such as water, are gone, leaving us with nothing to buy."
While HEB is trying to satisfy customers and employees with their purchases, they have also stepped up safety measures. The store is taking steps to help keep everyone safe.
"HEB has implemented many countermeasures to help keep everyone as safe from the virus as they can, De Leon said. "Markers have been added in checkout lines that are six feet apart to help practice social distancing, and we are controlling the flow of people that enter the store."
De Leon said her store has closed one of the entrances and made it exit only so they can monitor the amount of people in the store at one time.
"This is because we are currently only allowing 10 to 15 people in the store at one time to help keep down the possibility of passing the virus," she said. "This causes a line to form outside our doors but it's to keep the customer safe and we try our best to get everyone in swiftly. A lot of these implementations aren't just for the customers, but the employees too."
HEB employees are also working to keep carts and baskets virus free, De Leon said.
"We have to sanitize everything the customers come into contact with every 30 minutes," she said. "This includes carts, counters and shelves. We are also provided with hand sanitizer at our work stations, and must handle customers groceries with gloves."
That's not all the precautions HEB has taken. According to a story by Hannah Smothers on vice.com, all HEB stores have shut down high-contact services, such as salad bars, and the in-store tortillerias. They have also installed plexiglass shields at registers to protect cashiers.
De Leon said the precautions have made her aware of the impact COVID-19 had had on the community.
"Don't worry about stocking up on all of your groceries at one time," she said. "Buy them in moderation because other people need essentials and we have plenty of supplies.
"I feel if people remain calm, practice social distancing and good hygiene we can contain the spread. So, don't be afraid to come to your local HEB. You'll find everything you need in an environment taking every caution to combat the virus because here, 'everything's better.'"