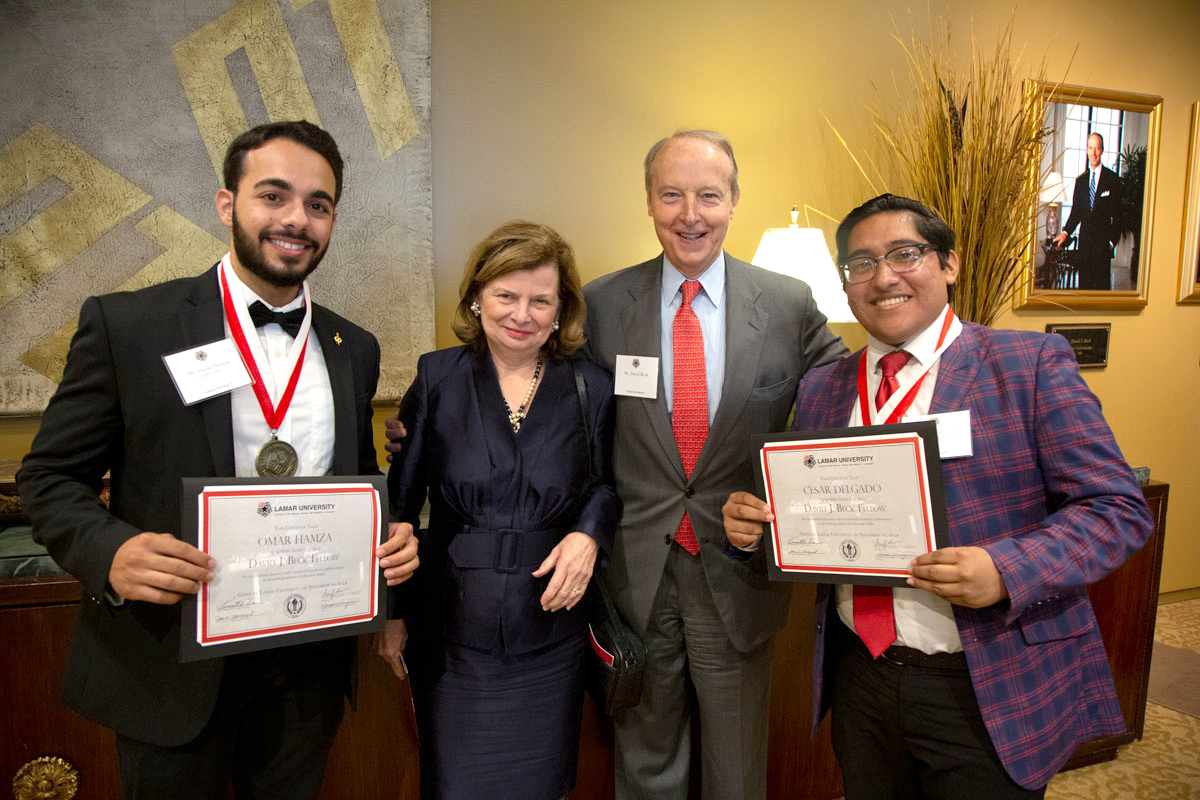 A meeting is set for March 11, 1 p.m. to 3 p.m. in 125-127 Setzer Student Center, to offer students information about how to apply for the David J. Beck Fellowship.
"The David J. Beck fellowship is a wonderful award, and Mr. David J. Beck is a Lamar University graduate," Joe Nordgren, acting associate provost, said. "He has a deep concern for student success and broadening their opportunities, especially for those students who may struggle a bit financially. That is not a specific consideration for applying for the award, but he wants to make sure it is a level playing field for all."
Nordgren said that the fellowship is unique because of all that it offers its recipients.
"If you are awarded the David J. Beck fellowship, your fellowship begins in spring, continues through the summer, and into the fall term," he said, "Each David J. Beck fellow Is awarded for one year, a full scholarship, room and board, books, fees, tuition and miscellaneous expenses such as a parking pass."
Applicants of the award must submit two proposals for a summer research project.
"Recipients are also awarded $10,000 to take care of their summer travels regarding their summer research projects," Nordgren said. "That comes with an obligation. In 2020, we will award new David J. Beck fellows and those who took part in the summer projects will deliver a presentation during the awards ceremony. The focus of the program is to report on what they did during the summer and the uniqueness of that experience."
"There are only two David J, Beck fellowships awarded every year," Nordgren said. "However, from among the group that interviews and does extremely well, President Kenneth Evans has offered two presidential awards to the third and fourth best applicants for the past two years. They are provided $10,000 each for a summer project."
There is no specific discipline that the fellowship leans toward, Nordgren said.
"It is open to anyone who has a creative and genuinely unique experience that really enriches the academic experience," Nordgren said. "It can be any wide breadth of interest like film, literature, engineering, business, and more. For example, one student did a video and audio tract related to English and modern languages, and it was really quite unique."
Nordgren said the proposals that are successful are creative, personally challenging and genuinely impactful.
"Omar Hamza, 2019 David J. Beck fellowship recipient, spent his summer project at Al Zataari, the largest refugee camp for Syrians expelled from their homeland," Nordgren said. "He did research and conducted activities with other volunteers and even delivered his research at an international conference in Jordan."
Nordgren said usually only five to eight students apply, and he would like to see that number increase.
"I believe we may have a large number of students who are qualified, bright and genuine, but they think to themselves, 'I do not have chance for this,'" he said. "The driving point is we have so many wonderful students at Lamar University who may be underestimating their potential."
Nordgren said he encourages students to apply and be creative with their proposals.
"I do not think that young people should censor themselves when they do this," he said. "If someone's interest is dance performance and they think that it would be a bad idea (to apply) for the David J. Beck fellowship — I would like to argue the opposite. Just think of the cultural enrichment this will bring to the individual's life. Aim for a proposal that really captures your interest. Do what you do not think is doable."
The fellowship is only offered at Lamar University.
"This is a remarkable and unique experience that very few university students have a chance to engage in," Nordgren said. "I just would wish that more students would apply."
For more information, call 880-8400