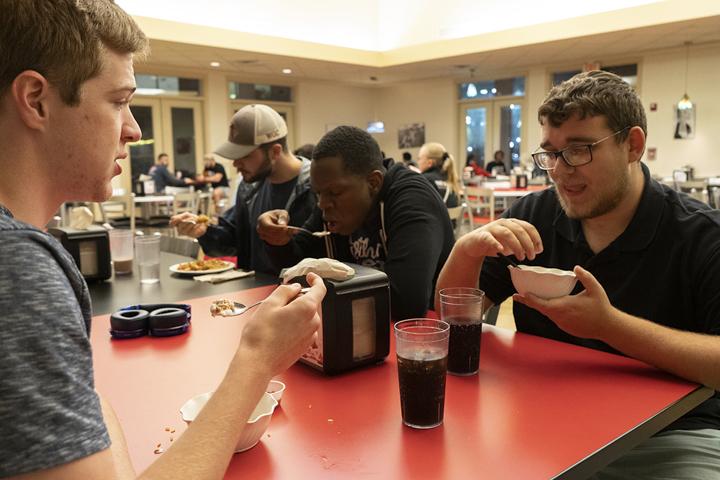 Lamar University is home to approximately 15,000 students, of which approximately 2,100 live on campus. Many dorm residents do not have transportation to go to restaurants and need to use their meal plan on weekends.
However, Brooks-Shivers Dining Hall has limited hours on weekends, opening at 11 a.m. as opposed to 7 a.m. on weekdays.
Jack Spurlock, Lamar University dining services marketing manager, said the hours reflect the amount of usage.
"During the fall 2019 semester, the Brooks-Shivers Dining Hall had a total of 132,784 meal swipes logged," he said in an email interview. "Of that total, 82 percent visited on a weekday and 26 percent of that percentage dined with us during the breakfast meal period. If you apply that same percentage to the weekend, the total is a small fraction of a smaller fraction.
"Unfortunately, when it comes to extending the weekend meal period to include breakfast, it currently isn't feasible from a financial and sustainability standpoint at this time."
Aylin Galvan, Beaumont freshman, said she doesn't mind the dining hall hours on weekends, but wishes that the food court in the Setzer Student Center and the food services in the dorm were available.
"I don't mind it opening at 11 on weekends because I wake up at that time," she said. "I just don't like that there is limited options, because literally everything else is closed."
Spurlock said that in past semesters Panda Express, Jason's Deli, Chick-Fil-A and the markets on campus were open for longer periods of time, but they had to trim the hours.
"We used to have the dining options open on weekends, and it wasn't feasible due to the lack of participation," he said.
Camron Sirleaf, Katy freshman, said he wishes the dining hall offered the range of meals on weekends that it offers on weekdays.
"The dining hall has a lot of options, and honestly, I think it's a good thing," he said. "The more diverse food choices that the hall serves makes students of all cultures feel included. That's what I think about it. There's no reason to downsize the food choice due to the diversity it brings."
Spurlock said all food stations at the dining hall are open on the weekends and offer the same options. However, stations may close during transition periods between meals to prepare food for the next session.
Students are welcome to give feedback, Spurlock said. Weekend services may expand in the future if food services sees an increase in interest.
"If we see a growth during that specific meal period, we will happily look into potentially extending the hours to include it," he said. "We provide students and faculty/staff members the opportunity to provide feedback year-round via text and website feedback, surveys and coming up this semester, focus groups.
"This is a great opportunity to provide insight in areas, such as hours of operation and more, for any and all Lamar dining locations on campus."