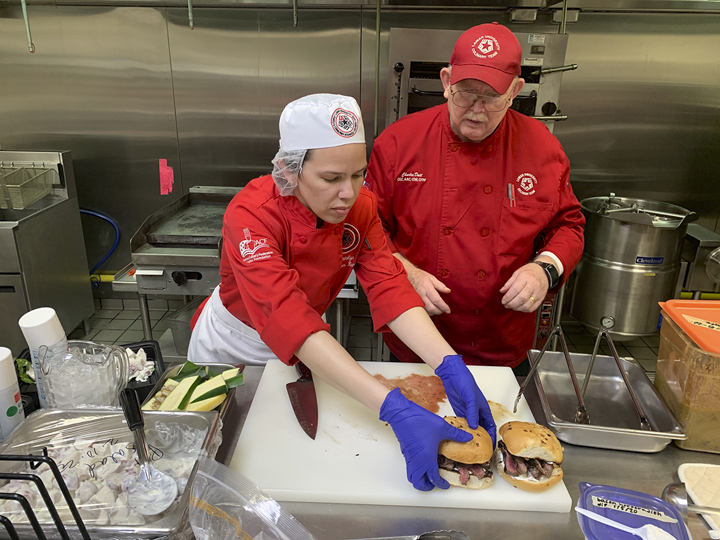 Area restaurants will showcase their tastiest offerings, craft beer will flow, and live music will help revelers forget that it's a school and work night at The Taste of The Triangle, an annual Fat Tuesday event, set for Feb. 25 in the Beaumont Civic Center.
Attendees will be able to sample food and drink from more than 35 restaurants.
The Sabine Area Restaurant Association organizes the fundraiser, which benefits civic and charitable organizations in Southeast Texas, including Lamar University's hospitality and culinary arts programs and The Texas Restaurant Association's Education Foundation.
"Our chapter (of SARA), while it is a smaller chapter in terms of properties and population, is considered one of the highest performing chapters as far as fundraising is concerned," Molly Dahm, LU's director of hospitality administration and culinary arts program and SARA board member, said.
Dahm and Chef Charles Duit became involved when LeBland McAdams, the dean of the College of Education, retired.
"I took over her spot on the board of directors of SARA," Dahm said. "They were already giving scholarships annually — and they would be about $2,500 to $3,000 or $4,000. Now the average scholarship bundle for everybody is usually between $12,000 and $15,000."
Dalton Duphmore, Dallas junior, said the SARA scholarship mitigates unexpected expenses during the school year. 
"A lot of it's going towards the rest of my tuition for the year, but also it's helping me get to work at the moment," he said. "I don't have a car, and I have to pay a friend to give me a ride, so it really helps to have funds available to me so that not only do I have a financial buffer but I'm able to grow what I have now." 
The hospitality and culinary arts program also received industrial walk-in coolers, freezers and demonstration equipment as gifts, and is supported by a $250,000 endowment from SARA.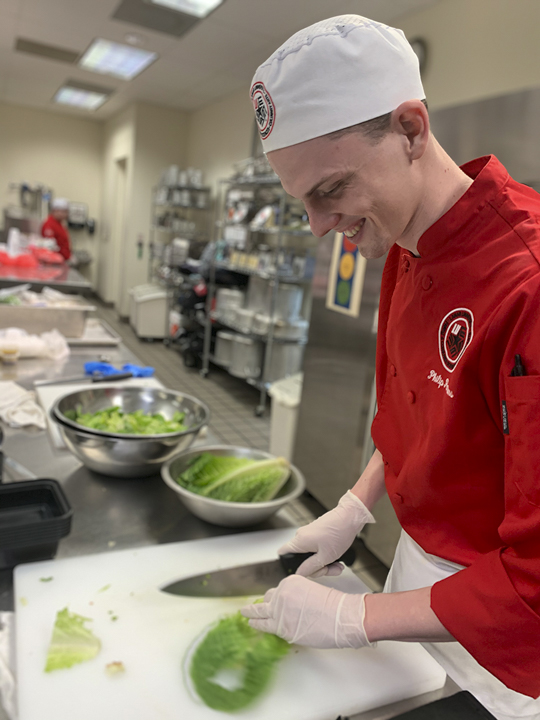 "The endowment monies, we have a little bit more latitude — everything from helping them purchase books to a POS system like you would see in a restaurant, to further assist in the form of scholarships when (students have) traveled abroad," Dahm said. "I've taken them to London and Italy, and both times the Restaurant Association contributed $500 per student." 
Dahm said the central theme of LU's culinary arts program is service.
"We want to model that for our students and we also want them to act it out," she said. "We try our very best and Chef is very visible in giving back. The Taste of the Triangle is one example."
Chef Duit, instructor of hospitality and culinary arts and former president of the Texas Restaurant Association Education Foundation, is involved with Garth House, Julie Roger's Champagne and Ribs event, and Nutrition Services for Seniors Dinner, where culinary students have the opportunity to volunteer. 
"I require each of my classes to have 15 hours of community service as part of the course," he said. "It's good for them because they are out there — No. 1, representing, but mainly they are getting additional experience." 
Lamar culinary students will volunteer as servers at the event as well as other behind the scenes assistance.
"We do look forward to it," Adrienne Meschack, Houston senior, said. "It's a chance to up our experience, and also we get to taste the food of the Golden Triangle without having to spend any money.
"It's like being the free sample person in the mall, and then going around and being the person to get the free samples."
Duphmore said the culinary arts program's relationship is important and valued.
"It literally benefits us so much, and we could never thank SARA enough for what they've done for us," he said. 
Taste of the Triangle begins at 6:30 p.m. and tickets are $30.
For more information and to buy tickets, visit sara-tra.com.