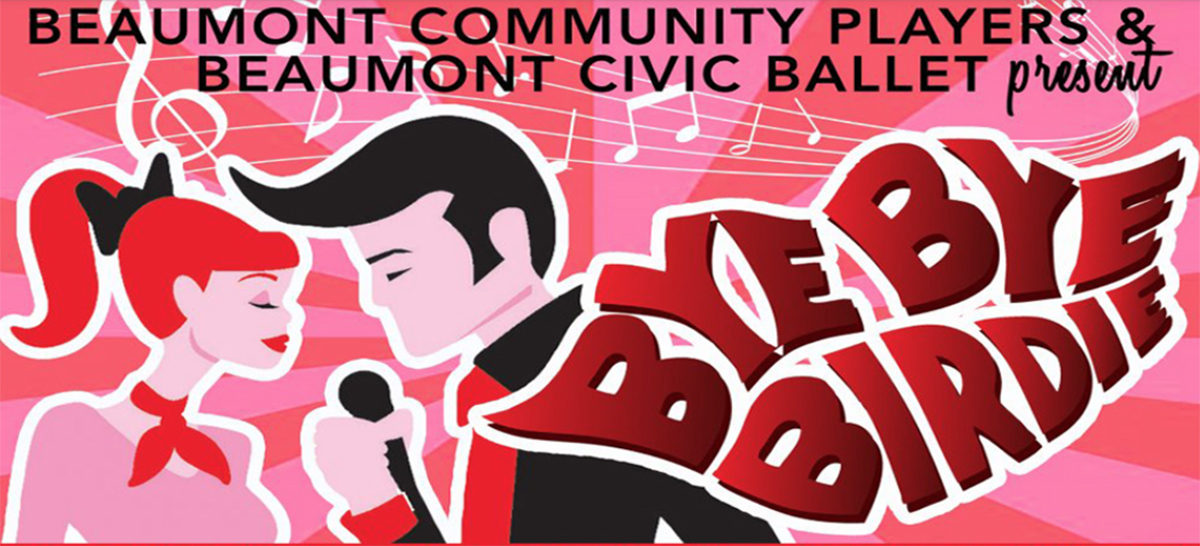 The cult of celebrity that surrounds Conrad Birdie in 1958 echoes the celebrity culture that surrounds us today. "Bye Bye Birdie" is a story of middle-America's relationship with celebrity and how it entices people of all ages, removing those people from the realm of rationality. 
Beaumont Civic Ballet and Beaumont Community Players production of Michael Stewart's musical comedy, presented Feb. 14 and 15 at the Jefferson Theatre, was fun but reflective.
Directed by Allan Anderud, the pastel-encased production starts with Albert Peterson (Corey Winkler) wallowing in the news that his premiere client and rock-and-roll idol Conrad Birdie (Brooklyn Freeman) is drafted into the United States Army. However, Albert's girlfriend and secretary Rosie Alvarez (Emma Nelson) devises a plan for Birdie's farewell performance on "The Ed Sullivan Show," which she hopes will sell Birdie's new single "One Last Kiss." In order to perpetuate the heart-throb status of Birdie and increase sales, this performance will feature a literal "last kiss" to Kim MacAfee (Meredith Winkler), president of the Conrad Birdie fan club in Sweet Apple, Ohio.
Freeman's Birdie charms during performances of "Honestly Sincere" and "One Last Kiss." However, his performance reminds us that despite being a heartthrob for girls across the country, Conrad is selfish and insincere as he hints that he is simply going through the motions in order to sell records. 
Under Anderud's direction, the cast utilized the theater space well in order to create the sensation of seeing music's biggest star as the cast filled the aisles with filled with dancing and reverie for Conrad Birdie. On stage, the female cast members fainted and screamed at the sound of his name, recreating the hysteria girls felt about Elvis Presley — which Birdie's character is based on — or Justin Bieber at the height of his popularity. 
The production shows off the ridiculous nature of celebrity obsession and balances the melodrama with tender moments between the characters. 
The performances of Corey and Meredith Winkler are incredible representations of experiencing this phenomenon as both a teenager and an adult. Meredith's Kim MacAfee is a great representation of teenage naiveté and obsession without stepping into vanity. 
Corey's Albert Peterson shows us that this naiveté manifests itself into adulthood as he struggles with the possibility of being a superstar agent despite the unrealistic nature of that dream. Nelson's Rosie serves as an avatar of realism and frustration for the audience to navigate the tale.
"Bye Bye Birdie" is a comic tale of celebrity and our relationship to it. While the play is filled with moments that make us laugh, the production reminds us that the all-consuming nature of celebrity can bring out the naiveté in anyone. 
For more information, visit beaumontcommunityplayers.com or beaumontcivicballet.net.