New coach Jordan Lay wants volleyball to be 'impactful' part of players' lives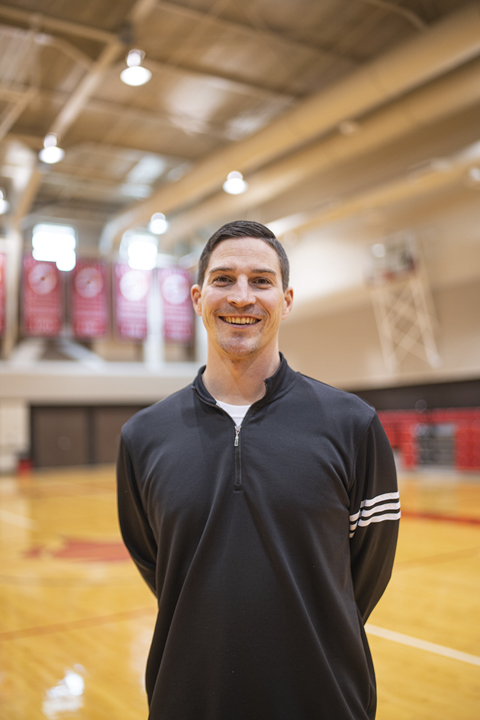 Jordan Lay has a file folder full of Post-it notes in his office that he has carried around throughout his many years of coaching. Among those, one in particular really stands out to him.
"There's one in there that says, 'Justin Bieber rocks my socks,'" the new head volleyball coach said. "I've had that since like, I don't know, 2013 or something like that. I just value those things."
On the white board in his office the words "Lamar volleyball is great" is written in red bubble letters and signed by a few of the volleyball players themselves.
"One of our players cleaned up the board for me," Lay said. "I asked her to put something else up there for me and there you go."
The Indianapolis native said that at first, he would have never pictured himself in a career of coaching volleyball. In fact, baseball was his sport of choice.
"I actually thought I was going to be a baseball player my whole life," he said. "I got to my junior year of high school and decided that baseball wasn't going to be for me anymore."
It was his sister, Natalie, who inspired him to start playing volleyball, Lay said.
"My little sister told me that I should go try and play on the men's volleyball team, I had peppered and things with her in the backyard, and so I went on and did that," he said. "I really enjoyed my two years playing volleyball through high school."
When he graduated high school, Lay said he had different plans than coaching volleyball.
"I went to Butler University to become a physician's assistant," he said. "I switched my major to marketing and graduated and I had the opportunity to either go work in sales or go be a graduate assistant volleyball coach."
While at Butler he joined the men's volleyball club and became president of it and that was when volleyball started taking over his life, Lay said, smiling.
"In my mind, I was going to be a graduate assistant, get my masters and get an MBA and stay involved in coaching," he said. "But as soon as I got into coaching full-time, I knew there was nothing else I could see myself doing. It was just so much fun, and it's been so much fun ever since."
After graduating from Butler University, Lay has been touring the south as a volleyball coach.
"I moved here from Spartanburg, S.C. I spent four years at Wofford College as an associate head coach and recruiting coordinator," he said. "Prior to that, I was a head division two coach in Alabama, and prior to that I was coaching in Mississippi."
At Wofford, his primary responsibilities involved recruiting new talent for the team and the teams first ball contact and defense, along with just talking with the teammates and interacting with them on and off the court, Lay said.
As for Lamar, Lay said he wants to help reestablish Lamar volleyball.
"There's not ten banners hanging in that gym for no reason," he said. "The program has been successful in the past and I believe it can be successful again. I want to help build back toward success."
As a coach, he wants to build a relationship with his team, Lay said.
"I want our student athletes to enjoy their time here," he said. "In the grand scheme of things, volleyball can be a very small portion of their lives, but I want it to be a very impactful part of their lives."
Lay said he also wants to be a positive impact on his student athletes lives.
"As far as life experiences, I want to see a positive impact on that," he said. "I really take pride in my relationship with people and maintaining those relationships. I think it's fun for students to know that they can come in and doodle on a Post-it note or a white board or anything really."