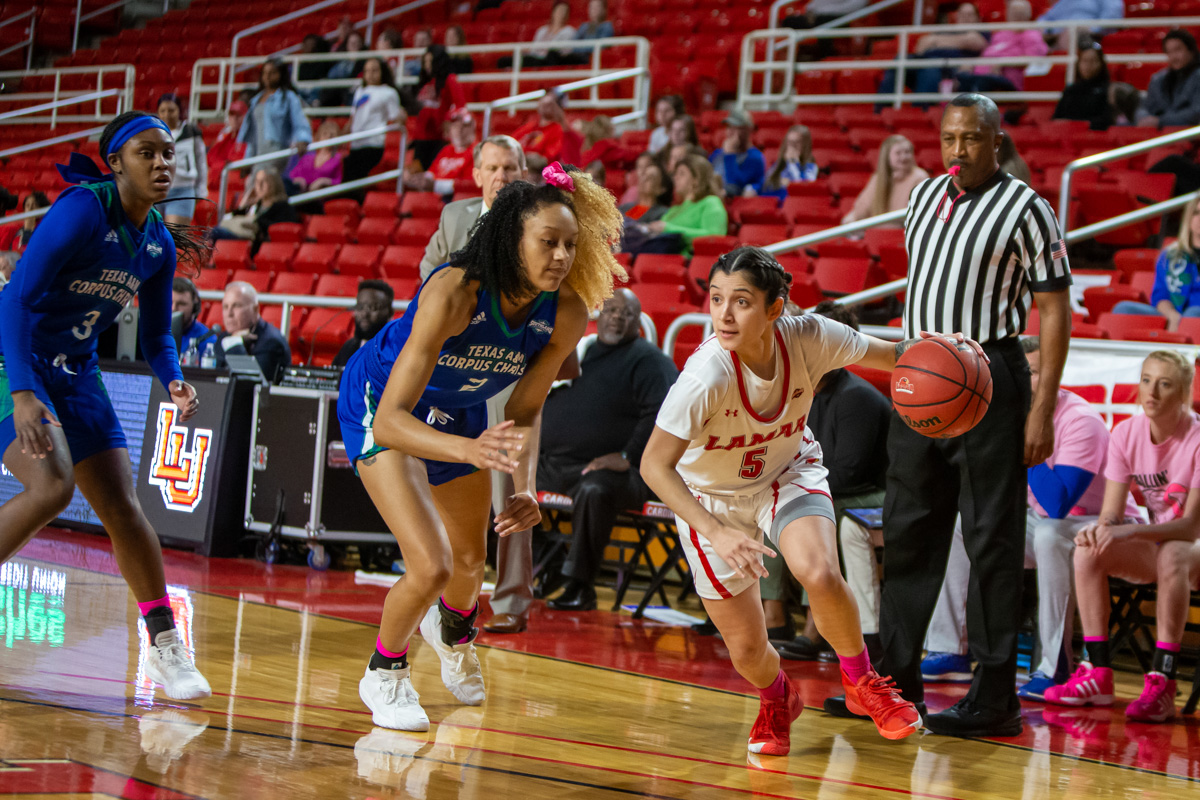 The women's basketball team fell to the Texas A&M- Corpus Christi Islanders 64-56 for their sixth consecutive loss on Saturday at the Montagne Center in Beaumont.
The Lady Cards led briefly in the first quarter, and ended the quarter tied with the Islanders 8-8. In the second quarter, they were outscored by their opponent 21-16, ending the first half of play trailing the Lady Islanders 29-24. Lady Cardinals sophomore guard Angel Hastings was crucial in keeping the Cards competitive in the first half, scoring nine points and leading the team in scoring in the first half.
In the third quarter the Cards were neck-in-neck with the Islanders, with only a one-point differential in scoring with their opponent and were outscored by their opponents 16-15 in the quarter.
Foul trouble plagued the Cards, with Hastings receiving her fourth foul with 1:13 left in the third quarter, causing her to be substituted out on the bench until 6:11 was left in the fourth quarter, eventually fouling out with 3:21 left in the fourth quarter. 
"We were just trying to find people that didn't have four fouls," Lady Cardinals head coach Aqua Franklin said. "Angel fouling out hurts us really bad, without having her on the court, I mean she was six of 11 on the floor, when I could have her out there with 15 points, and so, you know, we've just got to be smarter. JP's (Jadyn Pimentel, junior guard) last three fouls, I believe were not very good, especially when she knows she has four, I don't need a foul down the stretch when she's the only point guard that's available, so we have to be smarter with that."
Senior guard Amber Vidal led the Lady Cards in scoring, finishing the game with 17 points, with Hastings close behind, finishing with 15 points. The loss brings the Lady Cardinals overall record to 9-17 for the season, placing them tenth in the Southland Conference.
"We're right there in the game," said Franklin. "We're just a few mistakes away from the result being different, so we gotta keep doing what we're doing, but limit our mistakes, limit our turnovers, we can't have 21 turnovers and we can't put them at the free throw line 23 times."
The Lady Cardinals returned to action Wednesday night, when they traveled to San Antonio to take on the University of the Incarnate Word at the McDermott Center. Scores were not available at press time, visit the University Press website for updates.