Seniors reflect on their last baseball season at Lamar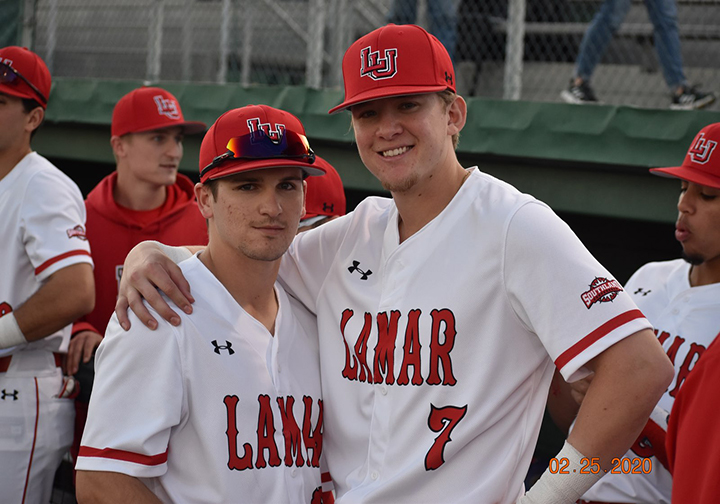 Four years ago, seniors Cole Girouard and Cole Coker stepped on the diamond at Vincent-Beck with hopes and dreams of championships under Lamar's new head coach, Will Davis. 
Coming into the 2020 season, they reflect on their journey to their final at bats.
"As a head coach, they will be my first guys to see come all the way through," Davis said. "It's crazy, it seems like just two years ago and not four-and-a-half that we were trying to get those guys on campus."
Left-fielder Coker remembers his senior year at Huffman-Hargrave — the only year he played baseball. He said the first coach that called him, would be where he went to play.
Days later he would receive a call from a Louisiana phone number not knowing at the other end would be his future head coach. 
"It's funny, I was sitting in culinary class and I got a call from a Louisiana number. I thought it was my dad's workshop friends and they needed me. I wasn't expecting it, but it was Coach Davis sure enough," Coker said.
At the time, Davis was the director of baseball operations and a volunteer assistant coach at Louisiana State University, but had just accepted the coaching job at Lamar. Davis said he was trying to catch up on recruiting.
Girouard was no stranger to Lamar University and came to the Cards by a different route. Growing up miles from campus in Groves, the centerfielder was ready to head to Texas A&M in College Station without pursuing a career in baseball, but a talk with his high school coach and a quick call from hitting coach and recruitment coordinator Scott Hatten led him to Vincent-Beck. 
"I was originally going to A&M and I didn't know if I wanted to play," Girouard said. "My coach said I should play somewhere so he called Coach Davis and Coach Hatten. Then Coach Hatten watched me play at PNG one day and liked what he saw. So, he offered me a walk-on and here we are today."
Now in their senior season the athletes look back on the bond that they created with the coach that helped them get to this point. The two are the only four-year letter seniors on the Cards team and are from Davis' original recruiting class.
"We do have a bond. It's pretty special, I feel like we are a lot closer than we were my freshman year," Girouard said. "It's crazy how things change like that. We know what he wants and we can help transition that to players better." 
Coming in as two quiet freshmen, to now being the vocal leaders for their younger teammates, Davis has seen much improvement from his first recruits. 
"Coker has developed tremendously as a hitter, he's probably gotten 800 college at bats." Davis said. "Girouard is probably one of the most improved I've ever coached in my time in this industry."
The two seniors have been through a lot in the past few seasons with the highs of their freshman year, to being on the outside looking in of the Southland Conference Tournament the last two years. However, the outfielders believe this is their year. 
"We've had the ups and downs, but we've done the work and have all the right pieces to have a spectacular year," Girouard said.
The College World Series in Omaha in June is the goal this team has set for themselves. Coach Davis said that's what he really wants for his four year seniors.
"Two great stories and hopefully a great ending for those stories," Davis said. "We want to send them out on top." 
The Cardinal baseball team will play at Vincent-Beck, Friday. First pitch is at 6 p.m.
For more information or for tickets, call the ticket office at 880-1715.