Theatre & Dance's 'Bakkhai' runs today through Sunday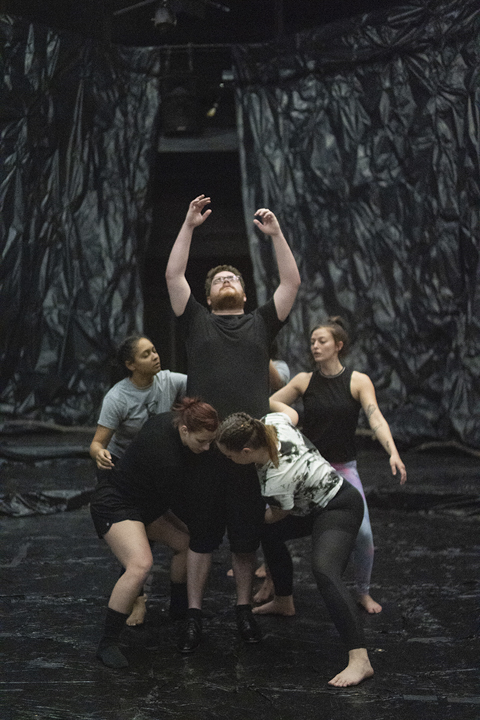 The Lamar University department of theatre & dance presents "Bakkhai," an interpretation of Euripides' 2,500 year-old Greek tragedy today through Sunday in the Studio Theatre.
Vidor senior Emily Buesing is portraying the lead, Dionysus. 
"The role has been kind of challenging," Buesing said. "I'm playing the role of a god disguised as a human trying to make himself known."
Dionysus is traditionally played by a man with feminine qualities, but Buesing is focusing on bringing masculine energy to her part.
"Dionysus is a very challenging figure as someone who is very holy, but who has a real sense of wildness to them," director Joel Grothe said.
Joshua Rending, Lumberton junior, is playing Pentheus, king of Thebes, who resists Dionysus and bans his followers from their worship of the god.  
Rending said the heightened language of a Greek tragedy is a challenge in playing the role. Pentheus is a cold and bold character who quickly deteriorates in the hands of Dionysus. 
Taylor Bell, Colmesneil sophomore, plays Pentheus' mother, Agave.
"The role is very sad and disturbing," she said. "But I'm excited to put emotion into this performance."
Bell said Agave has a very short time frame to show a wide range of emotions, and it's a challenge to bring the audience on that journey so they are ready to meet Agave at the end with sympathy. 
"Ancient Greek tragedy is hard to stage and hard to get students to invest in, even when it's straightforward — but this not a very straightforward play," Grothe, associate professor in the department of theatre & dance, said. 
Grothe said Greek tragedies have a lot of challenges within the story structure and it's hard to communicate the stories to an audience like students who have probably never seen anything like it before.
"It required us making some changes and adaptations — it's more of a collage of different styles of design," he said.
"Bakkhai" is a subversive play, Grothe said, and in some ways controversial.
"It asks a lot of questions that are kind of amazing that people were asking 2,500 years ago," he said. "There's a lot of duality in the play.
"There's this idea that Dionysus is a man who wants to be a woman. I don't know if I would go so far as to call it non-binary, but there's a lot of ambiguity around gender in the play, without making a statement about it."
To adapt the play for a modern audience, Grothe looked at different translations and pieced together what he liked. He made the decision to take the dialogue out of the choral odes.
"The Greek chorus serves all kinds of purposes," he said. "I felt the language didn't serve the purpose in this play and I couldn't communicate that to an audience on campus."
Instead, the chorus will communicate through music and dance. 
"The music and dance we have incorporated is very non-traditional with modern dance," he said. "I've used everything from Pink Floyd, Fatboy Slim, A Tribe Called Quest, and I've used music from Algeria as a response to a very conservative society.
"I hope the audience comes and watches it and take it on its own terms, and doesn't try too hard to figure it out."
Tickets are $7 for Lamar and LIT students with valid ID, $10 for faculty, staff, seniors and students, and $15 general admission.
Tickets may be purchased at the door or online at lamar.edu/LUTDTix.