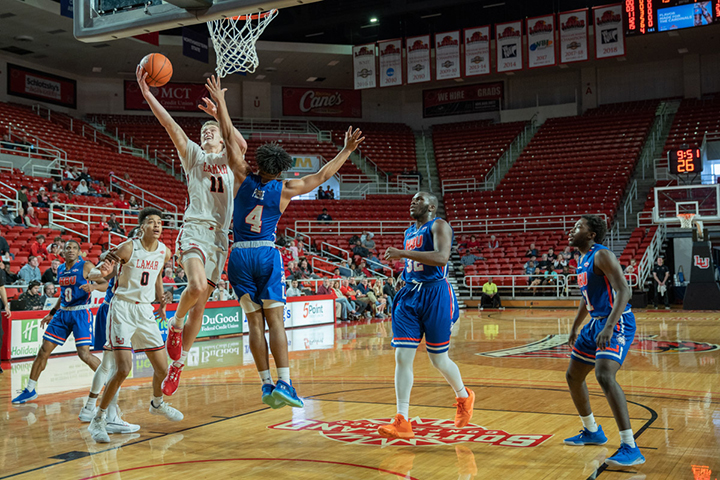 The men's basketball team defeated the Houston Baptist University Huskies 79-69 with a strong defensive show on Saturday at the Montagne Center in Beaumont.
The Cardinals pulled ahead of HBU early in the first half and held the lead for almost the entirety of the half, in which they outscored HBU 41-33. The Cardinals showed a strong defensive presence and managed to turn 10 HBU turnovers into 12 points during that half. The Cardinals also out rebounded their opponents 16-15 and led their opponents in points in the paint 18-16.
At the beginning of the second half HBU made a comeback, and at one point came within 2 points of tying the Cards after an HBU steal and subsequent 3-point shot made on a fast break by junior Guard Jalon Gates.
However, the Cardinals defense held strong, out rebounding the Huskies 38-36, and combined with an offense that made an impressive 47.5 percent of their field goals, managed to pull away with a double-digit victory over the Huskies, bringing their overall record to 13-13 for the season, placing them eighth in the Southland Conference.
"We felt going in, get the ball inside, and let's get the ball up and down in transition because they're (HBU) a little leg weary, they just played Abilene Christian, who we just played a week ago and we know how tough it is to try and bounce back from that trip," head coach Tic Price said. "We tried to make sure that we had them on their heels as much as possible. We felt like if we keep working on that, let's win these first four minutes, these last four minutes and just be very competitive in between and in the second half we'll have a chance to wear them down."
Cardinals freshman center David Muoka finished the game with 7 rebounds and 5 blocked shots, leading the team in the latter category.
"David Muoka is a guy, I think, who really made a difference, especially in the paint," Price said. "He had 7 rebounds and 5 blocked shots, and the shots he didn't block, he altered, so he's become a human eraser for us back there in the paint."
Cardinals junior center Avery Sullivan ended the game with 22 points and 6 rebounds, leading the Cardinals in scoring.
"Avery is sound fundamentally," Price said. "We wanted to try to exploit them in the paint area, either through post-ups or drives or in transition, but we want paint touches."
The Cardinals are set to return to action Wednesday, when they travel to Huntsville to take on Sam Houston State, 6:30 p.m., at Bernard G. Johnson Coliseum. The Bearkats are 17-9, 10-5 SLC.