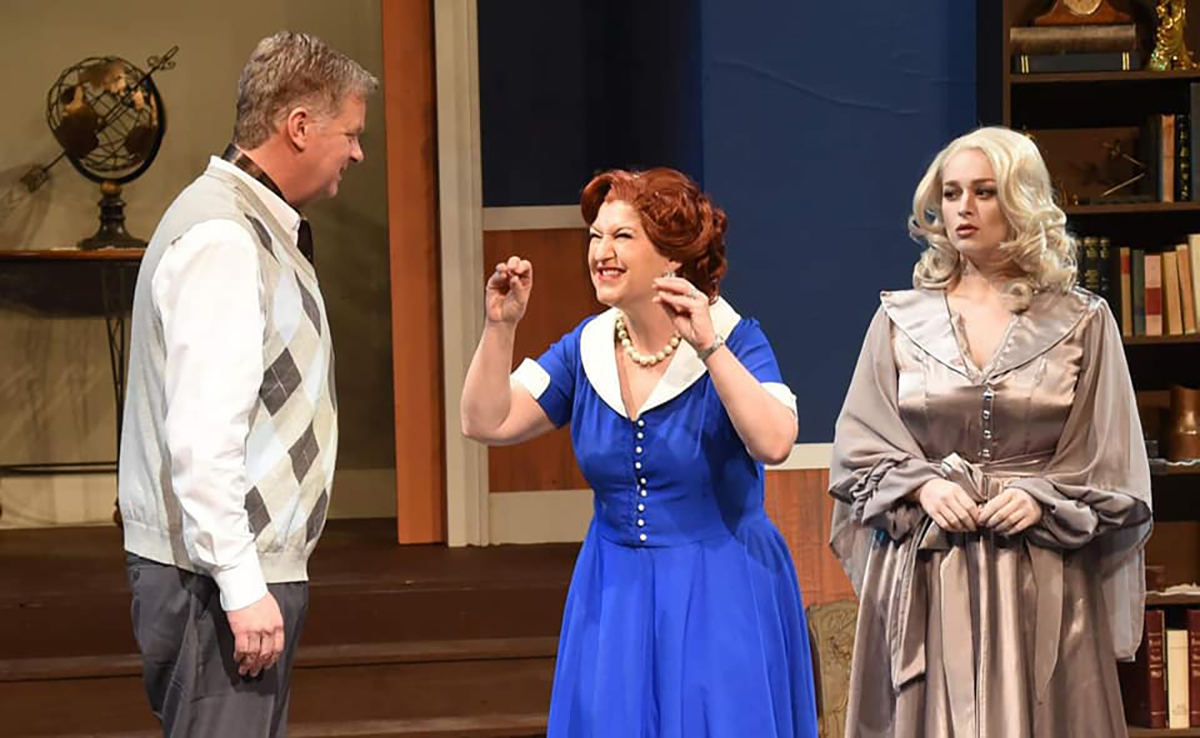 A quirky evening filled with seances, an ex-lover, a furious wife, and a night full of twists and turns had Beaumont Community Players audience members at laughing at "Blithe Spirit's" opening night, Feb. 21.
Rachel Cain and J.J. Jackson play Ruth and Charles Condomine, a middle-aged couple who live quaintly in their home in England. When Charles needs inspiration for his novel about the occult, he calls on the local eccentric medium, Madame Arcati, to perform a seance in his home. The evening will be one to remember as the medium jiggles and dances her way into a trance.
Hoping, at the most, for flickering lights, Charles instead gets his first wife, Elvira, who, after seven years, is back from the dead. Charles is the only one who can see or hear her, so Ruth does not believe her existence.
Cain's Ruth is a civil woman with a proper English accent and proper clothes, who prefers a hairdo that is up and civil. Her biggest mannerism is the way she purses her lips while thinking or listening to someone. Cain's performance was excellent and hilarious.
While Ruth is prim and proper, her rival to Charles' heart, Elvira, played by Alexa Guilbeau, behaves in every way opposite. Her silver hair comes down in waves, her mannerisms change with her mood, whether she be visibly pouting or upset, and her tone is cool when she speaks. Even her ghostly garbs portray her wild spirit — her grey dress flows and flaunts behind her as she walks and paces the living room, her clothes highlighting her pale face.
Madame Arcati, played by Barri Hoffman, not to be out-shone, brings a dazzle onstage that is unmatched. Her clothing reflects her whimsical personality as she's dressed in layers of feathers, tassels, sequins,and colors that make one's head spin in a wonderful way. Her handbag, which possesses the same personality, is filled with secrets of the trade. Her disbelief that she has actually summoned someone from the beyond is evident when she says she has no clue on how to send the living ghost back to the beyond.
Jackson's Charles is a bundle of comic frustration as he struggles to cope with two wives at the same time, only one of which is aware of the other.
The ensemble is rounded out by Angel Suitt as Edith, the super annoying and very funny maid, Dana Timaeus as Dr. George Bradman and Tessa Cryer as Violet Bradman.
Director Donny Avery utilizes every section of the stage for his actors, letting their personalities shine in his deft direction.
While the cast deserves a standing ovation, the set is also deserving of praise. The quaint living room is filled with many surprises that unveil themselves through the production. From the flowers on the piano, to the patio doors outside, one could say that there is as much life in the objects as there are in the characters.
BCP's production of Nöel Coward's classic comedy is a treat for audiences — and shows how lively the dead can truly be.
"Blithe Spirit" runs through March 7, with performances Feb. 28, 29 and March 5, 6, 7 at 7:30 p.m., and a 2 p.m. matinee Feb. 29.
BCP is located at the Betty Greenberg Center for the Performing Arts, 4155 Laurel Ave. in Beaumont.
For tickets, visit www.beaumontcommunityplayers.com.