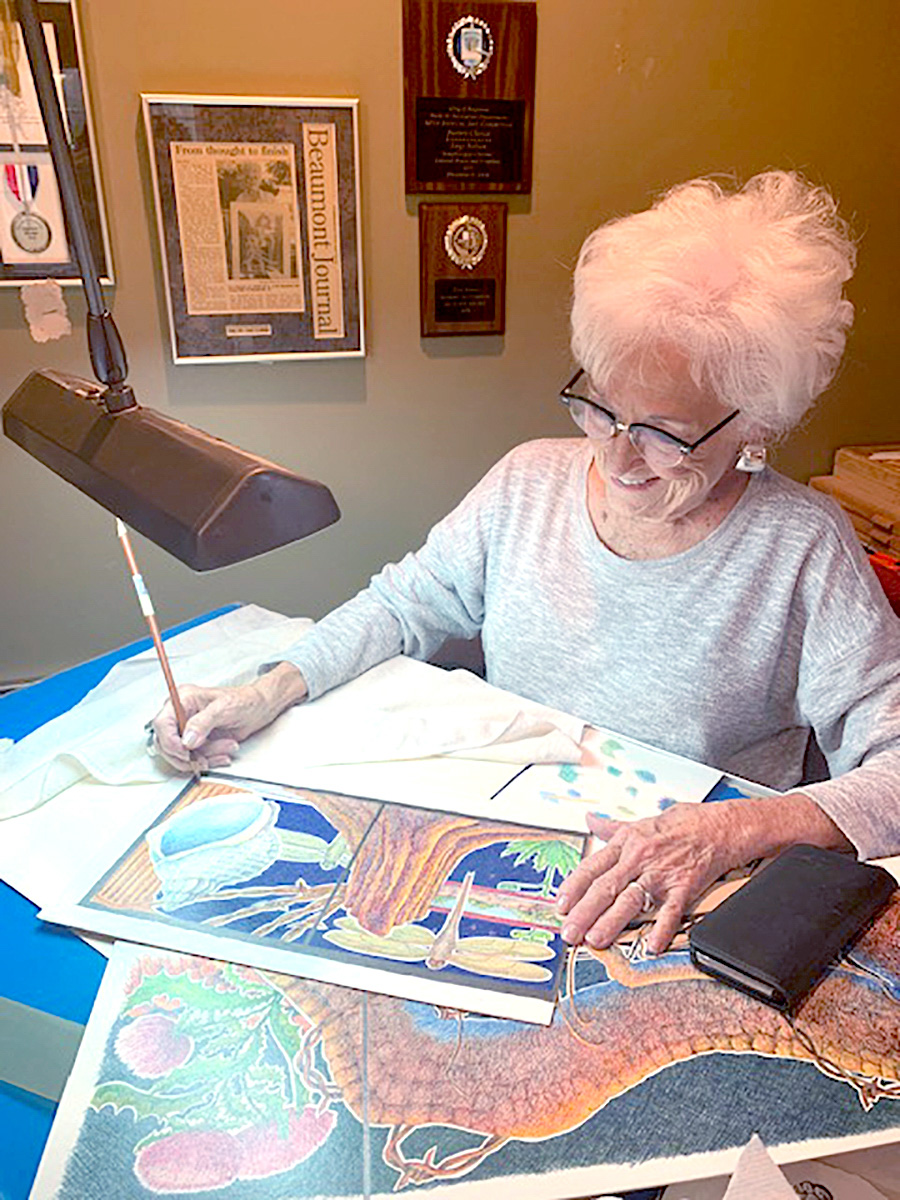 When Faye Nelson graduated from Abilene Christian University in 1957, she never dreamed that more than 60 years later, at 85-years-old, she would be walking with a master's in art.
When Nelson's granddaughter, Adrienne Langston, was thinking about attending Lamar University for a master's in educational technology leadership, Nelson proposed a deal — if Langston went back to school, then she would to.
In 1985, Nelson attended a Texas Tech summer art camp in Junction and, without realizing, she had accumulated 27 hours of graduate credit.
"I told my granddaughter that if she went back to college, I would go back to college and get my master's, not dreaming that my hours from 1985 were still good,' she said. "I called Tech and, oh my goodness, you would have thought I was a queen. They treated me royally. My granddaughter said, 'All you need is nine hours you can be through by May.' I said, 'Oh no, I am 85, and I have got to do it now. I may not be here in the springtime.'"
Nelson graduated with her master's in December.
"Adrienne is set to graduate in May, so I beat her," she said.
Nelson also earned her teacher certification from Lamar University in 1973.
"There was a time when my husband and I ran through all our money, and I had to start teaching," she said.
Nelson taught calligraphy at South Park Middle School in Beaumont.
"We had calligraphy in the school," she said. "When I quit, there was a push to teach calligraphy in the classrooms, but the teachers could not teach it, and it all went downhill. I did calligraphy and made jewelry. I did everything but watercolor. I never liked watercolor."
Nelson said, school was much more difficult than she expected.
"Things kept interrupting, you know my life goes on," she said. "There were so many drawings on my time. I found myself leaving my house every day of the week, and I needed that time to think, create and get into my paperwork."
Nelson had earned an art degree from Abilene Christian University before her teaching degree, but still had to take some art courses to refurbish her art degree because it had been so long since she graduated. Nelson said a hard part was becoming more digitally savvy.
"Being not digitally acclaimed was the hardest part," she said. "I would get nervous that I was not going to the right place to get information, and I would have to call somebody else. My son took out Geek Squad insurance and it helped, because at one point, I wiped the whole laptop clean. I took it to Geek Squad and the worker there said, 'You have just erased everything, but it is in a place where we can get it, so you are lucky.'"
Tech paid for six of the nine hours that Nelson needed to attain her masters.
"I was under the impression that if you were over 65 and you went back to school it was free," Nelson said. "It was not. It ended up costing me about $3,000."
Nelson said it was a lot of hard work, but with everybody's help and support she got through it.
"My family insisted we go to Lubbock for graduation," she said. "It took us two days to get there and two days to get home. When I walked, my granddaughter and my great grandson walked with me. The president shook my hand, he turned us to the camera and I got a standing ovation."
To complete her degree, Nelson needed a master's exhibit and a 11-page thesis.
"I had a girl type it for me, and it was only six-and-a-half pages long," Nelson said. "I changed the font, and I had 11-and-a-half pages. Looking at it, I could barely see the difference between the two, but it changed the length. I was about to have a nervous breakdown because it was the last week of school. I kept calling to make sure that I passed and was graduating."
Nelson was able to use her recent art exhibit at the Beaumont Art League as her thesis exhibit.
"The exhibit counted as six hours," Nelson said. "We did it all on Skype. I had an interview with my committee on Skype and talked about my artwork."
Nelson said having to set aside time for her art added to her struggle.
"My art is surrealistic," she said. "I have to think about the meaning of things and pull the ideas together, and that takes a lot of thinking time. I would get phone calls and texts and have to put everything and everybody aside until I got through it. I am a social person, and I like having people around me."
Each one of her pieces has its own story, and her art doubles as her emotional outlet.
"When we had 9/11, I could not get past it emotionally," she said. "I channeled those emotions through a piece of art and released the problem. I use different symbols to tell these things, so that just looking at it, you have no idea what the story is behind it. But you do not have to know the story in order to enjoy a piece of artwork. It is like a piece of music. If somebody writes music, and they do not put any of their emotion into it, then you are not going to get any emotion when you hear it."
Nelson has showed her art in Dallas, various colleges and universities, Silsbee, Port Arthur, Beaumont, Wimberly and Irving.
"This exhibit, I think it was number 19," she said.
Even with Nelson's love for art, she did go through a time when she found herself unable to produce any artwork.
"While my husband was sick, I would turn out maybe a piece a year," she said. "They were not what I considered my best work. After he died, I could not get back to my drawing board. I went through well over two years that I did hardly anything. I would keep doing just to force myself, but they were not any good."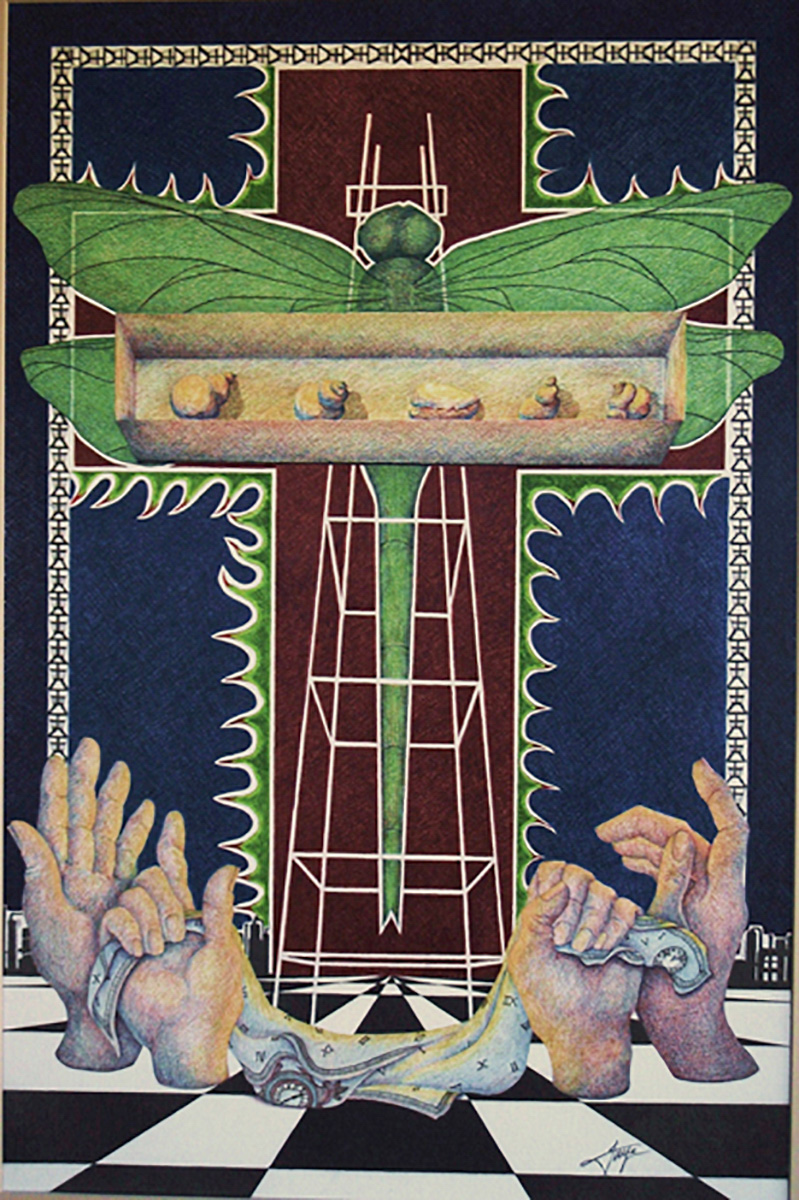 Nelson found her inspiration again with her master's.
"When I started back, it got me in gear," she said.  "The first piece I did I loved, and that just got me like a snowball. The faster I would work, the more things I would think of."
Nelson said she feels art is important and that she wishes everybody could take art classes.
"It helps you to understand that creativity and variety are what make life exciting," she said. "To do the same things all the time is so boring, and that is a word I dearly hate. I do not like to hear somebody say they are bored, because why are you so bored? There's so much to hear, read, see and do."
Sixty-two years after she first walked across a commencement stage, with a lifetime of experiences in between, Nelson walked again. But, while she said her school days are over, she doesn't have any plans to stop making art.
"I've been working in art since I graduated from college," she said. "It is like talking to me, and when do you stop talking? It is how I communicate. It has become a way of life."