Driving Miss Daisy delivers a feel-good performance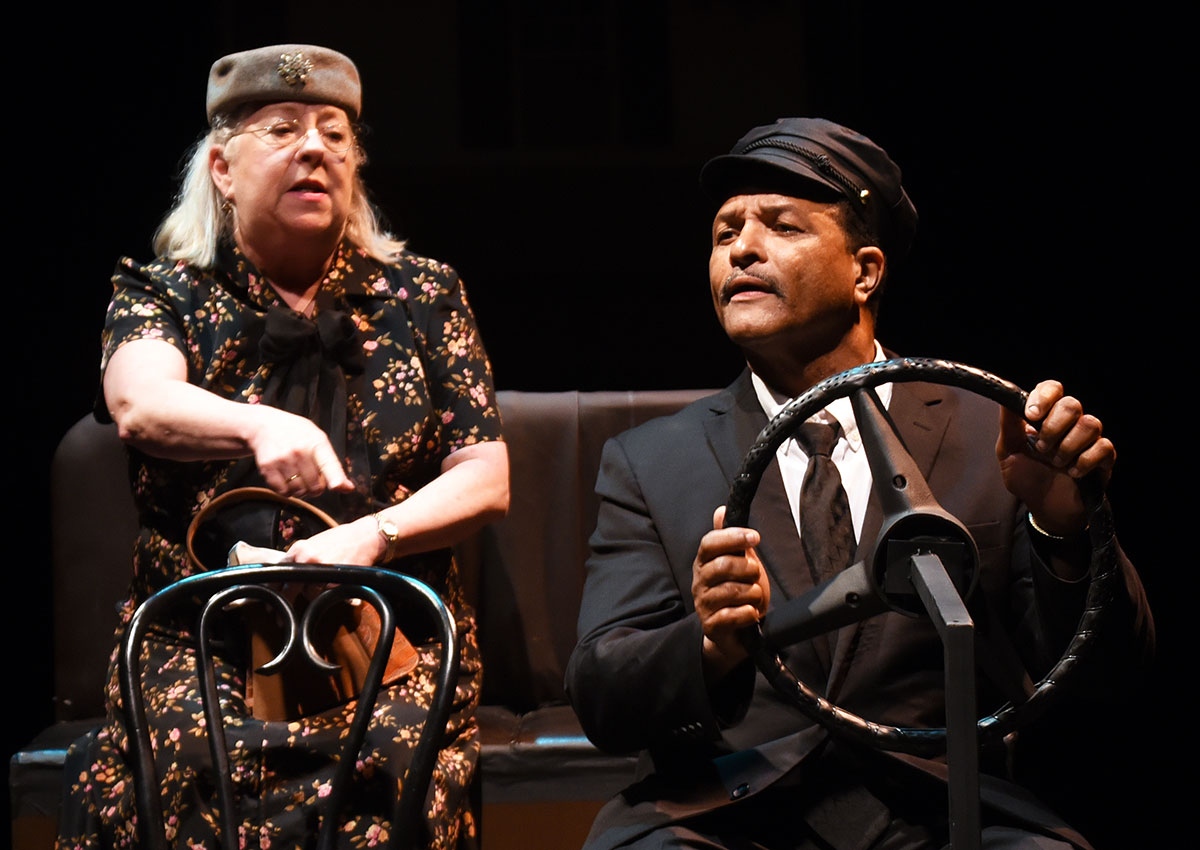 A simple stage, a few props and fluid costume and set changes were the only things needed for the audience to watch a budding friendship between a haughty old woman and her unwanted chauffeur. 
Beaumont Community Players production of "Driving Miss Daisy" is a wonderful tearjerker — both happy and sad tears.
Charlene Hudgins and H. Clay Williams play Daisy Werthan and Hoke Coleburn, the central characters in Alfred Uhry's comedic drama, which won a Pulitzer Prize in 1987, and two Academy Awards for when it was re-worked into a film two years later. The play is set in Atlanta, Georgia and spans the years 1943 to 1973.
When the 72 year-old Miss Daisy wrecks her car, her concerned son, Boolie, played by Russ Waddill, suggests she hire someone to drive her to her to temple. The suggestion lights a fire of anger in Miss Daisy that is humorous to watch. But her son refuses to take no for an answer and hires Hoke, a black chauffeur, who has a tenacious but blunt manner of speaking which is tinged with wit and an undeniable understanding of his self-worth. The audience instantly gets a sense that this will be an clash of wills between the two. 
When they first meet, Miss Daisy resents the intrusion into her established, orderly world and looks for opportunities to show that Hoke is not suitable. For example, when she notices a tin of salmon missing from her cabinet, she accuses Hoke of stealing it. The resolution to the situation is hilarious. As the play progresses, trust is established and a close friendship and dependence follows.
Hudgins sounds like she was born, bred and raised all her life in Georgia. She embodies the quintessential Southern mannerisms as she portrays a character used to getting her own way and, as a retired teacher, used to being the boss of doing things her way. Hudgins is perfectly cast.
She's well-matched by H. Clay Williams' Hoke, who is awfully kind, concerned and respectful, but only up to a point. Hoke cares for his bossy employer, even with her back seat demands, especially in a hard-to-watch situation when he has to use the bathroom while on a long drive and she does not want him to stop the car (this scene is hard to watch as we share in his humiliation). Williams' physicality really fleshed out the characters.
Waddill is not out-shone by the two main characters, as Miss Daisy's adoring and concerned son, Boolie, who develops a trusting friendship and admiration for the honest chauffeur. His expressions and reactions display both his love and frustrations for his mother, as well as respect for Hoke.
Director John Manfredi gives the actors space to showcase their talents. The thrust-style staging makes for an intimate setting. 
The "Daisy Wranglers," Travis Rollins and Elizabeth Waddill, are seen through every set change, whether it is moving the "car" or assisting the characters with their costumes. This allows the audience gets an inside look of how the play is put together without taking away from the story. The set changes are almost a play itself.
Saturday's performance drew a well-deserved standing ovation from an audience of wide-ranging ages, demonstrating that the play offers much to enjoy — whether it is laughter or tears.
"Driving Miss Daisy" runs through Feb. 1, with performances Jan. 24, 25, 30, 31 and Feb. 1 at 7:30 p.m., and a 2 p.m. matinee, Jan. 25.
BCP is locate at the Betty Greenberg Center for the Performing Arts, 4155 laurel Ave. in Beaumont.
For tickets, visit www.beaumontcommunityplayers.com.