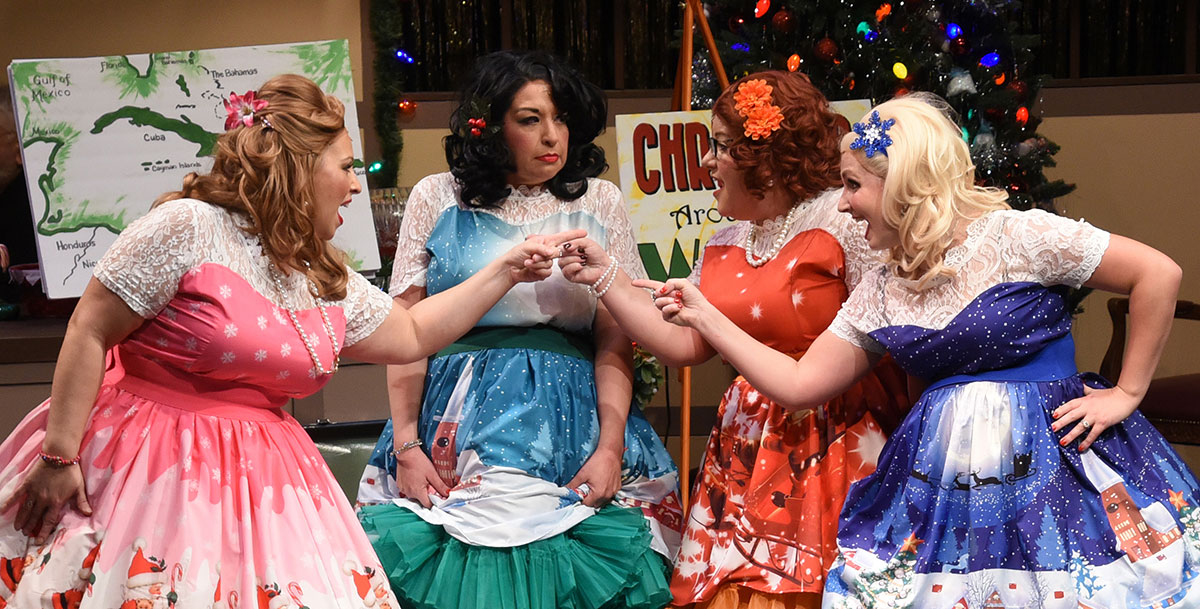 Anyone who hates holiday parties and feels like their coworkers are as annoying as those on "The Office" will appreciate what's on offer at Beaumont Community Players this month. 
"Winter Wonderettes" is a sequel to the "Marvelous Wonderettes," about high school songleader squads in the '50s, which BCP produced in spring of 2018.
In this incarnation, a decade has passed and the girls have graduated high school, got married and have jobs — somehow they all ended up working at Harper's Hardware.  They decide to get back together for the company Christmas party in 1968.
This musical comedy feels like a cross between the 1960s sitcom "Green Acres" and the holiday classic "It's A Wonderful Life."
All four girls blast through holiday favorites such as "Santa Claus Is Comin' to Town," "Jingle Bell Rock," "Run, Rudolph, Run" and "Winter Wonderland" with enthusiasm, and bring audience members into the story as if they were fellow employees of the hardware store. 
The dialogue and songs are regularly interrupted by the very blonde and pregnant Suzy (Genevieve Brassard) asking, "Is it time for the elf, yet?" and all the other characters chime in, "No! No, it's not time for the elf, Suzy!"
There's plenty of awkward humor moments, such as when Suzy tries to sing "Donde Esta Santa Claus" and she clearly doesn't know any Spanish. Or when Betty Jean (Lara Strawther) announces she is going to perform a luau dance from the native people of Hawaii. Or when Suzy says she wants to tell "all our friends of the Jewish persuasion, Happy HanUKkah" and slaughters the pronunciation. 
The four high school best friends are left to save the day at the Harper's Hardware holiday party when Mr. Harper (who plays Santa Claus every year) goes missing. Betty Jean finds the holiday bonus checks but no boss to hand them out, and an ominous note telling her, specifically, not to open them until he arrives. 
Suzy, Betty Jean, Cindy Lou (Lydia Seay) and Missy (Lauren Millner-Sanchez) work together to keep the party going, even as they talk through the hard parts of the year with the song, "All Those Christmas Clichés." 
Cindy Lou (Lydia Seay) and Missy (Lauren Millner-Sanchez) try to boost Betty Jean's spirits by helping her create new Christmas memories, leading up to an unexpected surprise.
The play is full of holiday classics, from "Jingle Bells" to "Santa Baby" and everything in-between. 
If one is looking for a light-hearted escape from their own workplace and holiday stress with catchy music and dancing will enjoy the "Wonderettes."  
Showtimes are Dec. 5, 13 and 14 at 7:30 p.m., and Dec. 7 and 8 at 2 p.m.
For tickets, visit beaumontcommunityplayers.com.