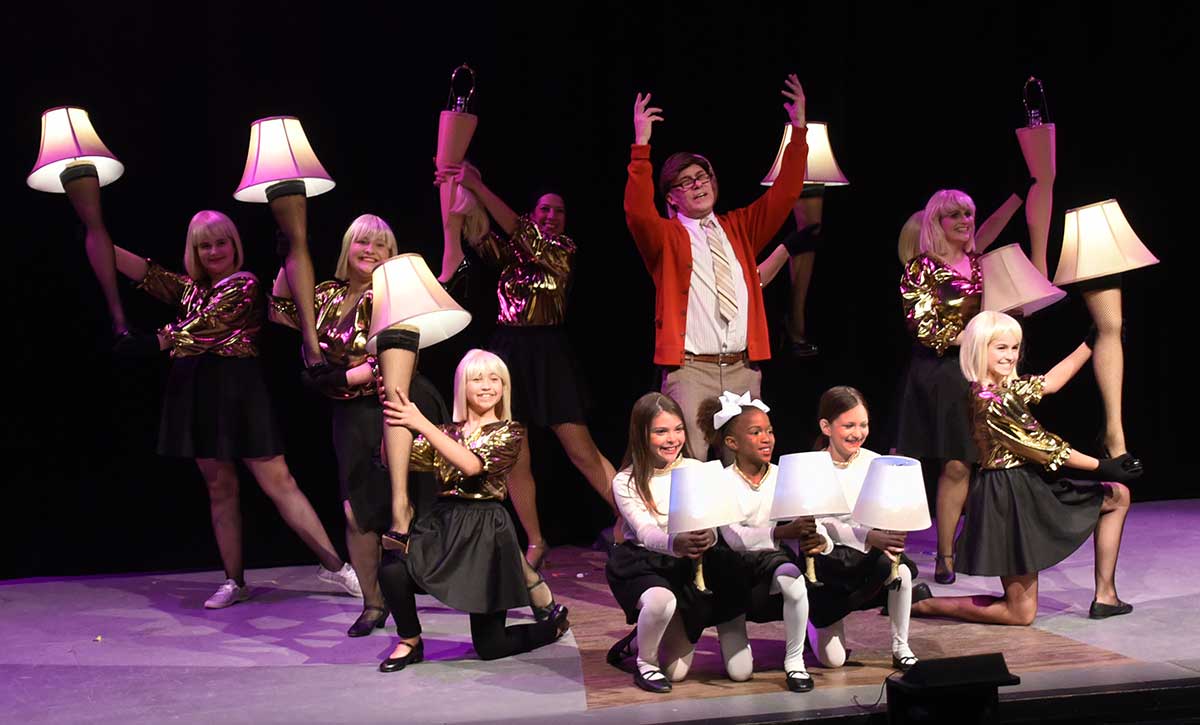 Beaumont Community Player's musical rendition of the beloved movie, "A Christmas Story," is splendidly wholesome and leaves audiences with the spirit of the holiday season in their hearts long after the curtains are drawn. 
"A Christmas Story: The Musical," directed by Allan Anderud, follows the story of a little boy named Ralphie, narrated by Jean Shepherd, and his quest to receive a Red Ryder Carbine Action BB gun for Christmas, a gift he has been eyeing for quite some time. Along the way, however, he must deal with the school bullies, his father's comedic fits of anger, and a 'What I want for Christmas' writing assignment in order to get his desired gift. 
The original story the play is based on is cute, but BCP and the musical's cast really brings the story of this holiday classic to life.  
While the entirety of the Parker family is portrayed exquisitely, Ralphie, played by Benjamin Jester, steals the show and the hearts of the audience with his impressive vocals and his ability to capture the audience's attention as he moves around the set.  
Marque Thibodeaux as "The Old Man" rocks the house. With his excellent delivery of perfectly timed jokes and jabs, he keeps the audience laughing throughout the whole musical.
Leslie Hicks does a phenomenal job portraying Ralphie's sweet and enduring mother. Hicks can be heard above the crowd singing some very well executed high notes, such as when the Parker family sings "Parker Family Sing Along." 
Leyni Illa-Peterson as Miss Shields is also fun character to watch. Her impressive vocals are featured in a fun tap dance titled "You'll Shoot Your Eye Out," including some of Ralphie's classmates and tap dancers Ava Scott and Breonie Lopez.  
The sets are astonishing and beautiful, and the attention to detail is outstanding. The snow in the windows of the classroom and the toy shop, and painted onto the mailbox of the Parker's home, as well as real functioning doors are just a few  details that stand out and make the musical feel more realistic. 
The best scene features the "Parker Family Car," constructed by Tom Shirley. The car is beautiful, with fully functioning headlights and wheels so that it can roll around the stage with the Parker family inside. A nice touch that added to the magic of the musical. 
The musical reflects on the magic of Christmas and takes the audience back to the early 1960s, a time when things were much simpler and the most important thing in life was convincing your parents or Santa to buy you a Red Ryder Carbine Action BB gun. 
The opening night audience left the theater happy and carefree. 
Performances of "A Christmas Story: The Musical" are Dec. 12, 19, 20, 21 at 7:30 p.m., and Dec. 14, 15 at 2 p.m.
BCP is located at the Betty Greenberg Center for Performing Arts, 4155 Laurel Ave. 
For tickets, visit beaumontcommunityplayers.com.