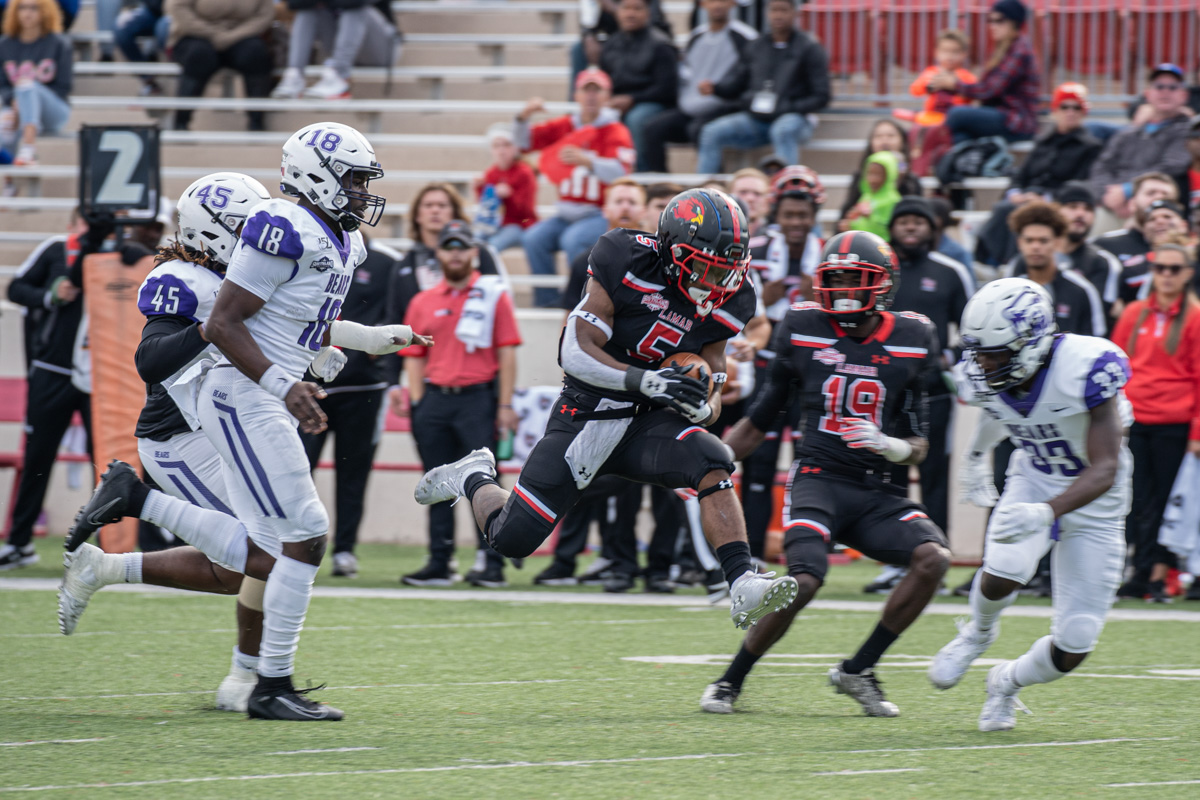 The Lamar Cardinals football team lost to Southland Conference opponent and FCS 10th-ranked Central Arkansas Bears, 45-17, at Provost Umphrey Stadium, Nov. 2. With the loss, the Cardinals fall to 4-5 (2-4 SLC).
The first five minutes of the game did not start well for the Cardinals as the Bears played an intensive defense and every pass that was made fell out the Cardinals' hands. With 8:04 left, UCA running back Carlos Blackman took it in from six yards out to open the scoring. Three minutes later, UCA quarterback Breylin Smith found wide receiver Tyler Hudson on a five-yard pass for a touchdown. With 3:23 left, Smith again found Hudson from 64 yards out to end the quarter, 21-0.
In the second quarter, with 13:47 left, LU kicker Bailey Giffen hit a 40-yard field goal to put the Cards on the board. Seven minutes later, UCA answered with a field goal of their own when kicker Hayden Ray hit one from 29 yards out. With 3:06 left in the half, LU quarterback Jermain Givens scored on a five-yard run to trail, 24-10. In the last 30 seconds of the half, Smith found UCA tight end Sam Carmargo from a yard out to lead 31-10 heading into the locker room.
In the first half, UCA had 325 passing yards compared to the Cardinals' 38, as the Lamar had no answer for the Bears' swarming defense.
In the third quarter, UCA didn't stop their momentum. With 6:17 left, Smith called his own number from a yard out to tack on another score. Five minutes later, Smith again found Hudson from 16-yards out to end the quarter, 45-10.
However, the Cards stopped UCA from scoring in the fourth quarter. With 37 seconds left in the game, LU running back Myles Wanza rushed it in from a yard out to close out the scoring.
The Cards return to action Saturday, when they travel to Natchitoches, Louisiana, to take on the Northwestern State Demons in Turpin Stadium. Kickoff will be at 6 p.m. The game will be broadcast on KLVI 560 AM.