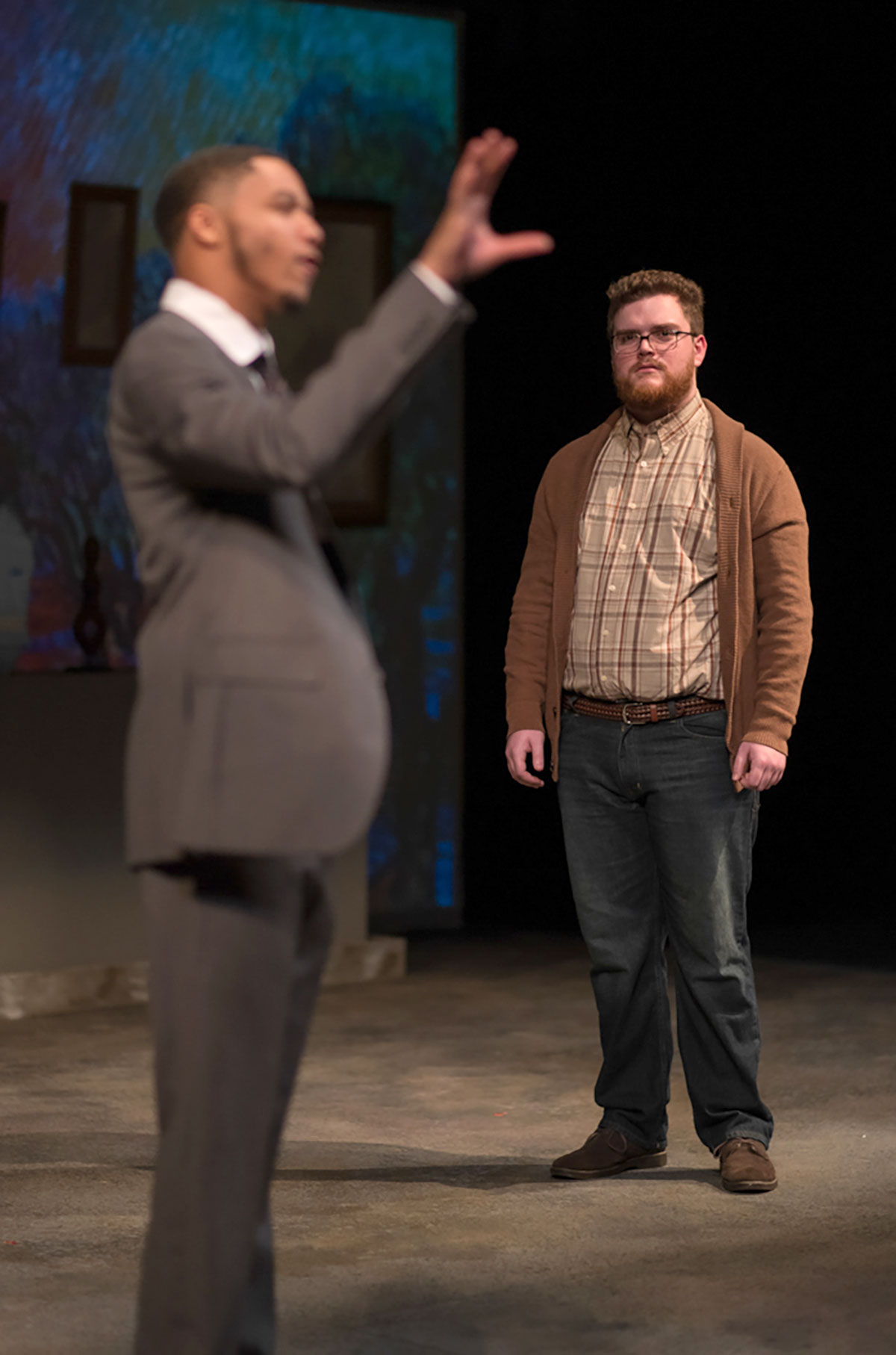 When does someone appreciating and experiencing cultures outside their own become idealizing and condescending?
That is the question "The Permanent Collection," in performance at Lamar University through Nov. 10, asks, leaving the audience with more complicated emotions than concrete answers.
While the script was written 20years ago, it could have happened last week. An African-American businessman, Sterling North (Austin Jones), becomes the director of a late white man's art collection. He notices what seems to be an oversight — the gallery displays mostly European artists while many African sculptures are in storage.
Sterling suggests making a change to the original gallery layout to showcase these pieces and ends up sparking controversy. Long-time museum employee Paul Barrow (Josh Pendino), who has dedicated his life to preserving the collection's integrity, accuses Sterling of "playing the race card" and wanting to "colonize" the gallery. This prompts Sterling to accuse Paul of being a racist to a local reporter, Gillian Crane (Brianna Butler).
The actors carry these tensions, quickly pulling the audience into the conflict building between the two men. Several lines of the characters' dialogue make viewers cringe, often audibly.
Toward the beginning, Paul is showing a new employee, Kanika Weaver (Temesha Ramsey), around the museum and teaching her about art. She teases him about being a snob when he drones on about art appreciation being commercialized and shows her several classical pieces.
"That's a bunch of naked white women," she says, laughing. It is a humorous comment, but pointed.
Later, Sterling tells Paul he has faced opposition to change from white people his whole life. He tries to explain this is something every black person has faced — "There is the reason given, and there is the reason," he says.
The late Dr. Morris (Dustin Smith), the legendary art collector, appears in flashback scenes. The audience recognizes that he is a product of his time, but his outdated statements about women — specifically a young female reporter who tried to interview him — and other ethnicities only complicate the story further.
He tells a story of hearing African-American spirituals for the first time as a child and feeling transported into another world. "I like to say I am addicted to the Negro," he says. The audience groans.
Another poignant moment comes when Sterling tries to explain to Paul that there is still an imbalance well after the Civil Rights movement. "We are not the object of your studies. You are the object of ours," he says.
The production also delves into the difficulty of what to do after one is accused of being discriminatory or predatory, something everyone who has followed the #MeToo movement and subsequent social media fallouts has observed. How do we know if an accusation is true or spiteful? What motives lie behind the accusation? And how does someone begin to defend themselves if it's not true? Their reputation is already ruined.
After the two men have a falling out through conflicting interviews in the suburban newspaper, Paul is unable to get any university jobs because all a potential employer has to do is google him and find the article mentioning him. "You are a racist," Paul says. "And the accusation is its own unanswerable truth."
Each of the actors delivers these lines of dialogue that punctuate the production in a way that feels human. As the audience, we've all overheard these conversations in our communities and just like the play shows, the right answers are not always obvious.
Taylor Bell's Ella Franklin, the foundation's long-time assistant, rounds out a stellar ensemble. Her character bookends the show and her role raises questions of its own.
Sometimes the situation is murky and tangled up in the emotions of the moment. And all the actors in Lamar University's production of "Permanent Collection" let us sit in these complications, using the liminal space of theater to let the audience think about their own responses.
In the discussion afterward, student director Caitlin Grammer said the play centers on, "What it costs to not see something from someone else's point of view."
"None of us want to be judged on the worst day of our life," assistant professor Joel Grothe said. "We're at a very interesting time in history when every word you say matters. I don't think this play makes a definitive stance. I think it asks a lot of questions."
"Permanent Collection" has three more performances this weekend in the University Theatre at 7:30 p.m. Nov. 8 and 9, and 2 p.m. Nov. 10. Tickets are $7 for LU and LIT students with ID, $10 for faculty, staff. Seniors and students, and $15 general admission.