LU theatre's 'Permanent Collection' tackles uncomfortable topic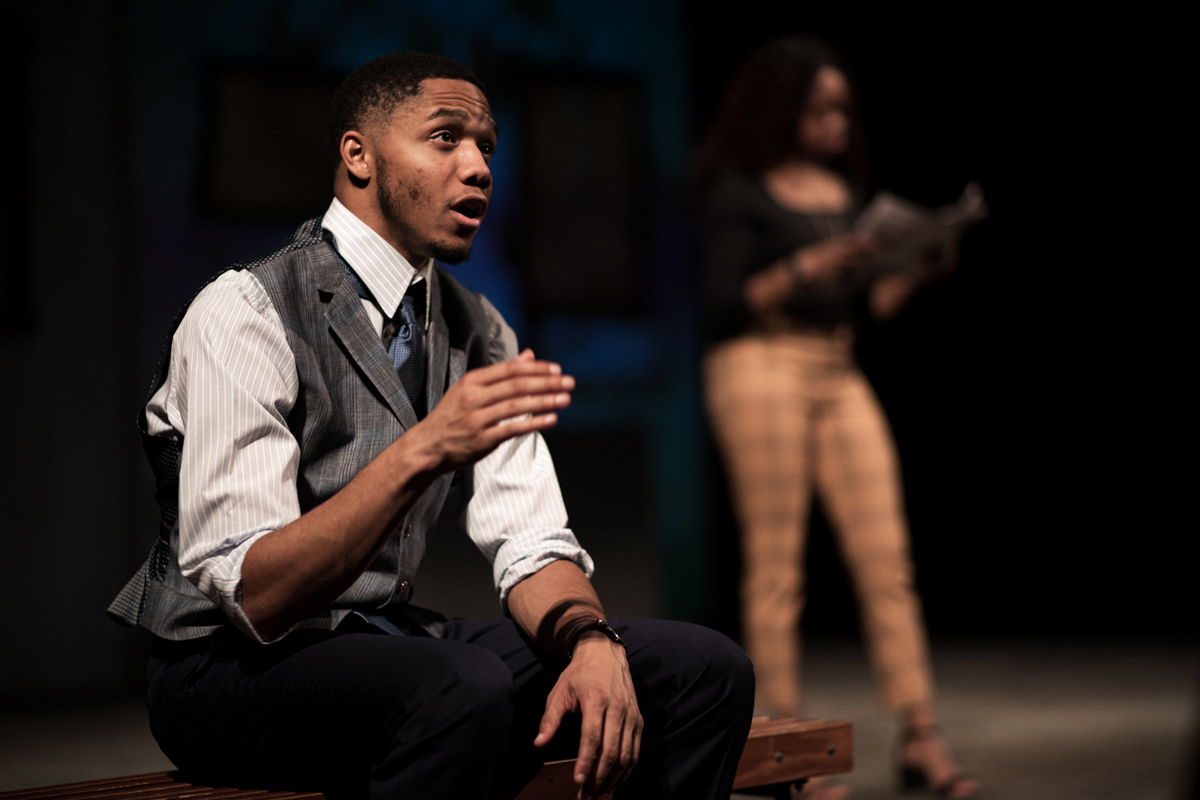 When we visit an art museum, we do not see all the works a museum owns. We see a curated version of a collection. But do we ask who decides the works we see? 
"The Permanent Collection," by Thomas Gibbons, uses a museum's art collection to ask hard questions about the role of race and who controls the narrative of our experiences.
Lamar University's department of theatre and dance will present the play, Nov. 7-10 in the University Theatre.
The play follows Sterling North, the new director of the Morris Foundation, a privately owned art collection based on the real-life Barnes Foundation in Philadelphia. Director Caitlin Grammer said the action follows the drama that happens after a provision in the benefactor's will comes to light about 20 years after his death. The provision puts control of the foundation in the hands of a local African American university, who appoints a black businessman as the foundation's new director.
"When Sterling finds African art in the basement, he proposes the art be placed on public display, which goes against other provisions of Morris's will which prohibit changing the layout of the museum," Grammer said.
"It turns into a large and very public battle over who has control of the foundation after accusations of racism are thrown around publicly," she said.
Senior Austin Jones plays Sterling. He said Gibbons poses the question of how much space in the world, both literally and figuratively, white people have left for black people.
"I like putting emphasis on the situation of race, with black people trying to just be a part of this world," Jones said. "But because of how some white people choose to treat black people, also how that connects to how history has continuously treated black people, it's hard to really become part of that world.
"Taking the line directly from the show, 'It's always been a situation of, we're always trying to figure you guys out, but you never put any effort to figure us out.' So it always brings up that question of are we truly equal?"
Grammer said the play offers actors such as Jones a unique opportunity to play characters that were written to actually be black people about issues that African American people go through.
"I don't think since he's been at Lamar, Austin has played a character that was actually written to be black," she said. "So that's a really cool opportunity that these students have that they normally don't."
Jones said no matter what one's interests and goals are, being black in America is always going to be difficult, more difficult than for anyone who isn't black.
"Sterling is the first character that I've played that I've actually been able to really relate to, as opposed to just playing a good looking guy on stage or a side character that's just relatively nice to everyone," he said. "What I can also relate to him with, at least I try to, is that he wears the pride of his race, he wears the pride of him being black, like a suit, a very nicely tailored suit."
Taylor Bell plays Ella Franklin, a worker at the museum. She said the show is about racism, but it also sheds light on how two people can be completely wrong about a situation when it feels like both of them are right.
"I think it really sheds light on those people who truly don't understand that they actually are racist," she said. "(Ella's) one of those characters who doesn't get to say much, she doesn't get to stand up for herself. She stands for those people who are quieted and their voices aren't really heard."
Grammer said the production really tries to capture the art itself.
"Our scenic designer, Liz Freese, came up with the really cool idea of using projections as a part of the set to really help the audience see and visualize the art that we're talking about," Grammer said. "But another thing that's really important about the show, I think, is the concept of who controls space artistically? And who controls art? And who controls what's visible and not visible.
"Especially in the art world, but, I think, a lot of times in the world in general, it's white people. And so the big question that is asked by the players is who? How much space does the white world give black artists and black people in general?"
Grammer said that people should see the play to be part of the discussion of its theme.
"When you come and see something that was created by someone with a different point of view, it rounds you out as a person, and you learn how to experience things from someone else's perspective," she said. "And that's really, kind of, my hope for this play."
Show times are 7:30 p.m., today, Friday and Saturday, with a matinee at 2 p.m., Sunday.
Tickets are $7 for Lamar and Lit students with ID, $10 for faculty, staff, seniors and other students, and $15 general admission. Tickets may be purchased in advance at lamar.edu/lutdtix or at the box office.