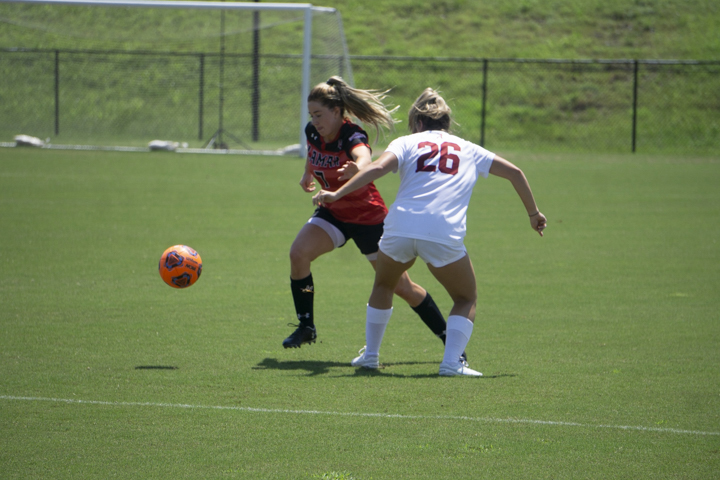 The Lady Cards soccer team won first place in the Southland Conference and the Southland Conference tournament this past week by going undefeated in the tournament and coming out on top.
"It's a surreal feeling and I am at a lost for words honestly," forward Lucy Ashworth said. "It felt much better to win this time around because I feel like we really came together as a team to get these wins."
The lady cards had a rough start to this season losing games to teams such as Rice, Oklahoma State, and Arkansas. The team blamed these losses in part on playing such big schools.
"We played really big schools and we were a bit worried about our team chemistry at the beginning of the season," forward Esther Okoronko said.
The team decided they were going to have to do something to get themselves back on track if they wanted to bring back the Southland Conference trophy again.
"After the big loss against Arkansas, we realized we needed a change. So we all got together, just us girls on the team, and wrote down anonymously what we all thought needed to change on the team," Ashworth said.
After winning the Southland Conference the Lady Cards will be on their way to California to face off against UCLA in the NCAA tournament.
"We worked really hard to get here and we are excited to get the chance to play a big caliber team like UCLA. I think its going to be an interesting match and we are going there with something to prove," forward, Madison Ledet said.
As the season is getting closer to ending, the lady cards say they are excited for next year and are ready to come back stronger than ever.
"Its always sad for the season to end, we hate losing seniors, but I am already really excited for the spring and next fall. I think it's going to be another exciting year," defender, Anessa Byerman said.
The lady cards are ready to go to California for the first game of the tournament and want all the fans to try to watch the game if possible.
"To everyone that has followed along with us this past year, we really appreciate you guys and hope that you all are able to catch the game on ESPN," Ashworth said.