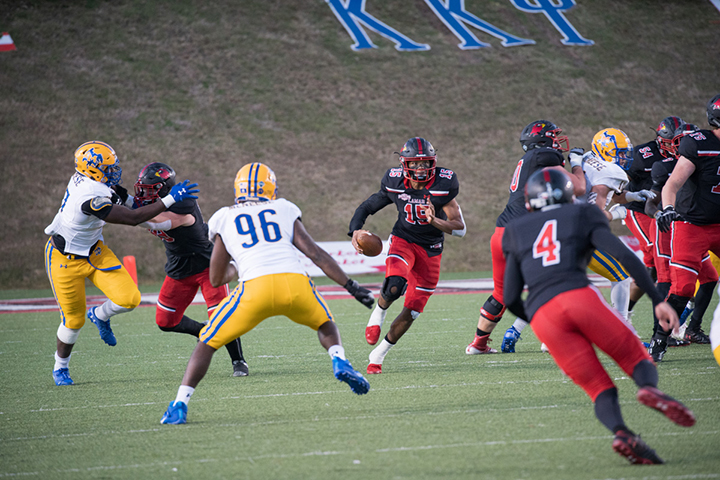 The Lamar Cardinals football team lost the "Battle of the Border" to rivals McNeese State Cowboys, 27-3, at Provost Umphrey Stadium, Nov. 23. With the loss, the Cardinals end their season 4-8 (2-7 SLC).
"Needless to say, this didn't finish the way we wanted it to," head coach Mike Schultz said. "It was hard in the locker room. There are 17-something seniors that are leaving. Those guys have given a tremendous amount of effort work for this program. I don't like to do this, but last year we took this program to someplace it's never been before and every one of them played a major role in that."
In the first quarter, McNeese forced Lamar into a three-and-out on their first drive. With 13:03 left, McNeese quarterback Cody Orgeron rocketed a pass to wide receiver Trevor Begue from 54-yards out to score. On the next drive for the Cardinals, quarterback Marcellus Johnson was sacked by McNeese linebacker Scott Carlos on first and 10 for a five-yard loss. McNeese again forced the Cards into a three-and-out to force a punt by Enrique Carmona. With 6:05 left, Cardinal quarterback Shane Johnson came in to relive Marcellus Johnson. For the remainder of the quarter, both teams drew three-and-outs to end, 7-0.
The second quarter was a defensive game for both teams. With 12:31 left, LU right end Daniel Crossley picked off Orgeron and took the ball with him until he was tackled by Orgeron five yards out.
"That was the same play we worked on in practice," Crossley said. "We had the same blitz call and it was executed the way it was practiced."
However, the momentum from the pick did not last, as McNeese forced Carmona to punt after a 30-second drive. With 6:03 left in the half, Lamar kicker Bailey Giffen's field goal attempt went wide right from 46-yards out, and the Cards trailed 7-0 heading  into the locker room.
"I knew there were going to be some difficult times but they played hard on both sides of the ball," Schultz said. "We had some opportunities to make plays on offense and didn't get it done."
With 7:37 left in the third quarter, Cardinal defensive back Steven Jones picked off Orgeron's pass over the middle. After the interception, McNeese forced the Cardinals into a three-and-out forcing Carmona to punt once again. Three minutes later, McNeese kicker Bailey Raborn's field goal attempt went wide left from 35-yards out to keep the game at seven points heading into the fourth.
In the beginning of the fourth quarter, Giffen hit a field goal from 39-yards out to put the Cards on the board for the first time, 7-3. With 12:15 left in the game, Orgeron broke away from the weary Cardinal defense and called his own number from 41-yards out to make the score 14-3.
A minute later, Cardinal running back Chaz Ward rushed the ball for six-yards only for McNeese middle linebacker Kody Fulp to force the ball out. It was recovered by McNeese defensive back Kordell Williams. After the fumble, McNeese struck the board again with 9:28 left, when running back Justin Pratt took it in from a yard out. However, Raborn missed the point after leaving the score 20-3. With 5:14 left in the game, Pratt found the endzone again from a yard out, to close out the scoring.
"We'll be back and we will get well," Schultz said. "I think, just as a staff and as a team, I think we know where we need to go. I think we're going to come up with a clear cut vision goal of what we want to do and then we're going to put the things in place that are going to get us to where we want to go."
On Nov. 25, it was announced that Schultz would not be returning to head coach the Cardinals next season.