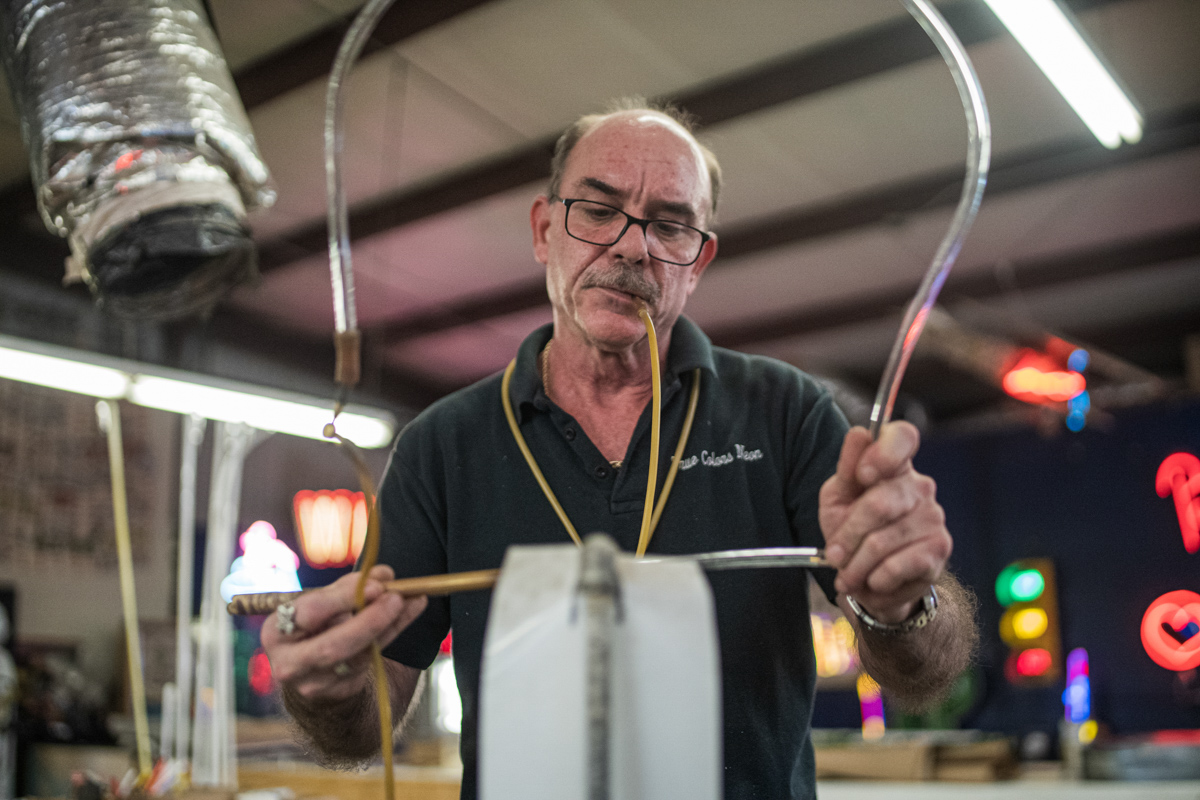 When one walks into Daniel Dobelmann's True Colors Neon shop, one is greeted with the glow of hand-crafted signs on the walls, the sounds of the different torches shaping glass, and the faint hum of electric lights.
Dobelmann, a native of Chicago, was raised in Galveston and moved to Houston in 1980s, where he took a job at The Neon Shop.
"I kind of picked up the trade from there," he said. "I went on to a couple different jobs and just kind of learned the trade. After a while, I just decided I'd rather just do it for myself."
Dobelmann said he used to do jewelry and metalwork, so the transition was easy as it incorporates similar skills.
"I started this business out of a small garage, you know, just with dirt floor and a little bit of money that I had left over from my last job," he said.
Dobelmann has been working in the neon sign business for about 25 years.
"Back in the early 90s, when I got started, it was kind of slow in the business," he said.
After two or three years, the business started to boom, Dobelmann said.
"We did all of the grocery stores and the Krogers and stores like that," he said. "They all had neon inside of them — those were just massive jobs that seemed to never end.
One job that Dobelmann particularly remembers is doing signs for ATMs. Dobelmann said that he used to do about 250 signs a week and he enjoyed doing that, but now he does more custom work.
"The majority of signs, we ask for one to two weeks to build," he said. "We do everything here on the premises.
"You should get an average of 50,000 hours burn time. On almost all neon tubes, that's an average. That's kind of low in my opinion, but it depends how well the tubes are processed as to how long they last."
Signs that Dobelmann made more than 25 years ago have stood the test of time, he said.
"The thing I like about neon is you just change components," he said. "It's like when your car breaks down, you'll change your part and you keep that sign running forever.
"We'll have people bring us some pretty old signs and we will fix them up, and not make them look new but get them back into working condition. They keep that antique effect. That's one of our favorite things to do out here is fixing up old signs."
Dobelmann said the shop's success is built on treating people right and investing back into the company. 
He said his favorite kind of job is making signs for different events.
"That seems to be really popular now," he said. "A lot of branding and restaurants want signs that people take pictures in front of, and boutiques and restaurants.
"I think the signs I like doing the best are when we do them for charity events, or just big events going on around town — like the rodeo, for example, and SXSW  — those are fun things because I get to go see the signs that I have made. 
"We just did a sign for the Rockets shop in the stadium, which is a pretty good gig."
Dobelmann said that he personally trains everyone he hires to learn the craft the same way he did when he started out.
"It's difficult to find people with a good background in neon a lot of times," he said. "You are on-the-job training, and then the equipment's different from shop to shop. It really does require a lot of training.
"We will bring people in and then we will start with the simplest things in the shop, such as making patterns, dealing with customers, filling out work orders. Then we'll move them up to more technical things like process and neon, and then teach them bending. After they've got that, it makes somebody more well-rounded, so that they have a better idea of the final product and what we're actually trying to do."
Dobelman said there is a process to making his signature signs.
"A lot of people bring us their ideas," he said. "It can be something they drew or a picture that they've had. What we do is, we'll do the design work either on the computer or we'll use a projector — in some cases we will hand-draw patterns.
"At that point, it moves to the glass-bending area, where we hand bend all the glass — same way it's been done for years and years. After that, it goes to the processing department where we clean the tubes out and add the neon or argon gas to it. From there we go to the assembly part of the shop where we build the signs."
Dobelmann said that every now and then neon goes out of style.
"I think the vinyl signs and vinyl cutting machines kind of took over a lot of the outdoor sign advertising," he said. "That's just something that kind of happens to neon every 20 years — something new comes out so it kind of slows the business down, but it seems to always pick back up."
Dobelmann said that throughout his life he has learned to stop worrying. He has a simple piece of advice.
"The way to get everything you ever wanted is just not to want," he said.