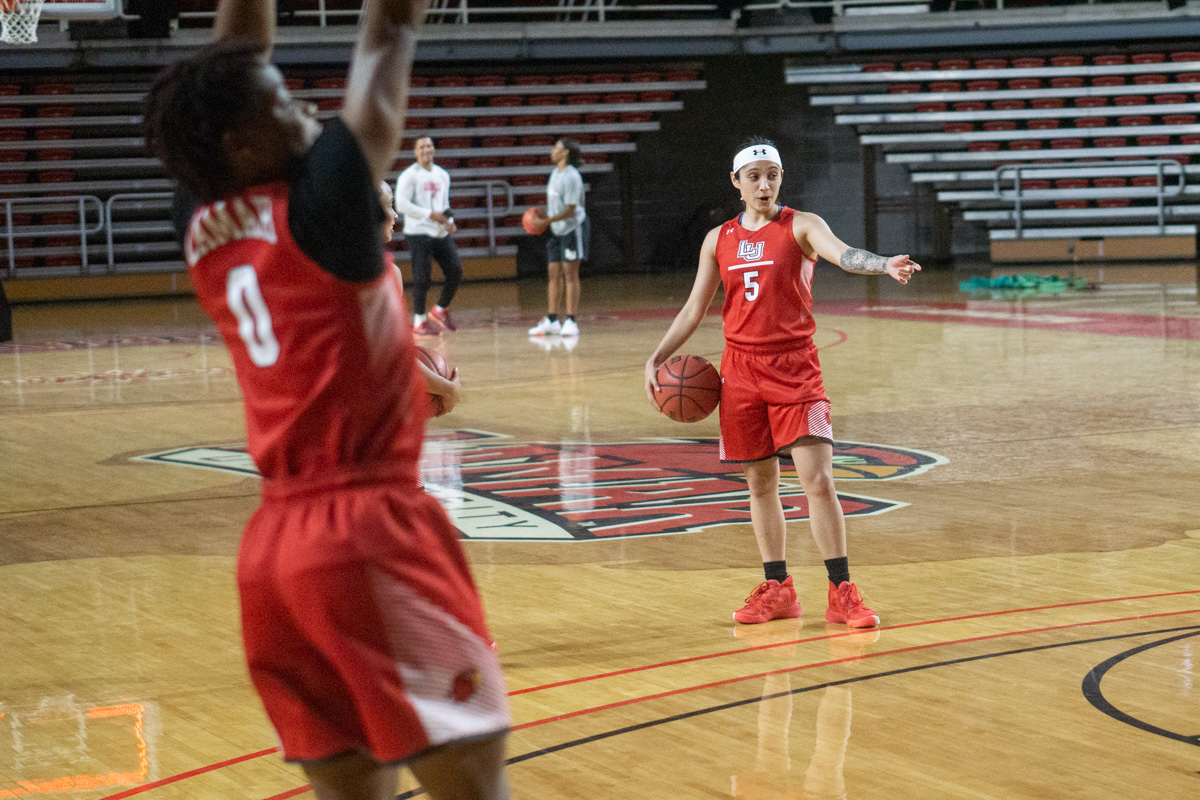 The Lady Cardinals basketball team had a dominating 24-7 (17-1 Southland Conference) record last season, including becoming back-to-back SLC champions under head coach Robin Harmony. After cutting the net, the team came up short-handed, missing a NCAA tournament appearance and losing in the semi-final game in the conference tournament to Abilene Christian University, 88-79.
However, the Lady Cards maintained a home-win streak of 42 games before snapping it in the first round of the WNIT tournament to the University of South Alabama Jaguars, 73-71.
On April 19, Harmony stepped down as head coach to join the College of Charleston where she coached six seasons before joining the Lady Cardinals. Aqua Franklin took the helm on May 1.
"I felt blessed for the opportunity," she said. "I am really excited that we had a lot of returners coming in, coming back from that back-to-back championship team. When you get any job, the goal is to win, and I definitely want to keep up that winning tradition."
Last season, the team lost two prolific players in guard Chastadie Barrs, who currently holds the NCAA steals record at 193, and guard Moe Kinard.
"Chastadie and Moe both were outstanding athletes and did an unbelievable job here at Lamar," Franklin said. "Yes, I wish they were still here just because of what they did, but I think my predecessor Robin did an unbelievable job in recruiting and there is still a lot of talent remaining on the team."
Franklin said the returners this season include guards Angel Hastings, Jadyn Pimentel, Shedricka Pierson, Ashlan Miles and redshirt junior Amber Vidal, as well as centers Rikiah Cowart, Umaja Collins and forward Briana Laidler.
"I am really fortunate that we have everyone that was on the previous team return," Franklin said. "You usually don't see that with the turnover in staff, so I was blessed in that aspect.
  "Some of our returners will have big shoes to fill, in a sense that we lost a lot of our scoring. Basically, it is just them stepping into different roles and that is one of the things I have challenged them to do. We have to make up for those lost points, but I think we are in great shape and have enough talent to do that."
The team welcomes three newcomers in freshman guards Kayla Mitchell and Malay McQueen, and junior transfer forward Micaela Wilson.
"(McQueen) comes from Arlington's Bowie High School, who is a long-range shooting guard," Franklin said. "I am excited to see what she can do with her length for us. She has played the game at a very young age and has a good IQ. Then we have Kayla Mitchel from Jonesboro, Arkansas — I have watched her a ton, she is a really quick, aggressive defender. She has improved on her memory on jumpers. Those two freshmen came in and they are ready to go, and they act like freshmen on the court. Lastly, we have a junior transfer from Kansas University in Micaela Wilson, who will have to sit out this season."
The Lady Cardinals non-SLC schedule sees them play Oklahoma State, North Carolina State, Louisiana-Lafayette and the 2019 National Champions Baylor.
"I think we have a pretty tough non-conference schedule," Franklin said. "We are going out there to compete and we will take it one game at a time. We are going to learn from each and every game regardless if they are the defending national champions or not."
Franklin said that planning for games will be a game-by-game watch, but she's looking forward to seeing how the team will perform.
"You have to adjust to your opponents and what they do," she said. "You also have to see who their best players are — they (Miles and Vidal) might be an inside player with one team and with the next team they might be a guard."
The Lady Cards played their season opening exhibition Tuesday against East Texas Baptist University, winning 64-47 in the Montagne Center.
They will travel to Stillwater, Oklahoma, Friday, to take on Big 12's Oklahoma State University Cowgirls. Tip off is set for 11 a.m. in Gallagher-Iba Arena.