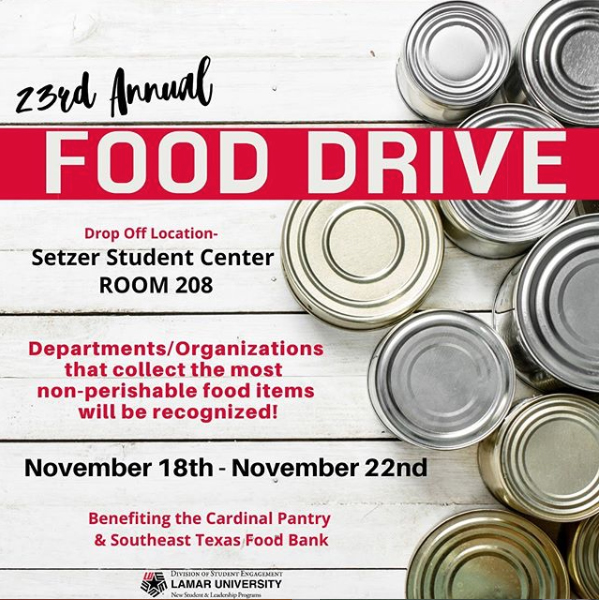 New Student and Leadership Programs is hosting their 23rd annual food drive from Nov. 18-22. The food drive is a competition between clubs, organizations, and departments for who can bring in the most non-perishable goods.
Students can drop off items in Setzer 208 and the items will be added to their organization's tally. The goal in the past has always been the year with this year's goal being 2,019 items.
Director of New Student and Leadership Programs, Brandie Van Zanden noted that students do not have to be affiliated with an organization to give back.
"Even if a student just wanted to donate, like because it's right before Thanksgiving, right before finals if you're cleaning out your residence hall you can donate without being part of a club," Van Zanden said.
The items will be donated to the Southeast Texas food bank and the Cardinal Pantry housed inside the Wesley Student Center.
"We just would like people to donate, it's going to go to either on campus," Van Zanden said. "For our students that might be experiencing, or to the Southeast Texas Food Bank, so it's a good opportunity for students and departments to get together and give back. So it's just a good opportunity to give back during the holiday season."