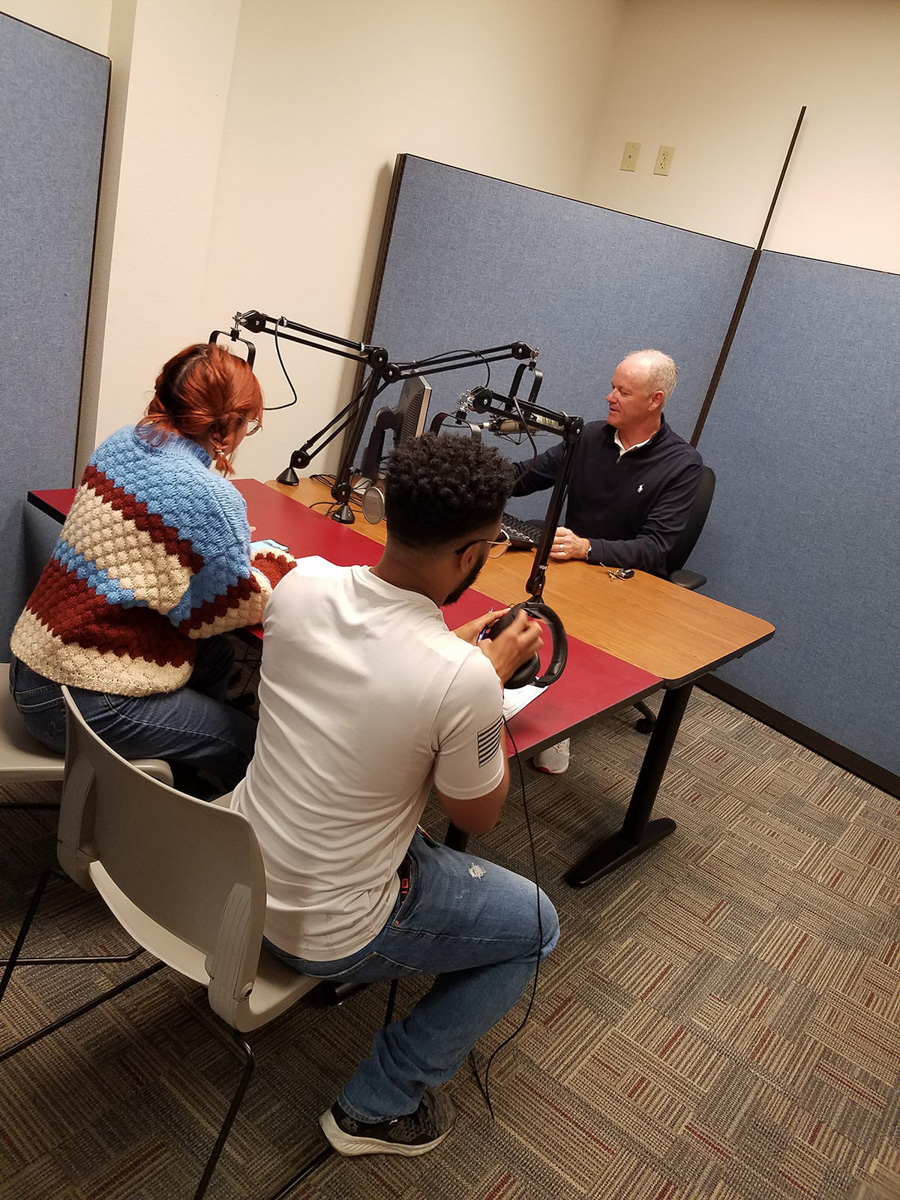 The Lamar University department of communications and media will host a meet-up for Southeast Texas podcasters from 6 p.m. to 9 p.m., Wednesday, in 127A Communications Building.
"It is an opportunity for local podcasters and aspiring podcasters to network," Natalie Tindall, communications and media department chair, said. "We will discuss the ins and outs of the business, the craft of podcasting, and showcase what we are doing in the department."
The event will also cover the technical aspects of creating a podcast, Byron Balentine, KVLU station manager, said.
"We will be talking about how to get started and the types of equipment you will need," he said. "We will also discuss the kind of title you should have, how to set it up so that it will be acceptable to the podcast buyers like iTunes, tips on how to present yourself and picking a topic."
In February 2018, Beaumont podcasters Aaron Barnhill and Zack Bowman launched A2Z podcast that aims to shine light on local talent. Bowman said Southeast Texas is their target audience.
"But our episodes aren't solely focused here so anyone could enjoy it," he said. "People who listen to the radio or podcasts at their job might be our biggest target audience."
On Nov. 1, they interviewed Channel 12 "News Now" anchor DeJonique Garrison on the show.
"She's uber-confident, loaded with journalistic integrity, and we had a great time talking about her path to success and the state of broadcast journalism today," Bowman said. "We conduct conversational interviews with the folks that make Southeast Texas a bit more bearable. It's just a casual hang — we drink a bit, and sometimes cuss a little."
Bowman said beginning a podcast is hard work.
"It's a struggle," he said. "Unless you can throw a bunch of money at it, you'll need to learn how to record, mix and launch your show, as well as be your own marketer — and all that entails promoting your niche."
Bowman said the hard work is worth the reward.
"You'll meet amazing people, become closer to the ones you already know, and eventually, you'll put something out into society that really has a positive impact on someone —and it feels pretty dang awesome," he said.
Bowman said podcasting allows him to develop marketable skills for the workplace.
"There is a multitude of soft-skills going on our Curriculum Vitae due to the show," he said. "And every episode with a new guest provides incredible networking opportunities."
Balentine said the department will offer a podcasting class in fall 2020. The workshop will also offer LU students the opportunity to put the class into their degree plan.
For more information on the workshop, visit  facebook.com/
lamarcommdept.