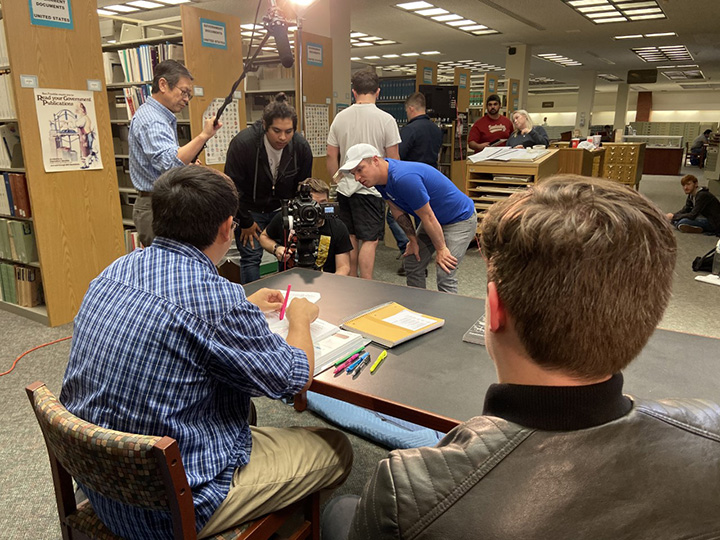 The Lamar University department of communication and media will host "Scenes and Shorts," a student film showcase, 5:30 p.m. to 9 p.m., Nov. 25, at the Dr. Richard L. Price Auditorium in the Herman Iles Building located in the John Gray Center.
A reception from 5:30 to 6 p.m. will allow visitors to converse with filmmakers. The event will featrure four music videos, two 15- to 20-minute short films and 10 three-minute films, Hannah Hudgins, who helped coordinate the event, said.
"We're going to screen everything that we've learned this year," Hudgins said. "We have a short film that we produced through our summer film project, then we have two music videos for our music video production classes. We have The Very Very Boom — they have a music video, and then we have one for Ole Lonesome.
"We also did some scene studies out during our film production II class, and so we got to learn how to make a successful pre-production, principal photography and post production, so we can successfully make a scene. Those will be screening as well."
Producing music videos for local bands and/or artists is part of the music video production class curriculum. The event will also screen videos from the bands Kluv and Two Heavy Boxes.
"Basically, what happens during a music video production class, is that we reach out to local band members that are in the area," Hudgins said. "We ask if they would like to have a music video done for them through Lamar. What happens then, is that we get to learn as students how to write treatments and how to pitch ideas. The band get to go through and pick a concept that a student wrote out. Then we get to go through and we get to do pre-production, and we get to collaborate with the band and basically make a music video for them."
The two short films will be shown are "Ambivalent," a psychological horror film, and "The Writing's on the Wall."
Hudgins said she hopes students will interact with the filmmakers, and give them critiques and ask questions, as it helps them improve their content.
"Last year, we did a Q&A," Hudgins said. "I'm hoping that we do that again this year, because it's always great to go through and listen to your audience's opinions and questions, because it kind of helps you as a filmmaker, learn what you can do, can't do — what's working, what's not working."
"I think it's just to showcase what we've been learning, because I know it's been a lot. We've learned a lot in class and so it's great actually share what we've been learning."
Hudgins said students should RSVP on the event posted on the Lamar Communications Department Facebook page to help estimate how much food they need on hand.