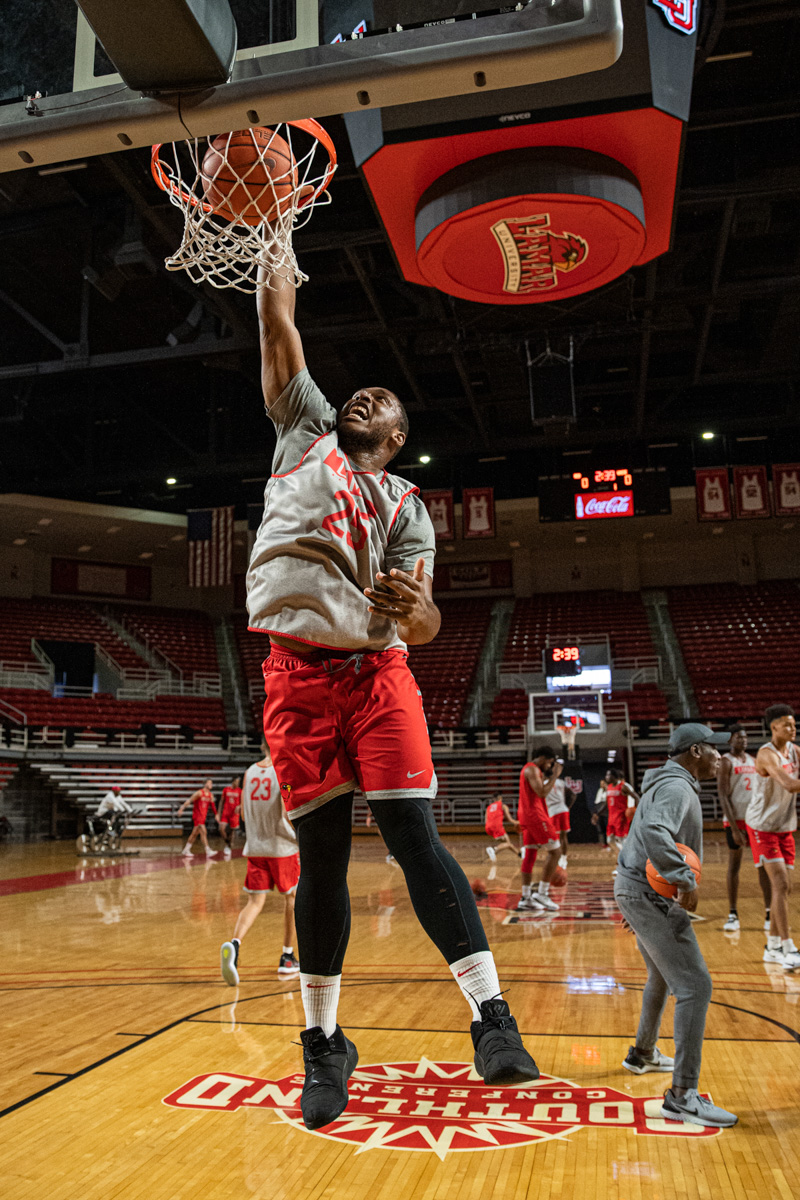 The Lamar University men's basketball team ended last season with a 20-13 overall record,12-6 in Southland Conference, carrying a strong nine-game winning streak before falling to New Orleans, 72-76, in the second round of the SLC tournament in March.
 But despite the loss that abruptly ended the season, head coach Tic Price said he has high expectations for the team.
"Last season, looking back, I think we finished strong," he said. "We lost, but we learn from each loss. We tell our players after loss, 'Learn, don't relive.' We are very determined to make progress and I think that says a lot about the character of the team.
"I love what our guys are bringing on a daily basis. Their preparation has been good — not one guy in that locker room wants to fail. Their body language indicates that every day."
This year, the team returns with  four veteran players along with nine new players. 
"We've got four returning players who have really shown tremendous leadership," Price said. "We have Avery Sullivan, an inside presence (and) a leader in the locker room. He's been with us, knows the system and knows the expectation. V.J. Holmes is also returning. He's one of our most versatile players and gives us another threat on the court.
"Then we have T.J Atwood, who's been with us four years. He has been a model guy on the court and off the court. I couldn't be more pleased with him. My coaching peers have so much respect, they have picked him to be one of the pre-season, all conference players. And then Davion Buster, who really came on strong. He's probably our most improved player from a year ago and has the ability to be one of the best players in the Southland Conference." 
Along with the veterans, Price said he has high expectations for the newcomers. He said the most coveted player during recruiting was Anderson Kopp, a freshman out of Houston and a long-range shooter.
"He plays very hard and he's always looking to get better," Price said.
David Muoka is a 6-feet 10-inch shot-blocker from Hong Kong.
"He's still learning — he's young, but boy, he can be as good as he wants to be," Price said. "He's got a high ceiling to be one of the big guys in our conference over the next couple years."
Price said Dylan Morrison from Canada is a big-time, world-class athlete who is an exciting player to watch. Ayaan Sohail was a top guard in El Paso a year ago who Price said has a lot of potential. Ellis Jefferson is a transfer from San Antonio.
"(He's) probably our best on-ball defender we have on the team," Price said. "Each guy that we sign brings versatility to the team." 
Holmes said the team is excited to get on the court and look forward to a good year.
"We're definitely excited," he said. "We're preparing every day, coming here and getting good practice, and get extra shots up when you're not in practice — really building the team chemistry to prepare for the season. Our team goal is to win more than 20 and get a ring."
With high excitement also comes high expectations that each player has for themselves, Muoka said. 
"I look forward to competing with all the great teams, it's a lot of great competition in the conference," the freshman center said. "I just want to continue to bond with the teammates to get better together, but also individually. I hope to improve, and I know I will with the right mindset, and just getting better with each and every day."
On the court, Price said that the team has to improve on both sides of the ball. 
"Right now, we have to clean up our execution on our offensive end and defensively," Price said. "We've got to quickly learn our rotations. This is kind of on-the-job training for us right now. It's a work in progress and we've got to learn what it takes to win on a division one level with such a young group."
The team's non-conference schedule features games against Texas Christian University, Kentucky, Utah Valley, University of Alabama at Birmingham and Rice.
"We've got a tough non-conference schedule," Price said. "You've got to be ready to play."
Price said the team is looking forward to traveling to Kentucky in late November to take on the Wildcats.
"I think our players will be excited to play in Rupp Arena," he said. "When we recruited these guys, and we mentioned Kentucky being on the schedule, they all became very giddy about it. It's a challenge, of course, a huge challenge, but we're not just going to play, we're going over there to win."
All in all, an exciting season awaits the Cardinals, Price said.
"I think this is a team that you would love to say are Lamar Cardinals," he said. "I think you will enjoy our style of play. I think that you will like how tough our kids will play and how hard they will play."
The Cardinals won their season opener, Tuesday, winning 86-40 against Champion Christian in the Montagne Center.
The Cards will return to action Friday, when they take on Arlington Baptist. Tip off begins at 7 p.m in the Montagne Center.