Aqua Franklin brings wealth of experience to Lady Cards coaching role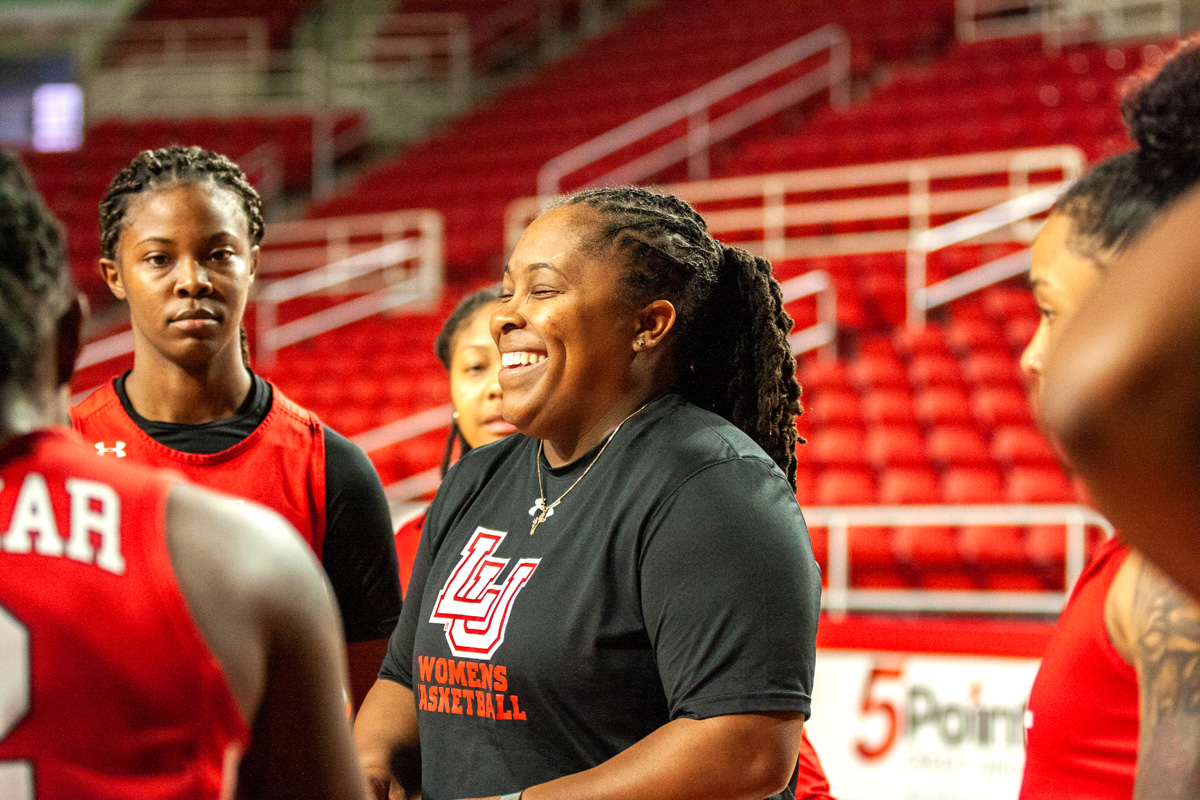 Ubuntu means "I am because you are." The South African term guides head coach Aqua Franklin in how she leads the Lamar University women's basketball team.
"I got it from Doc Rivers," she said. "He was the head coach of the Boston Celtics when I learned about this. He had three really good players called The Big Three — Ray Allen, Paul Pierce and Kevin Garnett — and he was trying to figure out how he was going to get all these personalities, talent and egos to mesh to go out and win a championship."
"I am because you are" means players rely on each other to be great so they can be great together. This idea of teamwork summarizes the strong sense of personal responsibility Franklin instills in her players to make them great. 
Franklin has been playing basketball since she was five-years old and the game has taken her around the world. In college, Franklin played for Texas A&M University. She was the only freshman in the Big 12 to start as a point guard. When she finished her career at A&M, she had 627 assists, ranking third all-time in the university's women's basketball history. 
In 2008, Franklin was drafted into the WNBA by the Sacramento Monarchs.
"They drafted me 38th overall, and third round," she said. "It was an unbelievable experience. I didn't think I would get drafted."
Franklin said her time on the Monarchs was made great by her teammates. 
"I was able to be around a lot of awesome people," she said. "People who want to be great at life but are also great basketball players."
Franklin's former teammates included Ticha Penicheiro, Kara Lawson and Chelsea Newton.
"I used to watch them play, and then to be on the same team as them was pretty cool," she said.
Franklin also played for the Seattle Storm in 2009 with Sue Bird. 
"To be side-by-side and learn from the one of the top point guards in the WNBA was awesome," Franklin said. 
Franklin played for overseas teams, such as the Solna Vikings. Her professional career also allowed her to travel to France, Switzerland, Italy, Belgium and more.
"The orange round thing has taken me a lot of places, and I've experienced different things I couldn't even imagine as a 5-feet 3-inch point guard from Tyler, Texas," she said. 
Franklin returned to A&M to earn her master's degree and was the graduate assistant to head coach Gary Blair. In 2010, she became the assistant head coach for the Stephen F. Austin women's basketball team under Brandon Schneider. 
"He took a chance on me, but I was able to get some skills and qualities from him in learning how he ran his program," she said. 
Her next coaching job was with Bonnie Henrickson at the University of Kansas.  
"I was with her for a year and she ran her operation a lot different, so I learned from her," Franklin said. "I was very young and just trying to find my way."
Franklin was assistant coach at Mississippi State under Vick Schaefer, before returning to the University of Kansas under Coach Brandon.
"All those steps prepared me for this moment," she said.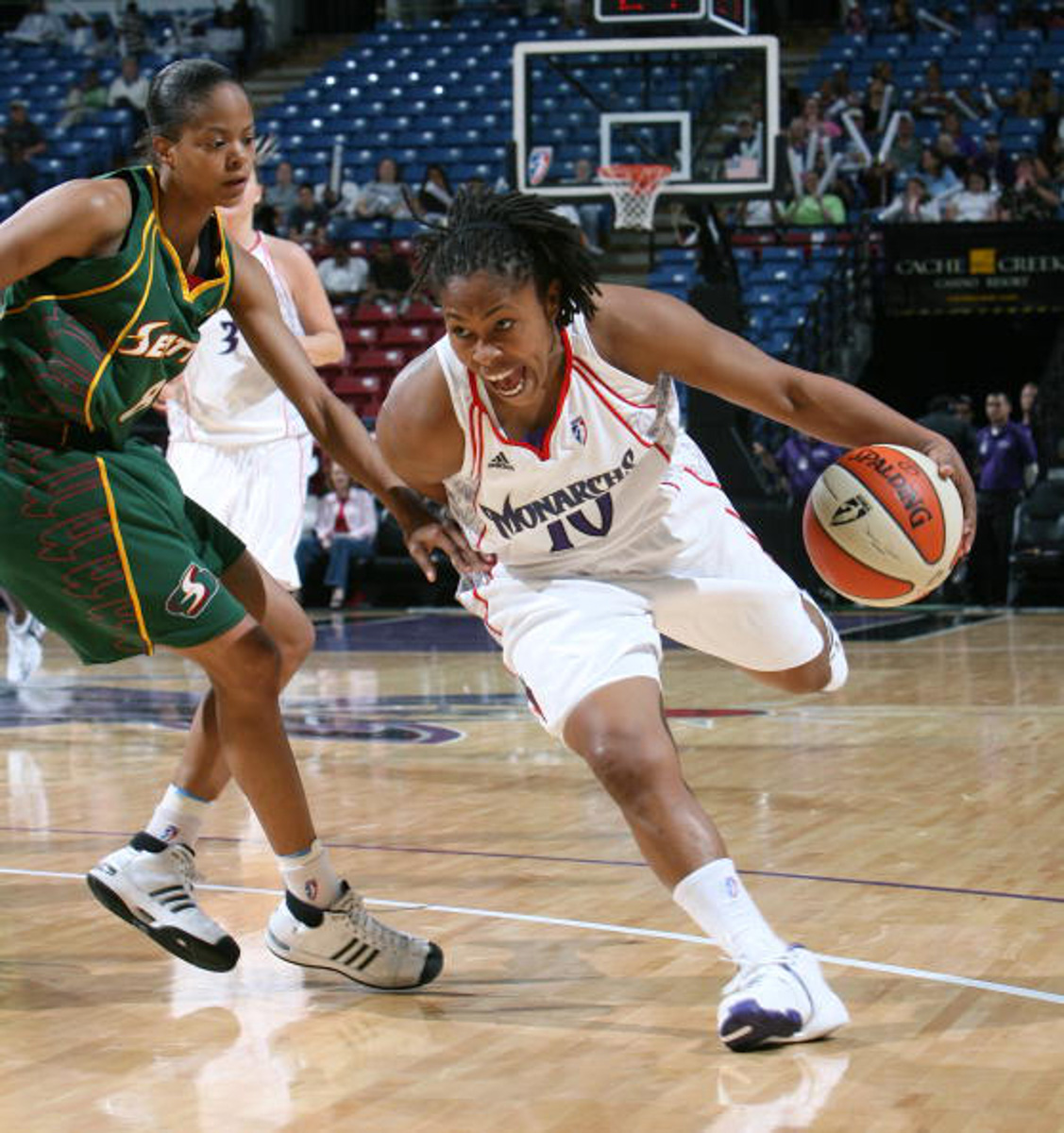 Franklin heard about the opening at Lamar University through the grapevine when she was visiting her sister in Texas.
"I was flying, and once I landed in Houston, I got a series of text messages from different colleagues and friends that this job was opening, and I should jump on it," she said.
Franklin said she was ready to be a head coach, and after she researched Lamar, she felt it was the perfect place to start her career.
"I think it's a great time to be at Lamar," she said. "I think there's some great coaches here to grow with and learn from, and I think the timing couldn't be more perfect, coming off back-to-back conference championships."
Franklin said she's excited about all the talented players that decided to return, and said it's an awesome opportunity for her to continue the winning tradition. 
Franklin said her transition to head coach has been an easy one, and that has allowed her relationships with the players to grow. 
"I think taking over a team is about getting to know your players, because you missed that time during their recruitment process," she said. "We both have to be intentional about what we do and say.
"I spend a lot of time with them, and we don't only talk about basketball. They want to know that I care, and that has allowed them to trust me."
Her goals for the program are to win the championship again, to give the community a team to love and embrace, and also give the players a memorable experience. 
"We talk about how college is the best four years of their life — we want to be a part of their journey," she said.
Franklin describes herself as a player's coach and said she understands the hardships of being a student athlete. She has an open-door policy to support her students, and wants them to be able to experience everything during their time in college. 
But eventually, the basketball stops bouncing, and Franklin said she wants to make sure the players get their education because they are students first.
Franklin said she learned responsibility and work ethic from her mother, a single mom who made sure she kept her grades up or else she couldn't play basketball. Franklin tries to instill those same values in her players — cleanliness, punctuality, character and academics are all taken into account.
"Teaching basketball allows us to teach life skills," Franklin said. "That's what I really enjoy about it."