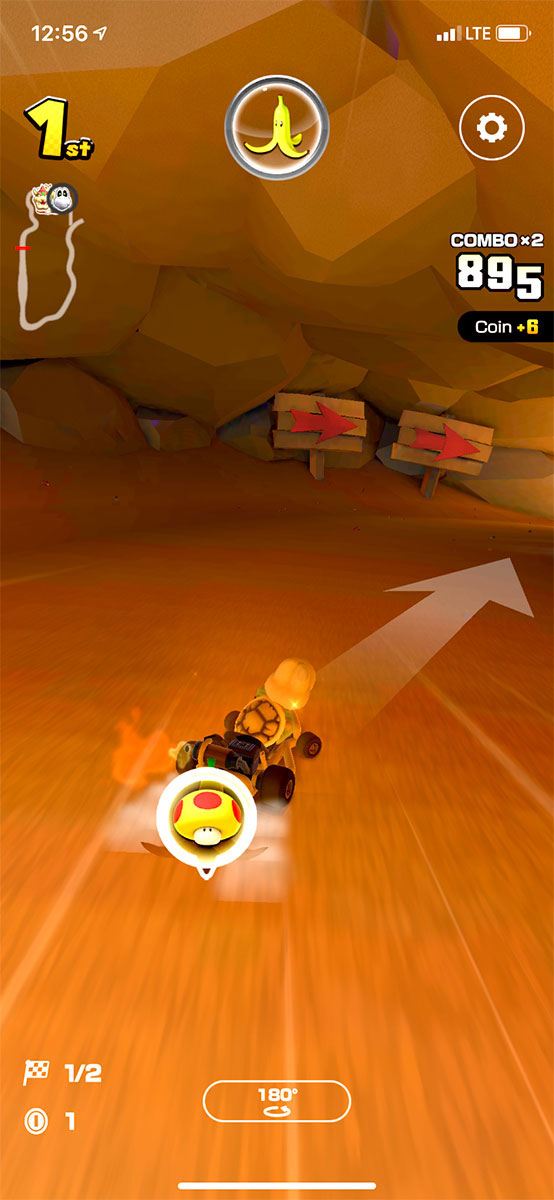 Nintendo has finally released the long-awaited mobile game, "Mario Kart Tour," which was originally slated for March 2019. The game is Nintendo's seventh mobile game and is by far the most successful thus far, with 90 million downloads in its first week. This came as a surprise as their previous games had mixed success with high downloads but a low number of customers purchasing microtransactions.
Nintendo is focusing on mobile gaming, as two of their pillars — the 3DS and Wii U —  are being replaced by the Nintendo Switch hardware line and their mobile initiatives.
"Mario Kart Tour" is a free-to-play version of Nintendo's popular cart racing game. Their last entry in the series, "Mario Kart 8 Deluxe" for Nintendo Switch, has already sold 17.89 million units since its inception in April 2017. This means nearly half of the 36.87 million Nintendo Switch users have the game.
"Tour" encompasses many great features from "8 Deluxe," borrows features from previous titles, and even adds some features that are unique. The visuals are similar to "8 Deluxe," making it look familiar to players and attracting new players that may have not had access to the game on Nintendo Switch.
There are new bonus challenges and stages, such as Glider Challenge, in which users take off after a large boost and glide to the finish.
Users can collect characters, karts and accessories, and can also upgrade to improve their racing performance. The items can be from previous entries in the series.
The characters include the usual default rosters from Super Nintendo and Nintendo 64. Nintendo also announced Diddy Kong, who has not had an appearance in a "Mario Kart" title since "Mario Kart Wii" on Nintendo Wii. Peachette, from the recent Nintendo Switch "Super Mario Bros U Deluxe," makes her first appearance in "Mario Kart."
Items are a cornerstone of the "Mario Kart" series, and Nintendo has recently announced several new and returning items. These include the mega mushroom, which increases kart size and speed for a small amount of time, making it easy to bump into opponents to slow them down or knock them off of the track.
The mushroom cannon can boost the players and other players. The mushroom has been a staple of the series and is making a return.
With the return of Diddy Kong and Donkey Kong to the series, a lot of banana-related items were announced, including new banana barrels which fire banana peels. Giant banana peels can slow players down and can also split into smaller ones, causing continued havoc on the course.
The game is booming with the return of the bomb-omb powerup, which one throws onto opponents to cause them to explode. There are many colors, such as red, blue and purple, and the sizes vary from small to large.
And, of course, the game has shells, which when thrown can collide with opponents and slow them down. Shells typesinclude small red and green, a spiny shell, and an extra-large bowser shell.
"Mario Kart Tour" gameplay is different from others in the series. The game is played in portrait mode which causes many to scratch their heads. They could have followed the mobile racing genre norm of having landscape gameplay utilizing tilt controls. Nintendo wants their mobile offerings to be played with one hand.
Another weird decision is the game being stuffed with microtransactions. Players have the option, advertised very intrusively in the game, of buying rubies to purchase upgrades and modifications.
There is also a season pass, dubbed the Gold Pass, that players can purchased for $4.99 a month, making more prestigious upgrades readily available and unlocking a 200 CC mode. This would not be an issue on console games such as "Fortnite" and "Apex Legends." However, it is not the norm on mobile applications.
Sets are also available for ridiculous prices, such as the New York Set for $19.99 that gives players 45 rubies, a Mario (which users have to purchase separately), and 5-star tickets.
Nintendo has made strange decisions on their past mobile titles, but with "Mario Kart Tour" they are going to the extreme. Nintendo needs to find a balance when it comes to monetization and gameplay. They should implement it as a patch, or correct the imbalance in their next titles.
Overall, the game has amazing visuals, innovative gameplay and much nostalgia. However, Nintendo soils the fun with aggressive monetization.
The game is out now on iOS and Android devices for free. For more, visit  @mariokarttourEN on Twitter.