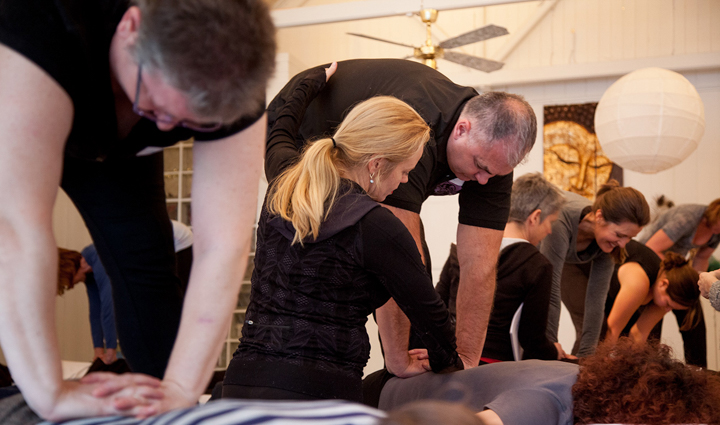 BRIGHTON, England — The massage profession in the United States is having an identity crisis, affecting everything from education and legislation to how we promote and market services.
On one end of spectrum, massage is viewed as healthcare, used to reduce signs and symptoms of medically-diagnosed conditions. On the other end, massage is self-care, used to alleviate pain and stress from the fast-paced American lifestyle or to relax and pamper ourselves or a loved one. Heated discussions arise during classes or on social media, resulting in more confusion about where we are along the spectrum, and where we're headed. We are lost in the forest and we cannot even see the forest for the trees.
So how can we fix this mess? For starters, we can look at other countries and find out how they view massage, how they educate their practitioners, and where these practitioners are working.
Nina Frizoni, massage practitioner and office manager at Jing, a massage school in Brighton, England, said there are significant differences between England and American practices.
"Massage in the U.K. is unregulated, similar to the Canadian system," Frizoni said. "Anyone can do massage, but most practitioners receive training at schools of further education or FE schools."
FE schools in the U.K. are equivalent to vocational schools or community colleges within the U.S. In contrast, Higher education (HE) is offered at universities, which are academic degree-awarding institutions. Both FE and HE have several tiers or levels. FE schools with massage programs can offer one or more levels of education.
Jing offers three levels of education — beginning, certification, and professional diploma or BTEC Level 6, which is the highest level of massage education available in the U.K. Frizoni's role is to talk with students about what they want to do with massage, and help them get there. Here's more about the levels of massage education.
The Beginning level is a basic introduction to massage and can be completed as a nine-day intensive or two-three day blocks over several months. Students learn a little anatomy and physiology (nothing specific such as muscle attachments) and how to give a deep tissue full body massage. This prepares practitioners to work with massage clients in wellness or beauty industries, which is approximately 80 percent of the massage market in the U.K.," Frizoni said. This level is often referred to as a qualifying course, as the beginning level is the gateway for advanced courses.
The next level is certification in Advanced Clinical Massage Therapy, a 24-day course taken as an intensive, or as 12 modules over a year.
"Most modules focus on an area of the body such as lower back, neck and shoulder, or wrist and hand," Frizoni said. "Students learn detailed anatomy and physiology of the area, common pathologies and injures, and massage techniques to increase mobility and decrease pain."
The program includes mastery days where students offer sessions to the public. This is a standalone course, or can be applied to the first year of a professional diploma. Online blended learning options are available. Few states in America allow online or distance learning as prerequisites for state licensure. 
The highest level of education is a professional diploma in Advanced Clinical and Sports Massage, a BTEC Level 6 in the FE system. BTEC stands for Business and Technology Education Council. This level is on par with higher education qualifications widely recognized by universities and graduates of this program work alongside other degreed professionals such as physiotherapists, osteopaths, and chiropractors. BTEC level 6 takes an additional one-two years to complete, depending on whether students attend part-time or fulltime, Frizoni said.
BTEC level 6 students learn principles of rehabilitation, orthopedic physical assessments, therapeutic exercise, and many therapeutic massage techniques such as myofascial release.
Practitioners in the U.K. use the terms "therapy" to describe therapeutic-type massage, not self-care or relaxation massage. They fully embrace the medical definition of therapy, treatments used to address diseases, disorders, or injuries (Stedman's Medical Dictionary). Furthermore, BTEC level 6 students develop clinical reasoning skills to help them determine which techniques work best for certain medical conditions.
"If the person under your hands needs to feel calm in their body and would benefit from craniosacral work or myofascial work, you can do that," Frizoni said. "But if you think they need something more mechanical such as structural integration or trigger point therapy, you can pull that out of your bag as well. So it's preparing practitioners for whatever comes before them. Also understanding that because one person presents with frozen shoulder and the next client presents with frozen shoulder, it does not mean you are going to treat them the same way."
BTEC level 6 students focus on evidence-based practice, learn research methods, and must complete a dissertation such as a case study or similar scientific investigation prior to graduation. In fact, assessments at this level are essay-style and students demonstrate their knowledge and skills by applying evidence to support their clinical decisions. As with the certification level, online blended learning options are available.
Similar to the U.S, professional organizations such as the Complementary Health Professionals accredit massage schools and massage programs in the U.K. Graduates of BTEC level 6 programs are eligible to register with the Complementary and Natural Healthcare Council, similar to the Certification Board of Therapeutic Massage and Bodywork in the U.S. 
Frizoni said she has a preferred technique she likes to receive.
"Ten years working in massage has made me an incredible snob in the industry," she said. "But if I had to pick just one, it would be myofascial release. I think it's a bit magic the way that it feels when you receive it, and it's gotten me out of a lot of chronic pain. I fell out of a window a few years ago. One of the teachers here did a lot of myofascial and scar tissue work, and I am totally functional now. I praise intensive care and the National Health Service here in the U.K., but it was the massage that helped me get back on my feet." 
"There are so many teachers who say, 'You know, Trigger Point Therapy, that is the thing you should do.' And another person says, 'No, no, no, myofascial work, that's the thing you should do.' But if you are great at massage, it does not matter what you do. What matters is how you connect with your clients."
As the U.S. massage profession grapples with defining who we are and where we are going, perhaps we should consider what are neighbors across the pond are doing. The U.K. utilizes a tiered system that distinguishes relaxation or wellness massage from therapeutic or clinical massage, and an educational system tailored to the needs of those settings, and with a path for career advancement.
Susan Salvo is an educator, author and massage therapist, and participated in LU's study abroad program to Brighton, England.