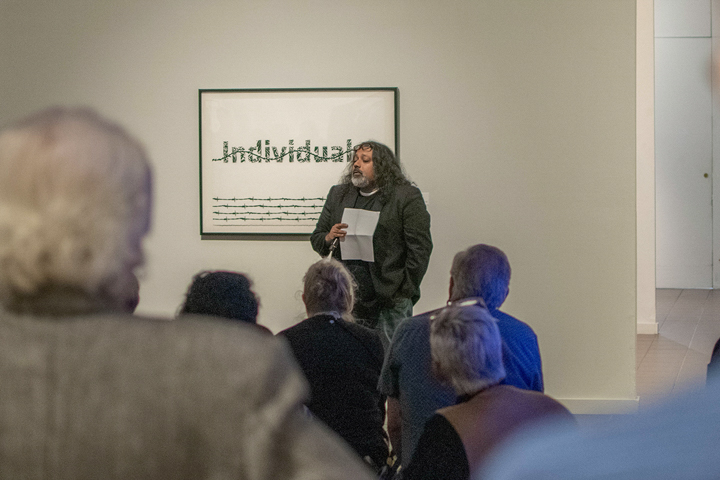 In a time when human activity is increasingly digitized, people do not often step back and think about the impact of internet on thought and perceptions. 
The Art Museum of Southeast Texas' current exhibit, Prince Varughese Thomas' "The Legacy of Narcissus," greets visitors with a neon sign that says, "Social media is the opiate of the masses."
At a reception, Oct. 4, Thomas, a professor in Lamar University's art department, said his work asks questions about social media, egotism and politics that do not have immediate answers. The answers, he said, are up to the viewer. 
Thomas' collection has many conflicting themes. "Feminism in the Age of Selfies" is a portrait of two women with fists raised, composed of a collage of nudes, subverting the powerful image by use of objectified imagery. 
"Legacy" also features "word art," that looks like it belongs in popular adult coloring books, but instead of inspirational quotes, they have phrases such as "Nasty Woman," "Grab Them by the Pussy," "Alternative Facts" and "Fake News." 
A series of trophies painted in flat black feature captions such as, "Best Inappropriate Selfie" and "Best Food Post." These trophies comment on how social media seems to want people to look for likes and oversharing. 
The timing of the exhibition is important, AMSET curator Mariah Rockefeller said, and "Narcissus" has something to say about our collective culture, awareness and consciousness. 
"This exhibition comes at a time when public reception is crucial to the successes and/or failures of those in positions of power," she said.
During his gallery talk, Thomas said he was struck by something Maya Angelou said in an interview years ago, that at one point, government officials, the media and ordinary citizens referred to themselves as "the American voter" or "the American citizen." But at some point, this changed. 
"Somewhere in time, a transition happened, where our leaders, our media, stopped referencing us as American citizens or American voters, and we became American consumers," he said. "If you pay attention, all of a sudden you start hearing, 'Wow! They reference us as the American consumer.'"
Thomas said he uses culture as his source for artistic production. 
"For myself, the now is my still life," he said. "The subject of whatever is happening in culture at any given moment is what I draw from, that's my motivation — that's the source that I use for my art."
Thomas said his work is influenced by a combination of social media, art and politics, and how that creates what people observe as extensions of narcissism within ourselves and our culture. 
"Some of you might even remember MySpace, one of the very first forms of social media," he said. "The promise of social media was that it was going to be this incredible space where we have friends, where we can connect to one another in very immediate and direct ways, where we can engage with people we haven't seen.
"What we could not predict was how social media could be supplanted — where disinformation could be given freely, where it could be weaponized, where we could use it as shameless self-promotion vehicles. We've all experienced all these little things in one form or another."
Thomas said he does not want people to think he wants to bash social media as a form of communication — he just wants people to question how social media is used within our culture, both positively and negatively. 
"There are some wonderful things related to social media that have changed the way we think, communicate and consider each other," he said. "What does our online engagement say about ourselves as a society? How do we engage with each other as citizens?
"The question is, did social media create this thing that we are living in right now, or was it always there and social media just became the amplifications for it?"
Thomas said he has no answers for the questions his work raises. 
His work points a lens at the problem of narcissism, he said. From the language that leaders use that gets played out in social media to the public's need for celebrity.
"And I implicate myself in all this, too," he said. "I am just as guilty as anyone who we could point a finger at. I, too, engage in social media. I am not trying to say, 'Oh, all of you are here and I am this wonderful person that stands alone in judgement of all of you.'" 
Thomas said he wants people to examine the different types of content individuals put out into the world as representations of themselves because it is interesting. Older generations would have been shocked and said, "Have you no shame," about words or photographs published or posted online. 
"We're living in interesting times, where those types of modes of thinking have changed quite a bit, right or wrong, positive or negative — I don't know, they simply have changed," he said. 
Thomas referenced Angelou's quote again. 
"There are certain expectations that we have for a citizen that we don't for a consumer," he said.
Thomas said he enjoys pushing the conventions of tradition and what one think art should be. 
"For us in the arts, we are used to exploring and experiencing different types of media, but for a non-art audience, you might question that," he said. "That's up to you to decide and that's the beauty of the viewer. You have all the power in this to take away whatever you will."
"Legacy of Narcissus" is on display through Dec. 1. AMSET is located at 500 Main in downtown Beaumont.
For more information, visit www.amset.org.