Brighton buses cater to visually impaired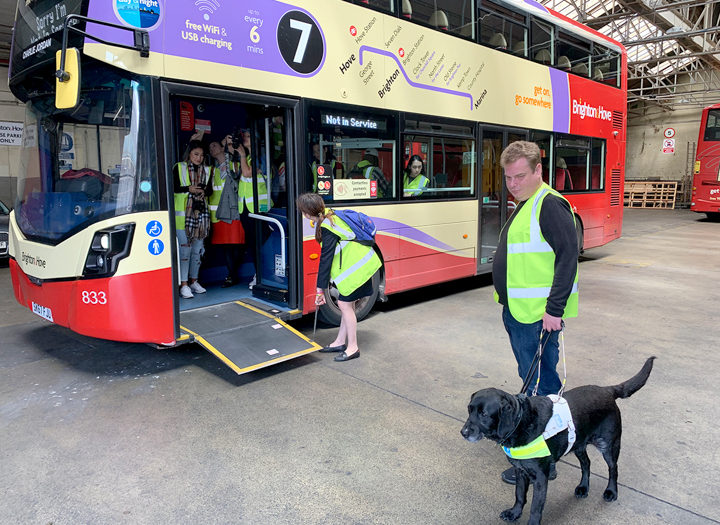 Editor's note: This is the third in an ongoing series on public transportation and accessibility in Brighton, England. These reports were compiled by Lamar University study abroad students.
Daniel Walker was born blind. This doesn't change what he can do, just how he does it. Walker has lived independently in his hometown of Brighton, England for eight years, including using public transportation.
"I've been using buses my whole life, pretty much," Walker said. "The ease of access is the biggest thing, and the bus drivers being made aware of what people need and to ask what they need — not just assume."
Buses have become more accessible in Brighton over Walker's lifetime. The buses have been redesigned for easier accessibility, outfitted with technology to announce each stop, and the bus drivers receive accessibility training to assist people born with disabilities, like Walker, as well as people in wheelchairs, parents with strollers, the elderly, and other accessibility issues that could present themselves.
Walker has a condition called Leber Congenital Amaurosis.
"It causes the retina to basically deform," he said. "Think about a broken mirror, all the light refracts off in different angles, and that's essentially what is wrong with my retina — it's not taking the right information straight from the optic nerve into my brain."
Both of his eyes are affected the same and have been static his whole life.
"I've got about 10, 15 percent of normal vison," Walker said. "And the reason I say that, is because I can see light and dark and colors and shadows, but a reduced magnification and clarity more than anything else."
Walker also had a kidney transplant at age 18, and recently discovered he has Senior Loken Syndrome, a one in five million genetic condition, that causes blindness from birth and kidney failure in early to late teens.
Walker talked as he sat at a picnic table outside of a restaurant at Devil's Dyke, a 100-meter-deep valley and tourist attraction in Sussex. His guide dog, Pebble, sat attentively at his side.
"I see my 'impression' of what you see," he said. "I can see how the land is spread out, and if you walked down that way," Walker motioned across the road and down a walking path, "You'd look down onto a village.
"I can't make out that it's a village, but from knowing what it is and where it is, I know that it is a village, if that makes sense. My interpretation could be completely different, but it clicks in my brain at the same point."
Walker had traveled to Devil's Dyke by bus and said the geography of the bus layout, with disability accessible seats near the entrance, makes his travel easier.
"I can sit there with my guide dog, or I can find it without my dog if I'm traveling with just my white cane," he said. "It's as easy to use the buses with or without the dog."
"Talking buses," referring to audio technology, make Walker's bus rides more like a sighted person's.
"It means you don't have to think when you're on the buses," he said "You just wait for your stop and get off. Whereas before, I would have to mentally travel the route.
"It wasn't exhausting, just boring, because you have to think about where you are to make an educated guess about where you're going to get off. That's really all it can be."
Walker said he started to notice changes in the bus service about five years ago, after Victoria Garcia started in the new position of accessibility and communications manager. Walker gave feedback on how he thought the buses could be improved. As a result, Garcia brought the Guide Dogs Association in to train the drivers how to guide blind people.
"It gave them a general basic understanding of disability," Walker said.
That's not to say the bus system is perfect. Walker said he has been waiting at stops when a bus has driven right past him. The buses are supposed to stop at every stop for customers like Walker, who cannot see the bus approaching to hail it.
Walker said his experiences overall on the Brighton and Hove buses is much better than when he's traveled to America, because of the training drivers receive.
"I would say the most important thing is the interaction with the driver, which is what I found quite difficult in America," he said. "Getting on the buses in New York, I'd say hello to the driver, and no one talks to you.
"It's those small social skills they've given the (Brighton) drivers that has made life so much easier for so many people."
Walker said it's the little things that make a difference.
"I've never needed serious help from a bus driver, but the nicest thing I've had is where they've not pulled away from the stop until I've sat down," he said, "Some drivers they say, 'Where do you need to get off, do you want me to tell you?' Even though I say, 'No it's fine, thank you very much,' it's nice to have that interaction, to be honest. Makes me feel better, anyway."
Walker said his ease of access with his guide dog and the drivers' training is amazing.
"She's welcome on the buses and other passengers don't distract her," Walker said. "She's a naughty dog, but she's a brilliant guide dog."
Guide Dogs for the Blind recommends not petting a guide dog while it's working, but Pebble makes exceptions for children, Walker said.
"She loves kids, so I always stop and let kids stoke her," Walker said.
Walker said he visits an elementary school where his mother works to raise awareness of disabilities and always takes Pebble with him. He said it is important to teach children early. He's received questions from children ranging from, "How does your dog cross the road?" to "How does your dog make you toast in the morning?"
"You wouldn't make me food — you'd eat it, wouldn't you?" Walker said to Pebble.
"I think my experience on the bus is more of a life lesson, essentially," Walker said. "Just treat people with respect and everyone will be fine. I say that's the most important thing.
"People have labeled me by my disability, but I don't let it happen. Am I Blind Daniel, or am I Daniel, who is blind? Essentially, I'm neither — I'm just Daniel."
Walker said he's had trouble getting others to understand his need for his guide dog, Pebble, to accompany him.
"The law says she can go anywhere," Walker said, "Literally anywhere. I can walk her to an operating theatre during an operation. I wouldn't, but I could.
"The first thing someone says is, 'Oh, the dog might bite someone,'" Walker said. "No, it's £200,000 ($246,160) worth of training to make sure that they don't. It's a big thing in the U.K. — bringing this different way of thinking that not everybody the same."
Walker said it's these preconceptions he's fighting against.
"The preconceptions are that you're either blind or you can see, and there's no middle ground," Walker said.
Walker said that this idea is slowly changing, but in his opinion, younger people are more intimidated to help someone disabled.
"I think it's a lack of education," Walker said. "If you don't know someone with a disability, you don't realize there's no difference person to person."
Walker said he's glad he was brought up in a sighted world, and when he went home he was just the same as his brother and sister. His mother, who was also seated at the table, clarified he was equally a pain in the ass.
Walker grew up in Brighton. From age four, Walker attended Dorton House School in Kent, a school for the blind.
"The curriculum was not any different," Walker said. "It's more about having all the equipment and staff trained to teach curriculum. When it came to our main end of year exams, we used an alternative format, be that large print or braille, and we had extra time on our exams, but other than that everything was exactly the same."
Walker said he also learned more from his school than a sighted person would need.
"I learned how to live and how to adapt," Walker said. "It's not even about just the things; it's about learning a different way of thinking, so if you come up with an obstacle, you can either think of a way around it or find a way of getting help to do it."
Walker lives independently for the past eight years. He said the hardest thing is getting people to send his mail consistently in a format he can read, either large print or Braille.
"It's about those little things," Walker said. "Like making sure the gas and electric company has the processes in place to allow a crossover when you need an alternative format."