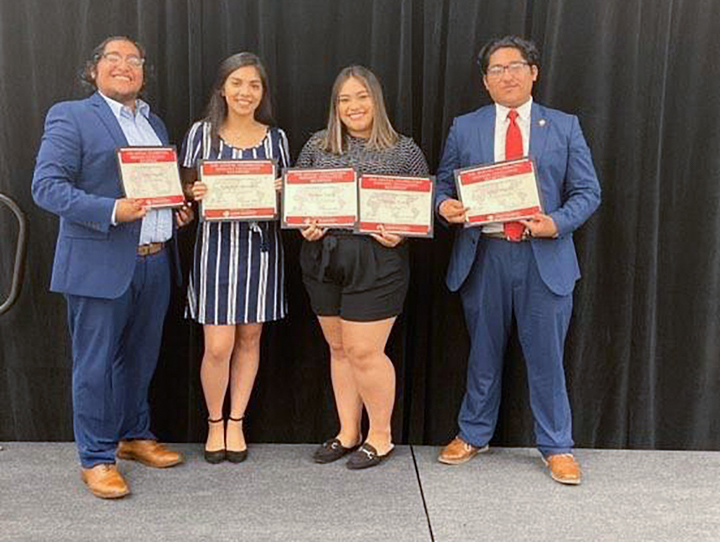 La Union Cultural Estudiantil's founders and the president of Phi Iota Alfa fraternity were recognized for academics and leadership at the Lamar University Annual Excellence Banquet, Oct. 4. 
LUCE is a new organization that helped organize LU's first Latinx Heritage month. 
They will host "Let's Taco-bout It," an event featuring traditional Mexican food, 6-8 p.m., today, at Tacos La Bamba, 2005 Calder Ave. in Beaumont, as part of Latinx Heritage Month.
"The purpose of LUCE is to create a community where the Hispanic and Latino people feel represented," Jennifer Caltzontzin, LUCE president, said. 
LUCE hosts meetings the first and third Thursdays of the month at 3 p.m. in 250 Setzer Student Center. 
"I would like to encourage all Hispanic students to become involved on campus, and help create an atmosphere where Hispanic and Latinx students are represented in all aspects including academics and culture," Caltzontzin said. 
Phi Iota Alfa is the only Latino fraternity at Lamar University.
"From the beginning of our establishment here at Lamar, our purpose has been to promote the Latinity at Lamar University," Julio Delgado, PIA president and a founder of LUCE, said. 
The fraternity focuses on collaborating with other organizations, Delgado said. 
"The meetings we hold help us to prepare for the implementation of the programs directed for the academic wellness of the Latino community," he said. 
Phi Iota Alpha, established Dec. 26, 1931, is the oldest Latino fraternity in the United States, and works to motivate young men, develop leaders, and create innovative ways to unite the Latino community, according their website. 
"The purpose of the Fraternity Phi Iota Alpha is to provide opportunities to Latino men to exercise positions of leadership in the university, in Southeast Texas, and in the Latino community," Delgado said.
LUCE believes it is important to celebrate Hispanic Heritage Month at Lamar University, Delgado said. 
"By celebrating, we remember what the past generations have done, and that motivates us to continue fighting for the representation of all Latinos," he said. "Not only to reserve a foundation, but to construct and be better in the future."