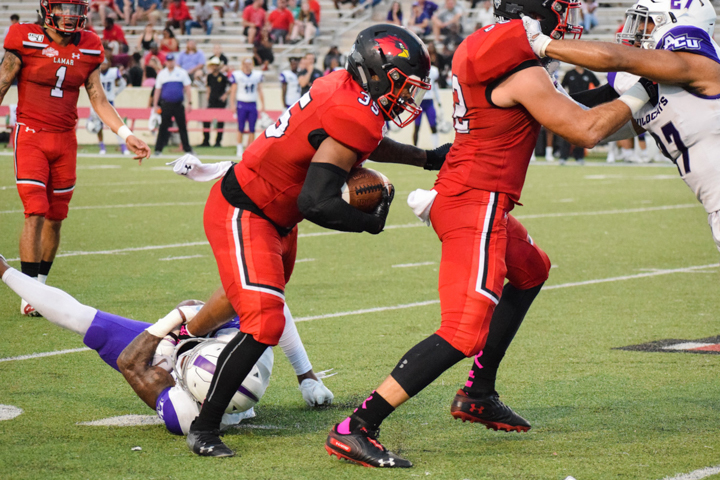 The Lamar Cardinals football team will look to continue momentum this Saturday, after defeating the Abilene Christian Wildcats, 27-24, this weekend at Provost Umphrey Stadium. This was the Cards first Southland Conference win on the season and now hold a regular season record of 3-3 (1-2 SLC).
"It was a tough game coached by two well-coached football teams," head coach Mike Schultz said in a press conference. "Abilene Christian did a great job. We made some great plays like we needed to. I've said it all this season that the secret to winning this year in this conference is that you have to have a great plan, you have to play hard, well and smart."
For most of the game it looked like the Cardinals were repeating mistakes that caused them to lose to Stephen F. Austin at Homecoming. However, the crucial moment in the game came in the last ten minutes of the fourth quarter. 
"It went down to ACU and we had the surprise kangaroo kick," Schultz said. "Bailey Giffen again came through for us and has become a valuable asset for us. Michael Lawson made a great play on the ball, the rest happened as you saw it."
After the victory against ACU, Schultz announced that running back A.J. Walker has taken a leave of absence from the team. 
"We went into that game with close to 17 people out," he said. "We talked pre-game about having to step-up and having our freshmen step up. Kyron (Norwood) who had been a safety all year  got moved to play corner for us.  
Aside from the loss of Walker, the Cardinals are now razor focused on No. 24 FCS ranked Sam Houston State Bearkats (4-2, 3-0 SLC), Saturday. 
"Sam Houston is extremely explosive on offense," Schultz said. "They have two good quarterbacks in (Erin Schmid and Ty Brock), a great receiver in (Nathan Stewart), and they have good running backs as well. 
"The biggest thing that we are seeing is that they kind of overhaul their defense a little. They are moving it in the fronts running some zone and man coverage, but they are mixing things up. It's hard to tell when they transition from man to zone sometimes."  
The Cards will be traveling to Huntsville to take on the Bearkats and will kick off at 2 p.m. inside Bowers Stadium. The game can be heard live on Newstalk 560 KLVI.