Okoronkwo scores 11th of season against SHSU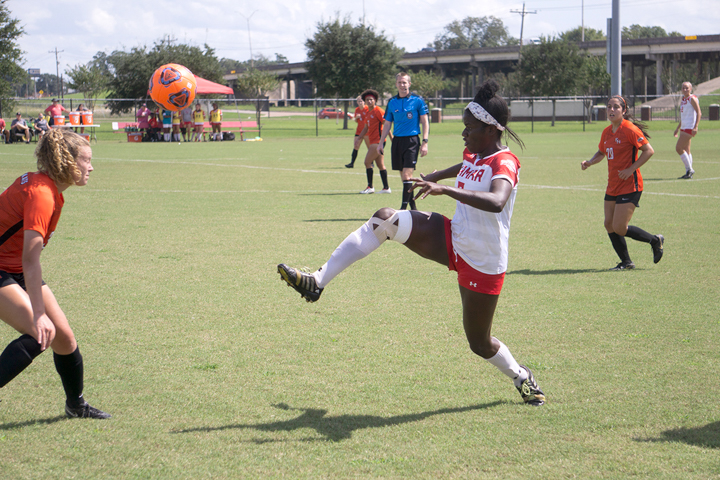 The Lady Cardinals soccer team defeated Southland Conference opponent Sam Houston State, 5-0, Sunday, at the LU Soccer Complex. With the win, the Cards have won three straight and are now 7-6 (4-1 SLC). LU swept the weekend games, having beaten Stephen F. Austin 4-1, Friday.
"We played a really good game Friday night and we challenged our players," head coach Steve Holeman said. "We told ourselves that Sam Houston is coming in, and they got some momentum and were undefeated in conference. 
"(SHSU) didn't play on Friday and we had some really good momentum — we challenged our players. Can we be better today? Can we start off strong? The team definitely came through."
It didn't take long for the Lady Cards to strike. In the first minute, forward Madison Ledet passed to forward Lucy Ashworth in front of the goal, and Ashworth found midfielder Ana Loftus who squeezed the ball past Lady Bearkats goalkeeper Abbie DeLozier, to put the Cards up 1-0. 
Four minutes later, Ashworth fired a pass to forward Esther Okoronkwo who found the back of the net for the second goal of the game.
In the 32nd minute, Okoronkwo connected with midfielder Juana Plata whose cross was headed into the net by Ledet, for her second and LU's third goal before halftime. 
"We knew we didn't want to take our foot off of the gas at halftime," Holeman said. "We continued to play and press them, and we got comfortable for the rest of the game."
The Lady Cardinals continued their dominance in the second half. In the 62nd minute, Ashworth found Okoronkwo, who sprung the offside trap and scored her 11th goal of the season. 
"It feels amazing," Okoronkwo said. "I wasn't even thinking about it, I just shot it — I didn't think it would go in."
Four minutes later, Loftus found Ashworth on the right wing. Her cross that sailed over everyone and into the net for her 10th goal of the season, rounding out the 5-0 scoreline. 
"I didn't expect the ball to go in," Ashworth said. "(Okoronkwo) and I work well together, and I think that is why we are doing well this season. We are playing off of each other well."
Goalkeepers Sandra Nygard and Erin Branch worked together on the shutout. Nygard recorded three saves and Branch had two. The duo faced 19 shots by the Lady Bearkats.
The Cards return to action Friday, when they travel to Hammond, La., to take on  Southeastern Louisiana at 6 p.m. at Strawberry Stadium. The Lady Lions are 2-9-1, 1-4 SLC.
"As a coaching staff, we haven't looked at them yet," Holeman said. "They are a lot better than their record indicates. At their place, it is a tough place to play. It is on turf on a football field and it changes the game entirely. Our team is very good on grass, so playing on the turf will be a challenge for us."