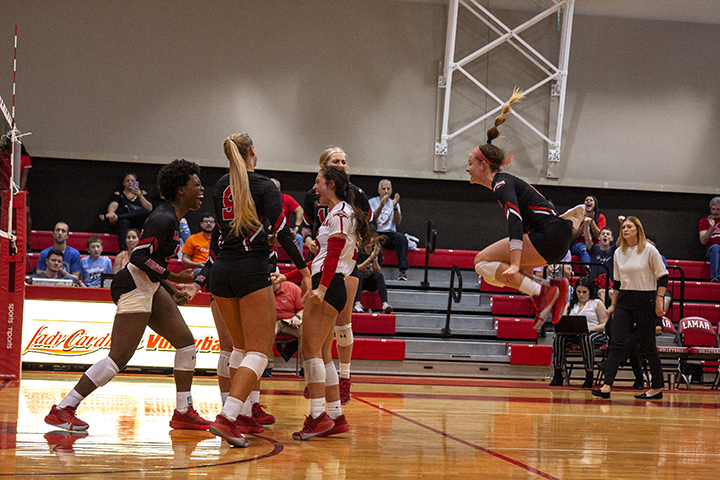 The Lamar Lady Cardinals routed the Nicholls State Lady Colonels volleyball team 3-0, Oct. 19, in Southland Conference action in McDonald Gym.
The first set was a back-and-forth struggle, with three lead changes and five ties. The Lady Cardinals rallied after trailing Nicholls most of the set before edging their opponents 26-24. The Cardinals ended the set with 16 kills to Nicholls 15.
Despite the set being close, Lady Cardinals head coach Michelle Kuester said she had faith her team would hold their focus under pressure.
"I thought we did a really good job of staying high energy and playing very aggressively," Kuester said. "That's been a focus in practice lately — going down swinging. If we lose, we're going down trying to take people out, and I thought we did a really good job maintaining that even when the pressure was on."
In the second set, Lamar pulled away early and led most of the set, with only two ties and two lead changes. The set ended with the Lady Cardinals winning Nicholls 25-19, and edging the Lady Colonels 13-11 on kills.
The final set was a back-and-forth battle, with seven ties and two lead changes, but ultimately the Lady Cardinals prevailed 25-23, despite losing the kills battle with 11 to Nichols 14.
Malaysia Murdock led the Lady Cardinals with 10 kills, Abigale Nash had nine, and Bre'Ala Box, Dannisha House, and Kayla Neumann all finished the game with six.
Kayla Neumann led the Cardinals with 11 digs, Abigale Nash had 10, and Erin Pequeno had seven.
The sweep ended Lamar's three-game losing streak, running their season record to 7-11 (2-6 SLC).
The Lady Cardinals play at McNeese State University, Oct. 22, and Kuester said she is confident in her team's ability to close out the season in a strong fashion.
"We're a young team, and we're still learning through the process, and we're making really good strides," she said. "I think people are going to be caught off guard by us in the second half of conference play. Our morale is only on the way up, and that's a good thing in the second half of the season."